As noted numerous times, the longer we stay in a tight and boring range, the bigger the eventual move usually is. It is key to be prepared even in the absence of scheduled key macro releases.
And that's what we had last week with the market dump, which caught many market participants by surprise.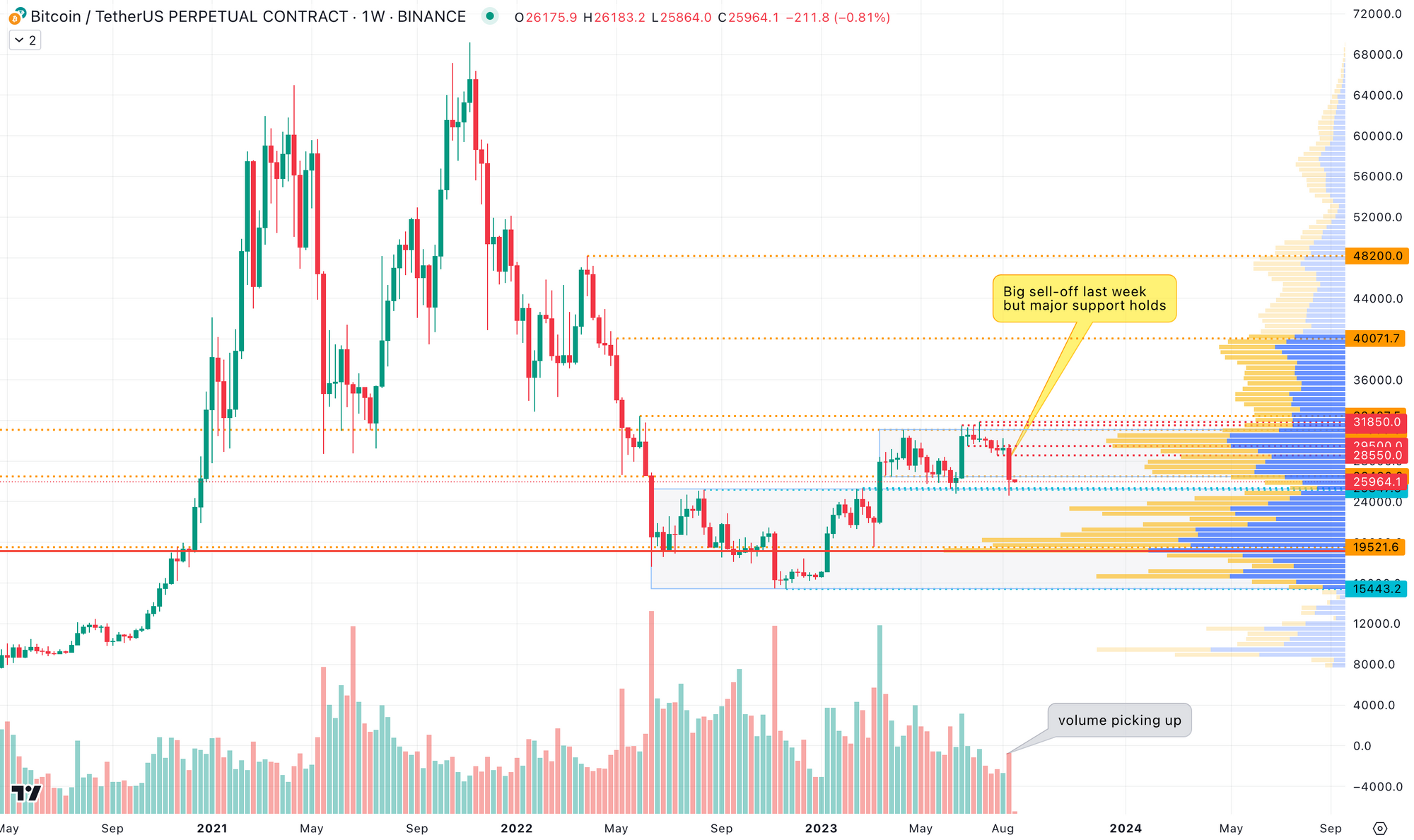 BTC started last week on a positive note supported by some good news about SEC commissioner Hester Peirce being considered to replace Gary Gensler, and Coinbase's launch in Canada.
Crypto market participants were also expecting SEC's decision on Grayscale BTC ETF the next day (on Tuesday), hence bidding the market and some recovery on the US stock market was helping BTC on Monday.
The bounce was shallow and short-lived. Late in the US session, BTC was pressed down.
News about Michael Burry's bet on stock market drop using put options on Nasdaq and S&P put downward pressure on risk assets including crypto.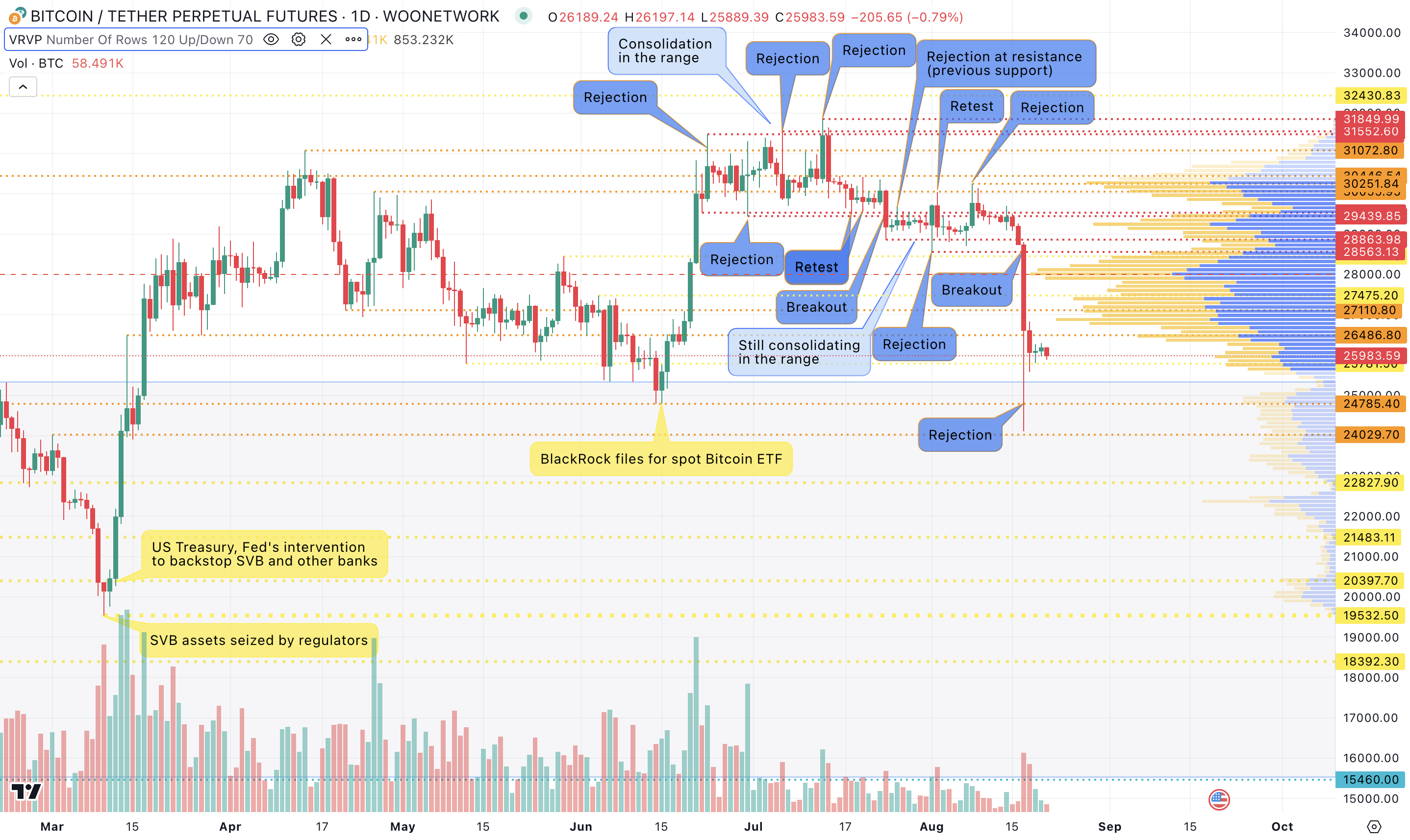 Weak data from China on Tuesday and bearish crypto news about SEC delaying ETF approval to early '24, plus crypto market maker CSR scaling back, and Binance shutting down its fiat-to-crypto payment platform put further downward pressure on BTC.

On Wednesday, hawkish FOMC minutes stressing significant risk to inflation added to that.
Early on Thursday, BTC broke $28,500 support and was further pressed down.
Even though buyers were trying to absorb selling pressure, they were more and more struggling to do so.
Lack of any retracement meant no chance to offload at least part of increasing positions.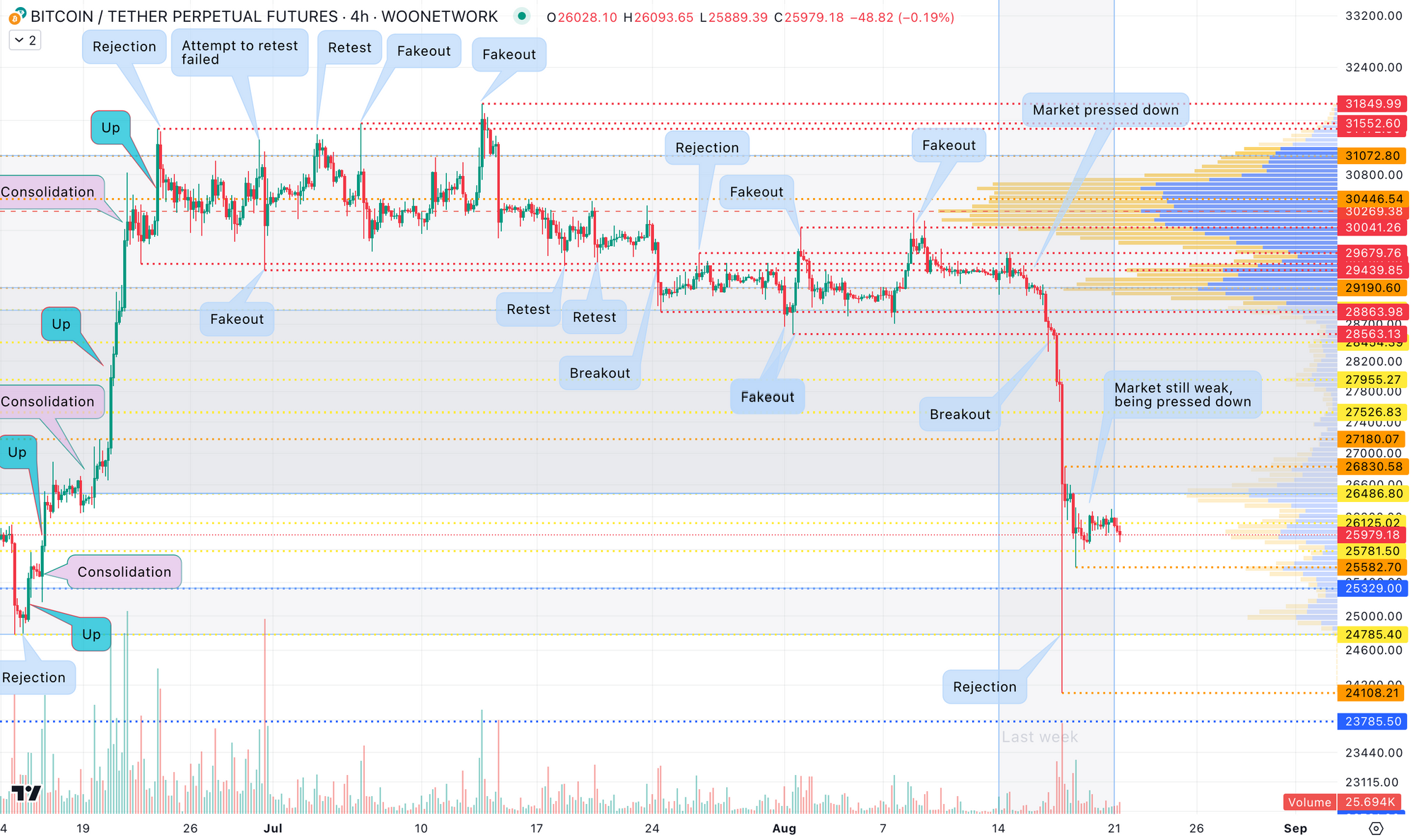 That was reflected in growing open interest.
On Thursday, we had more bearish news: judge granting SEC's approval to file appeal in XRP case, SpaceX $373M BTC write-down, and Evergrande filing for bankruptcy.
As selling intensified and BTC approaching $27,500, market participants started throwing in the towel, causing a cascade of liquidations and a swift dump to $24,100 within just a few minutes on low liquidity.
After that vacuum-like move with many long accounts capitulating, BTC started recovering some of those losses, helped by the article saying that SEC is expected to greenlight ETH Futures ETFs.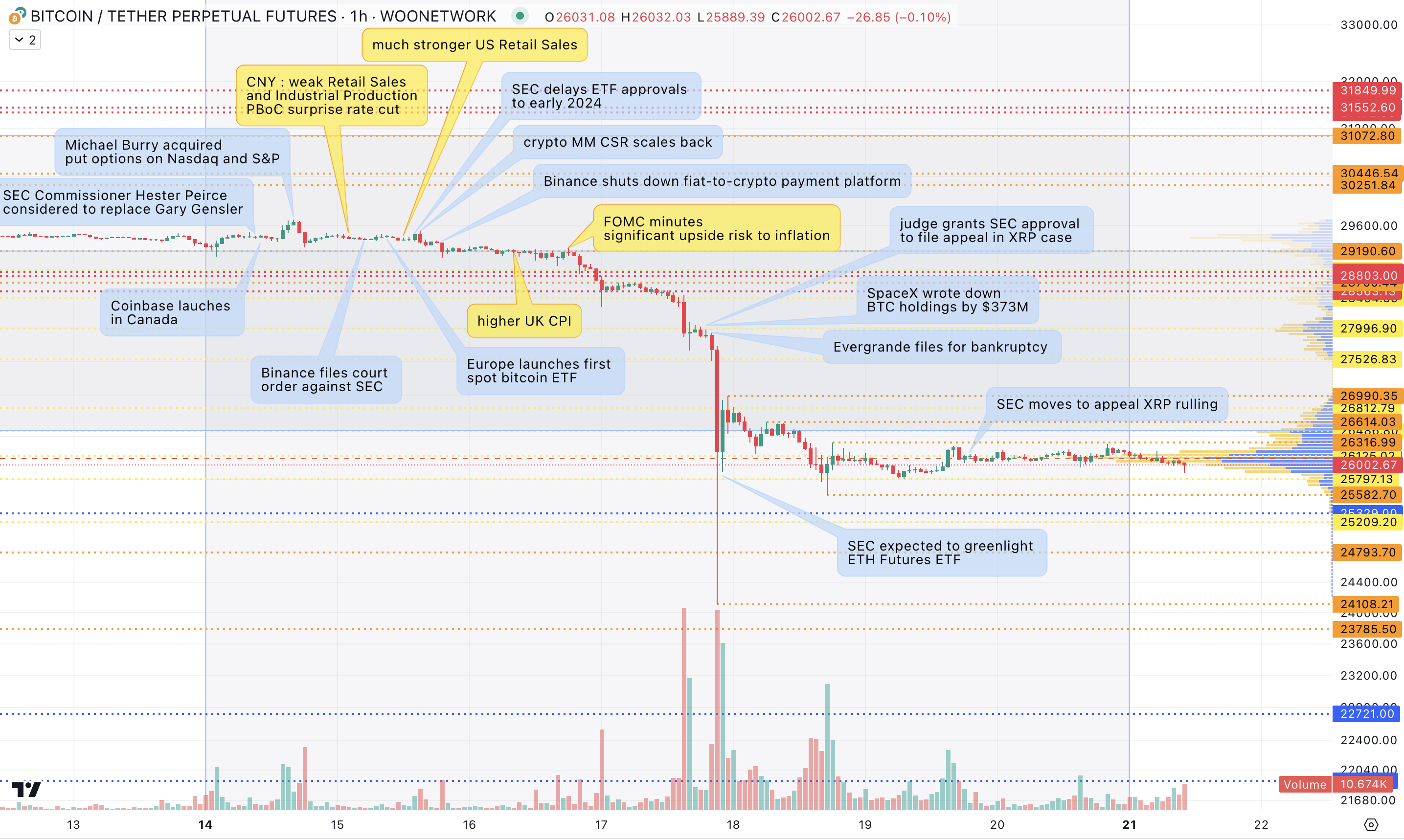 It bounced and traded around $26,000 in the $25,600 - $27,000 range till the end of the week.
After the BTC dump last Thursday, bulls have the upper hand now and bears are leaking their wounds.
Damage has definitely been done to the market, at least in a lower time frame.
Now it looks like the market is taking a breather before the next move, which based on current price behavior, seems more likely to be down.
Looking at BTC from a longer-term perspective, $24,800 is a very important level and a swing low where the market started to move up on the news of the BlackRock spot BTC ETF.
Even though BTC went swiftly lower intraday on Thursday, the fact that we finished the day above and trading there since, is positive for the bulls.
It gives them some hope for recovery.
From the upside, minor challenges are at $26,300, $26,600 before the important ones at $27,000, $27,500 (where the dump started) and $28,500.
Rotation above $26,300 would be a first positive sign for the bulls at least short term.
On the other hand, $25,600 is the first minor challenge from the downside.
If we manage to get below $24,800 on daily close, the situation will start looking ugly for the bulls.
It will open the way for further weakness towards $19,500 (swing low posted on SVB and US banking sector troubles, before US Treasury and Fed intervention gave a push up).
On the way there will be challenges at $24,000 and $22,000.
Worth watching the US bond market and especially the 10yr Treasury yield, as the yield has been rising recently and getting into dangerous territory.
It poses increased risk of strain in the financial system, and leads to deleveraging with global assets (including crypto) being sold off.
Since last week, BTC's direct correlation with the stock market and inverse one with yields have been increasing, so it's good to look at them to get a better sense of what we can expect from BTC.

Have a great trading week ahead!

Trade now on https://x.woo.org/ and follow @KTGglobal for more trading insights.
The content above is neither a recommendation for investment and trading strategies nor does it constitute an investment offer, solicitation, or recommendation of any product or service. The content is for informational sharing purposes only. Anyone who makes or changes to their investment decision based on the content shall undertake the result or loss by himself/herself.
The content of this document has been translated into different languages and shared throughout different platforms. In case of any discrepancy or inconsistency between different posts caused by mistranslations, the English version on our official website shall prevail.