WOOFi cross-chain swaps transition out of beta with more supported chains, new features, and an all-round enhanced experience
The story so far
Nine months have passed since WOOFi became the first DEX to deploy one-click cross-chain swaps powered by cutting-edge Stargate technology. In that short time span, WOOFi has overseen more than 50,000 cross-chain transactions, grown to support six chains, and saved traders countless hours that would have been otherwise lost in the painful process of manually bridging.
Now the time has come for WOOFi to evolve once more and push the limits of cross-chain possibilities following a deeper integration with Stargate that unlocks new chains and features to provide on-chain users with unrivaled convenience.
Goodbye beta, hello Ethereum
WOOFi cross-chain swaps have officially moved out of beta! Following a successful integration with the deep WOO and ETH liquidity pools of Stargate, cross-chain support for Ethereum has been added so that anyone can now swap WOO and ETH seamlessly across their choice of seven chains with a single click. Pretty neat, right?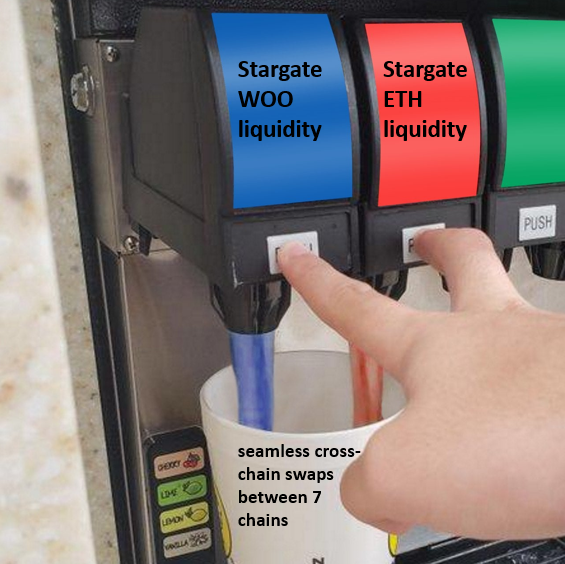 Let's take a second to fully appreciate the significance of this. If you want to swap a major asset from Arbitrum, Optimism, Avalanche, Polygon, BNB Chain, or Fantom into WOO, ETH, or USDC on Ethereum and vice versa with no USD limit - you can, and you can do so with just one transaction in 3 minutes or less. Can I get a hooyah?
Increased speed and efficiency
Other benefits include significantly increased speed and enhanced price execution for WOO to WOO and ETH to ETH cross-chain swaps. In fact, regardless of which assets you want to swap, WOOFi will now compare different routes to source the fastest and most cost-efficient path for your cross-chain swap every time, all of the time.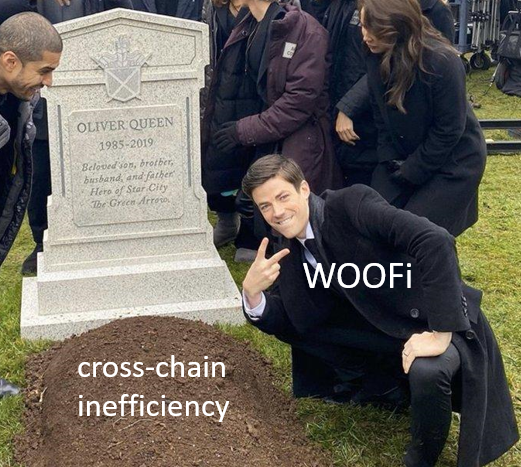 Next-level convenience
WOOFi is eliminating even more pain points in DeFi with the launch of two new cross-chain features that bring added flexibility. The first feature includes an option to specify a different recipient address on the destination chain. For example, you can swap BNB on BNB Chain with one wallet and receive USDC on Ethereum in a different wallet.
This is a big win for DAOs who will now be able to easily swap assets cross-chain between safes - an option previously impossible due to the nature of safes having different addresses on different chains. Individuals who also wish to cross-chain swap assets across hot wallets also benefit greatly now that they can do so hassle-free with one less transaction.  
The second new feature makes it possible to grab a small number of your destination chain's native token so that you already have gas money when you arrive. This extra layer of convenience is a welcomed addition for those who understand the pain of having assets stranded on a chain with no means to swap or earn yield with them.
More to come
Today's upgrades place WOOFi at the very forefront of cross-chain innovation and mark a significant milestone in our journey toward delivering the most seamless cross-chain swap experience in DeFi. Moving forward we'll be exploring ways to support more chains, assets, and features - watch this space.
---
The content above is neither a recommendation for investment and trading strategies nor does it constitute an offer, solicitation, or recommendation of any product or service. The content is for informational sharing purposes only. Anyone who makes or changes the investment decision based on the content shall undertake the result or loss by himself/herself.
WOO Network will not be responsible or liable for any losses (including, without limitation, any direct or indirect damages for loss of profits) resulting or arising directly or indirectly from your decisions.
The content of this document has been translated into different languages and shared throughout different platforms. In case of any discrepancy or inconsistency between different posts caused by mistranslations, the English version on our official website shall prevail.