Last week was interesting with very important crypto-specific news out, which caused some wild BTC moves (both up and down) but eventually didn't give the market any clear direction.
BTC entered last week in indecision mode trading in a tight range around $26,000.
That's what we had on Monday and in the first half of the day on Tuesday.
Then early in the US session, news hit the wires about Grayscale's win against the SEC.
Court called SEC's denial to convert GBTC into ETF 'arbitrary' and 'capricious' and SEC was asked to review the application again without being able to deny it for the same reason.
That made the market pump swiftly.
It went through the range high at $27,000, $27,500 resistance and cleared liquidity above $28,000 to print $28,168 before it started stabilizing.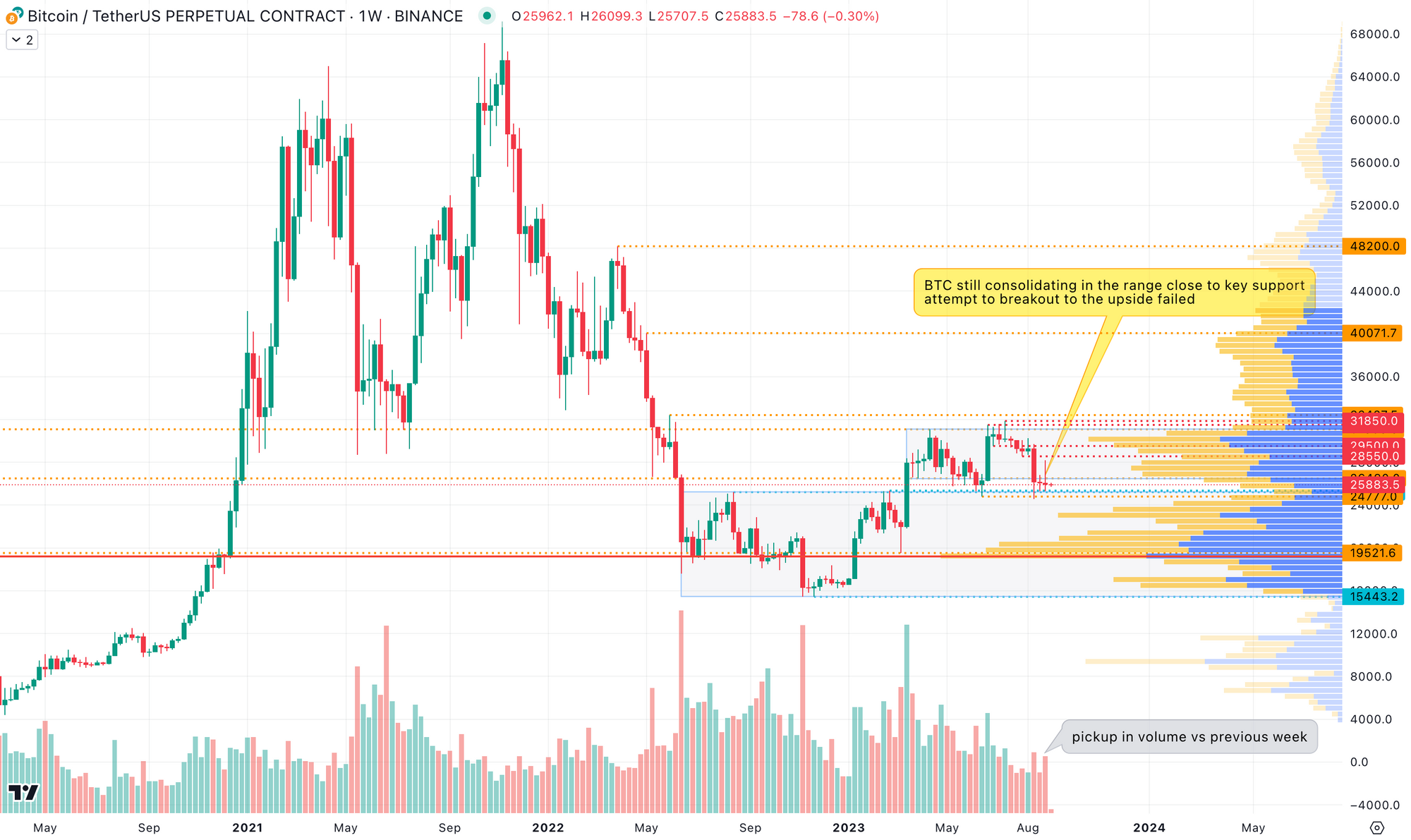 The move was driven by euphoria on expectations that the judge's decision would be very bullish in the long run, with a lot of fomo-in market buying helped by short-squeeze.
Once the news got digested, the market started to be slowly pressed down to test $27,000 on Wednesday.
The situation resembled the one we had with the XRP ruling in the middle of July.
On Thursday, there was an attempt to push the market higher just before PCE release but it was used as a selling opportunity and BTC posted lower swing high.
Once the data came out as expected, selling pressure continued, which later accelerated as $27,000 got broken, causing buyers on Grayscale news to start throwing in the towel.
Later, SEC announced to delay decision on WisdomTree spot BTC ETF (and 6 others including BlackRock), adding fuel to the fire and BTC more than covered the whole Tuesday pump.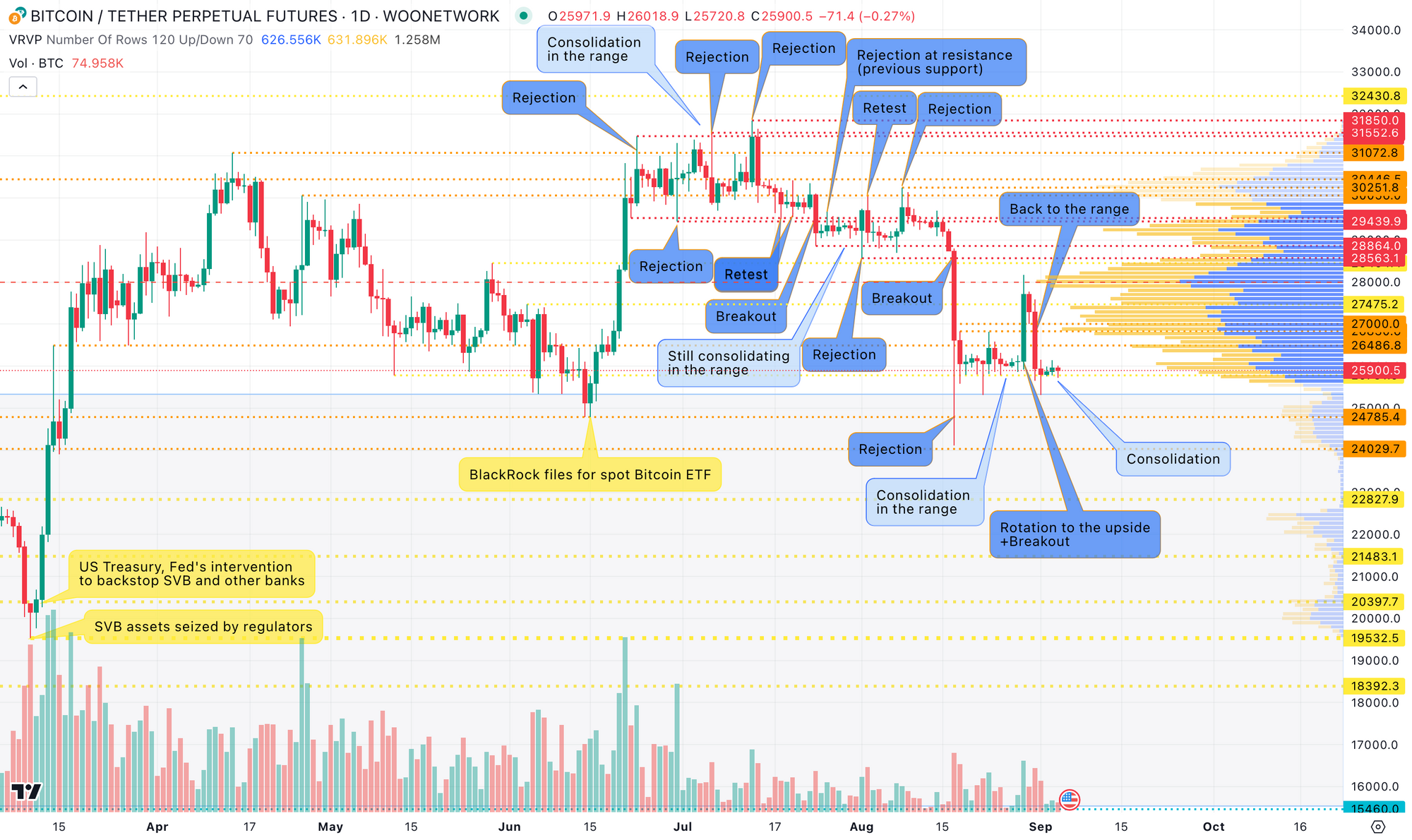 Job report on Friday came out quite mixed with higher Aug NFP but downward revision to Jul NFP, much higher unemployment rate (3.8% vs 3.5%) and lower Avg Hourly Earnings.
It didn't affect BTC much but later in the day, it continued its march down to test $25,300 support, where it bounced to trade around $26,000 till the end of the week.
After a turbulent week, we are trading around $26,000, which has been like a magnet since the Aug 17th dump, with market participants feeling comfortable to trade in close proximity to that level and any deviation reversed.
Effectively, we are still in the range.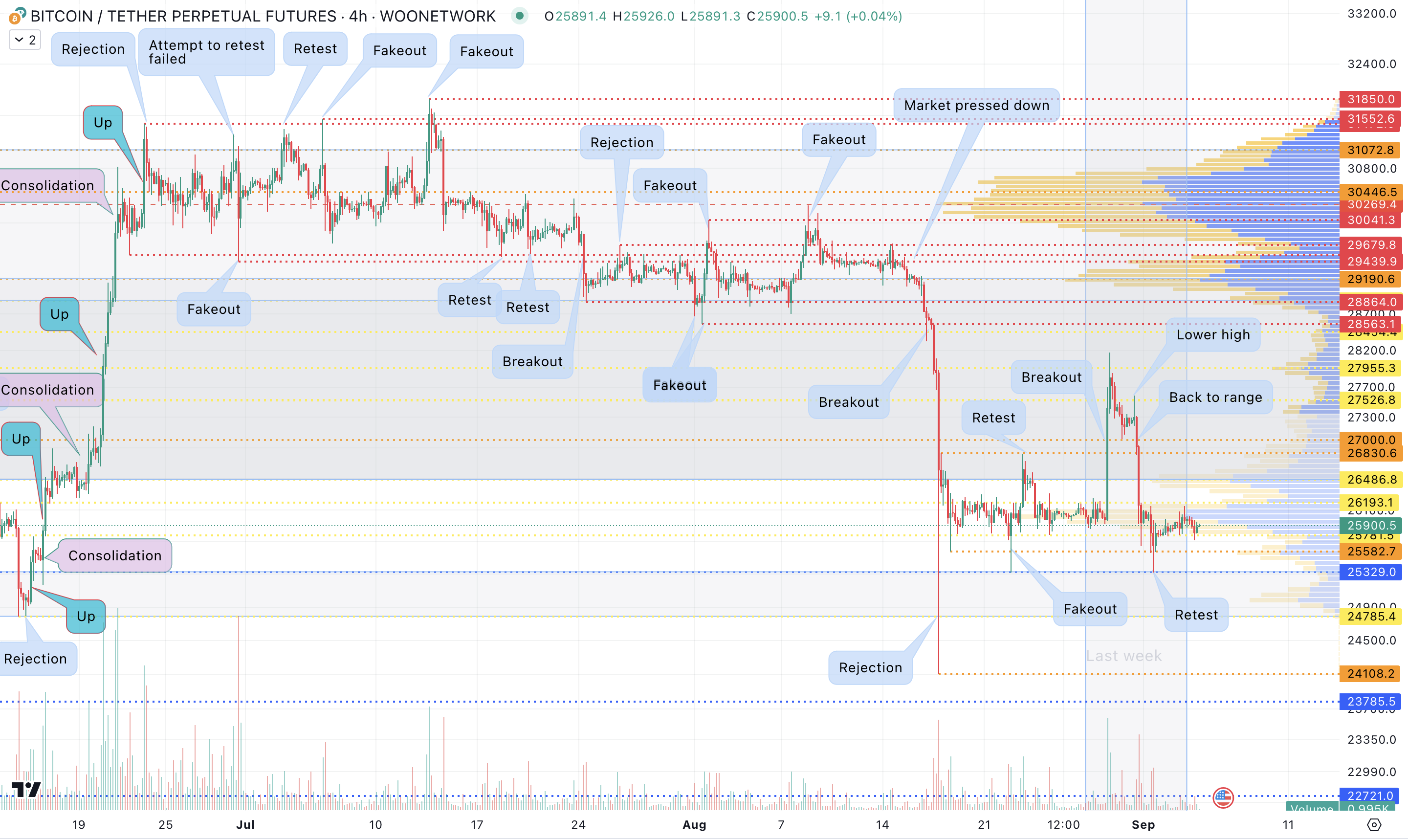 The fact that the breakout above $27,000 was unsuccessful (trapping the bulls) and BTC came back to the range, only increases the chance of eventual resolution to the downside.
It's critical however, to break $24,800 to think about a bigger move to the downside.
Before that happens, it's rather level to level trading without being too biased.
The biggest challenge before $24,800 is $25,300.
From the upside, there are minor challenges at $26,200 and $26,400 before important ones at $27,000, then $27,500 and $28,000.
Remember that trading is a probability game, so there is no certainty when you make a trading decision and you should be ok with that.
It's however important to know how the trade should unfold for it to be a good trade and what invalidates it, or makes you change your bias – that's where discipline and flexibility come into play.

Have a great trading week ahead!

Trade now on https://x.woo.org/ and follow @KTGglobal for more trading insights.
The content above is neither a recommendation for investment and trading strategies nor does it constitute an investment offer, solicitation, or recommendation of any product or service. The content is for informational sharing purposes only. Anyone who makes or changes to their investment decision based on the content shall undertake the result or loss by himself/herself.
The content of this document has been translated into different languages and shared throughout different platforms. In case of any discrepancy or inconsistency between different posts caused by mistranslations, the English version on our official website shall prevail.