Last week started very slow as we had Labor Day holiday on Monday with US markets closed, so traders' participation was low and volume thin.
BTC slowly drifted down not only that day but also on Tuesday and early on Wednesday.

Binance FUD was weighing on the market as we were hearing about a few senior executives leaving, while any positive news was providing only small short-term bounces.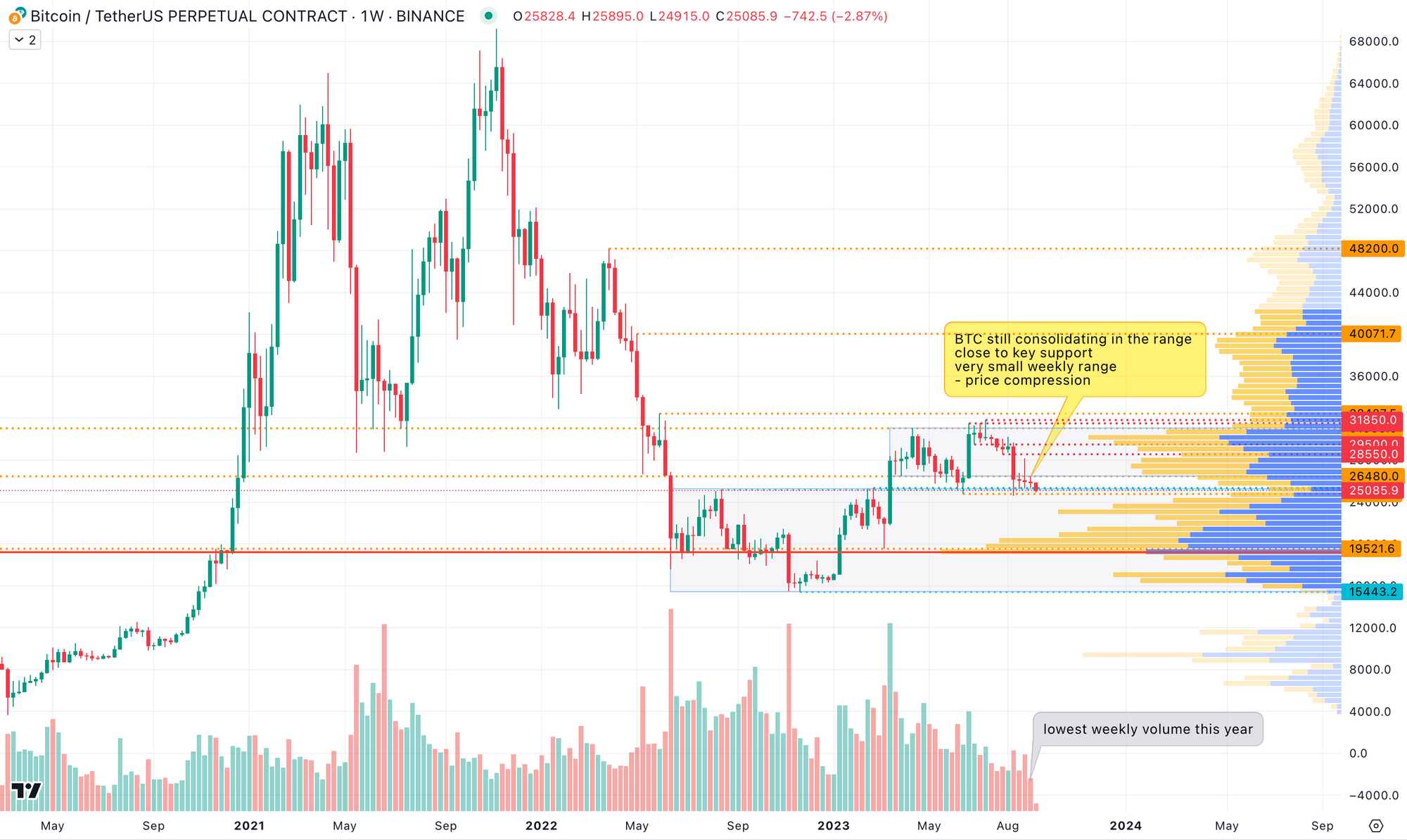 In the US session on Wednesday, BTC reached $25,300, which had been working as strong support (before key $24,800 level) in previous weeks and bounced from there.
The news about Ark filing for spot ETH ETF sparked bulls' enthusiasm and hope, and drove the price up to $26,000 but that was again short-lived.
On Thursday, there was another attempt to push the price higher.
It was helped by a much lower Atlanta Fed wage growth, which should contribute to lower inflation.
It pushed US yields down and risk assets (including equities and crypto) up.
BTC managed to break the weekly high set a day before and got to almost $26,500 driven by short-covering before it stabilized.
Next day however, the whole up-move was erased and BTC traded in a tight range below $26,000 till the end of the week.
We had a third consecutive week with BTC finishing almost exactly where it started (only marginally lower) and close to $26,000.
Hence, last week didn't change the situation on the market much compared to the previous one.
Even though we've been staying in the bigger key $24,800 - $27,000 range since the Aug 17th dump, we had the price compressed to a smaller $25,300 - $26,500 area last week.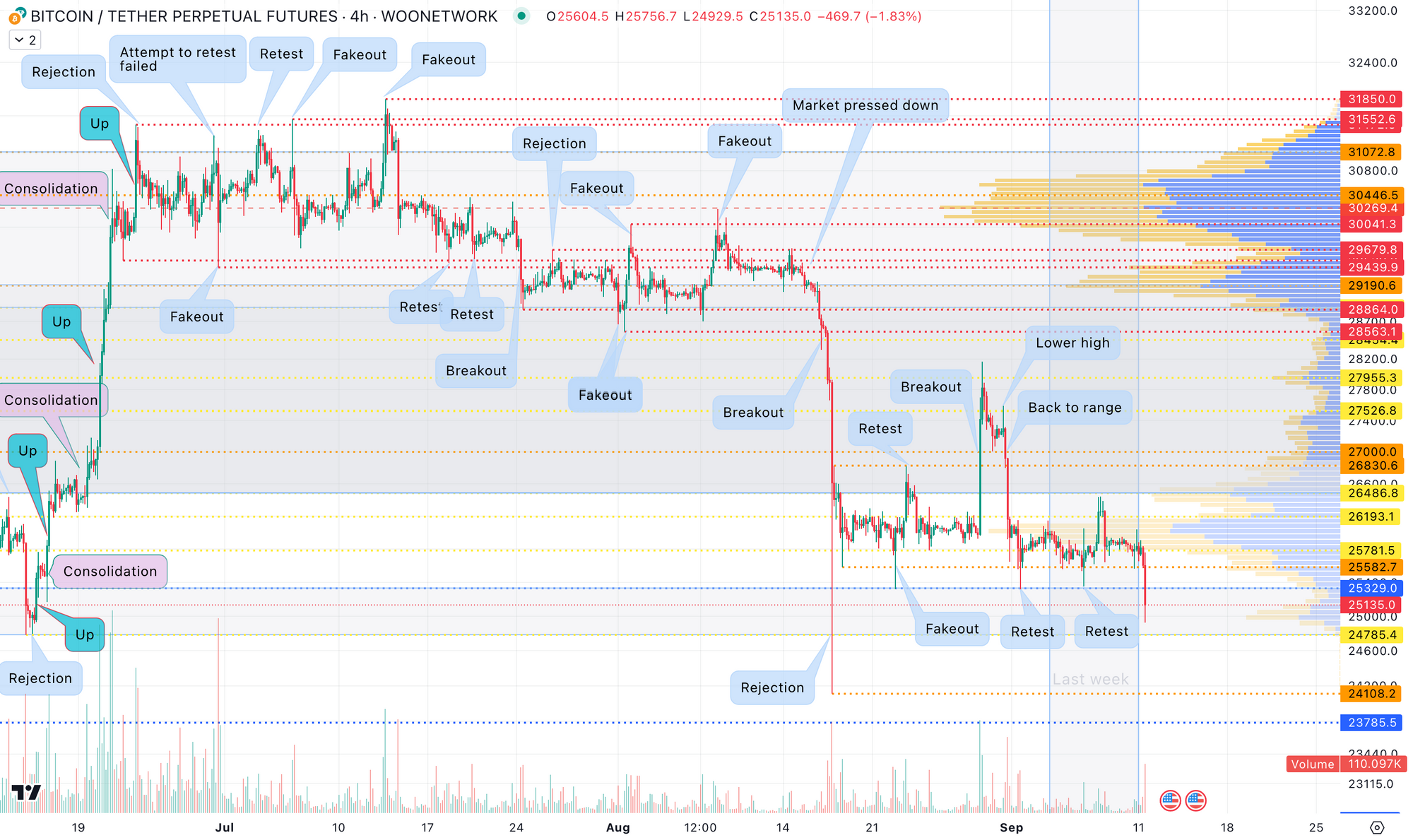 That means energy and position buildup with an increasing amount of stops on the sides of the range, which should make the eventual move bigger when they get triggered.
At the time of writing, we are already in a new week and we test $24,800.
That's where we need to be vigilant and observe price behavior.
Remember that it's the level where the leg-up started to '23 high on the news of Blackrock filing for spot bitcoin ETF.
It's very important for bulls to be defended.
If broken with daily close below, it will open the way to $22,000 or even $19,500, (a swing low printed on US banking crises), just before intervention to backstop SVB and other banks.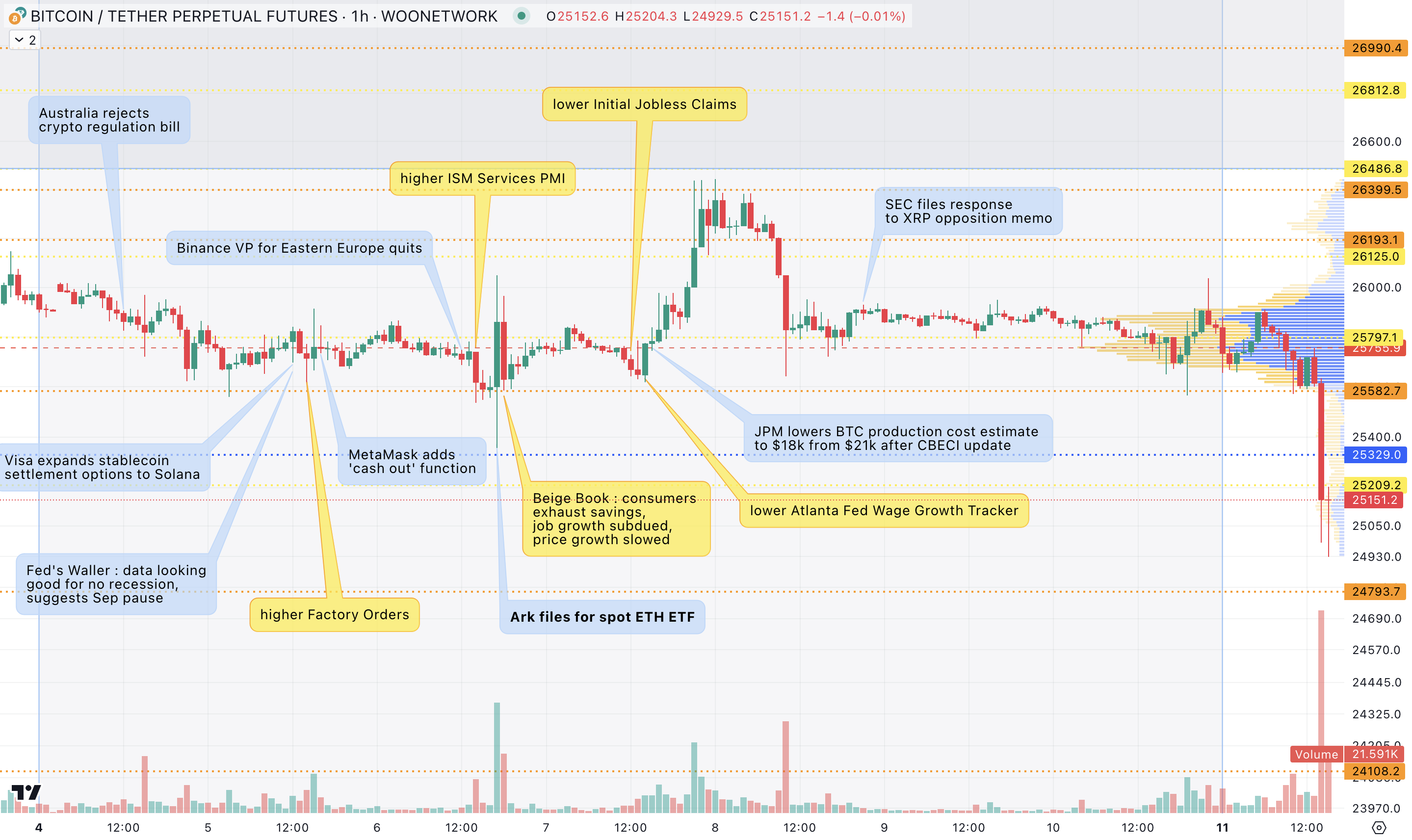 Some minor levels to watch from the upside for potential market reaction before important $27,000 are $25,300, $25,600, $26,000 and $26,500.
Even though in recent weeks bears have been in control, it's still a very illiquid market with occasional short squeezes and fake moves both ways.
Fading the moves or using the retracements for entries especially from the short side has been working quite well.
On the other hand, FOMO-ing in and emotional actions like selling a falling market close to important support levels, or buying a rising market on positive crypto news has been costly for many market participants.
Usually the market moves not when direction seems obvious but when weak hands get stopped out first or even change bias.
It's very important to stay calm with emotions at bay to be on the winning side and watch price behavior closely, especially now as we are close to a key support level.
All the best, and have a great trading week ahead!

Trade now on https://x.woo.org/ and follow @KTGglobal for more trading insights.
The content above is neither a recommendation for investment and trading strategies nor does it constitute an investment offer, solicitation, or recommendation of any product or service. The content is for informational sharing purposes only. Anyone who makes or changes to their investment decision based on the content shall undertake the result or loss by himself/herself.
The content of this document has been translated into different languages and shared throughout different platforms. In case of any discrepancy or inconsistency between different posts caused by mistranslations, the English version on our official website shall prevail.