WOOFi evolves with sPMM V2 and pushes further into the Ethereum ecosystem following the integration of its fifth chain — Arbitrum
Non-stop innovation
It began 12 months ago with a vision — to bridge WOO network's deep, institutional-grade liquidity into DeFi and create a one-stop shop with the best prices, yields, and tools for on-chain traders. Since then, WOOFi has evolved without limit achieving $1.9B total trading volume, buying back 1.8M WOO, and transforming from what was once a mere swap protocol supporting a single chain into an all-in-one dApp supporting intra-chain and cross-chain trades, WOO staking, and institutional yield across 5 separate networks.
Introducing sPMM V2
If you thought WOOFi had already reached peak efficiency — think again. It's time for you to meet sPMM V2 — the next evolution of WOOFi which is leaner, meaner, and more streamlined in every sense of the word. sPMM V2 will debut on Arbitrum and deploy to other chains gradually. Some of the major improvements include:
50% more efficient on gas costs — As the Dex landscape becomes increasingly competitive, any additional cost in a trade matters. WOOFi has always thrived during bouts of volatility due to its low slippage, but this enhancement will enable WOOFi to thrive permanently — not just when the market is frothy.
Streamlined swap logic and integration — Swaps can now be conducted between any two assets without being limited by the liquidity of the quote token (i.e. stablecoin) in the pool, which will allow WOOFi to capture yet more volume from swaps between two volatile assets. The smart contract interfaces are also much easier to integrate with only query and swap functions making it even easier for dApps to use WOOFi as a liquidity source.
A more efficient and versatile on-chain price feed — WOOFi's on-chain price feed has been upgraded so that it now works seamlessly with the sPMM V2 algorithm. This makes it possible to switch between WOOFi's own price feed and ChainLink's price feed, opening the door for WOOFi to provide liquidity for more assets without significantly increasing the cost of maintaining the price feed.
Building with the best
Fuelled by the recent release of Nitro, the growth of Arbitrum One has been nothing but full throttle with more than 550,000 unique addresses registered in just the past 2 months alone. Now boasting increased throughput, faster speeds, and even lower fees, Arbitrum's fast-growing ecosystem is rapidly becoming a hotspot for users looking to interact with Ethereum in a way that is faster and most importantly, affordable.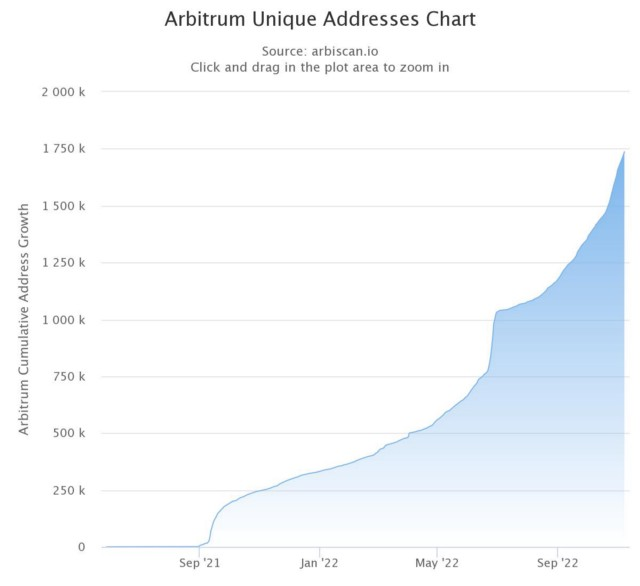 Aligning with Arbitrum
As the number of Arbitrum users continues to rocket, so too does the need for an all-encompassing dApp that can act as a hub for traders and earners with the best tools, prices, and yields. Kitted out from top to bottom with a 0.025% swap fee and its signature sPMM liquidity that simulates the pricing of WOO Network's centralized exchange WOO X, WOOFi was born ready to be that very beacon.

Accelerating Arbitrum adoption
WOOFi is set to play its part in further catalyzing the growth of this burgeoning ecosystem by implementing cross-chain support for Arbitrum. Through cutting-edge Stargate technology, WOOFi is making the impossible possible — putting power into the hands of users to swap their assets to Arbitrum with guaranteed finality and complete MEV protection in as little as 30 seconds.
The future is most certainly bright for Arbitrum and we are beyond excited to be playing our part in adding further value to this bustling ecosystem!
---
Stay tuned for all of WOO Network's exciting developments!
Socials: cuda.io/woonetwork
Website: https://woo.org
Telegram Announcements: https://t.me/woonetworkann
Medium: https://medium.com/woonetwork
The content above is neither a recommendation for investment and trading strategies nor does it constitute an offer, solicitation, or recommendation of any product or service. The content is for informational sharing purposes only. Anyone who makes or changes the investment decision based on the content shall undertake the result or loss by himself/herself.
The content of this document has been translated into different languages and shared throughout different platforms. In case of any discrepancy or inconsistency between different posts caused by mistranslations, the English version on our official website shall prevail.