Themes, statistics, and analysis from the second quarter of 2022
* All statistics in this report are accurate as of July 5th, 2022.
WOO Network has remained steadfast in building out its product suite and expanding its ecosystem throughout Q2, despite broader market conditions deteriorating. This report outlines progress on WOO X and WOOFi products, growth across WOO DAO and the community, and highlights the announcement around our newest product, WOO DEX.
Looking back on Q2, it has been a tumultuous quarter for crypto-assets and broader markets like stocks and bonds. Alongside volatility in crypto, many large tech stocks have traded like shitcoins and are down more than 50% year-to-date. The most salient headwinds facing risk markets are high inflation and commodities prices, geopolitical tension, and extensive monetary tightening globally.
In the crypto market, we've had our fair share of market tension and volatility, with yields collapsing, volumes declining, the quantity and size of venture deals shrinking, employee headcount at top companies reducing, and most notably, prices trending downwards significantly. Additionally, several major lenders and exchanges have experienced difficulties, with some halting withdrawals or even entering bankruptcy. These events have created the contagion, where other major players in the crypto space are experiencing distress, and users' faith in companies is being tested. WOO Network's vast experience and stringent risk management practices left the company unscathed, solidifying its status as a proven and reputable venue for trading.
More importantly, WOO Network has strengthened its position among exchanges throughout these past three months by continuing to build its suite of products and services. Despite the market turmoil, our volumes have remained strong, driven by many product improvements across WOO X and WOOFi. Importantly, security on the network has remained a top priority as our systems remained impervious throughout the quarter.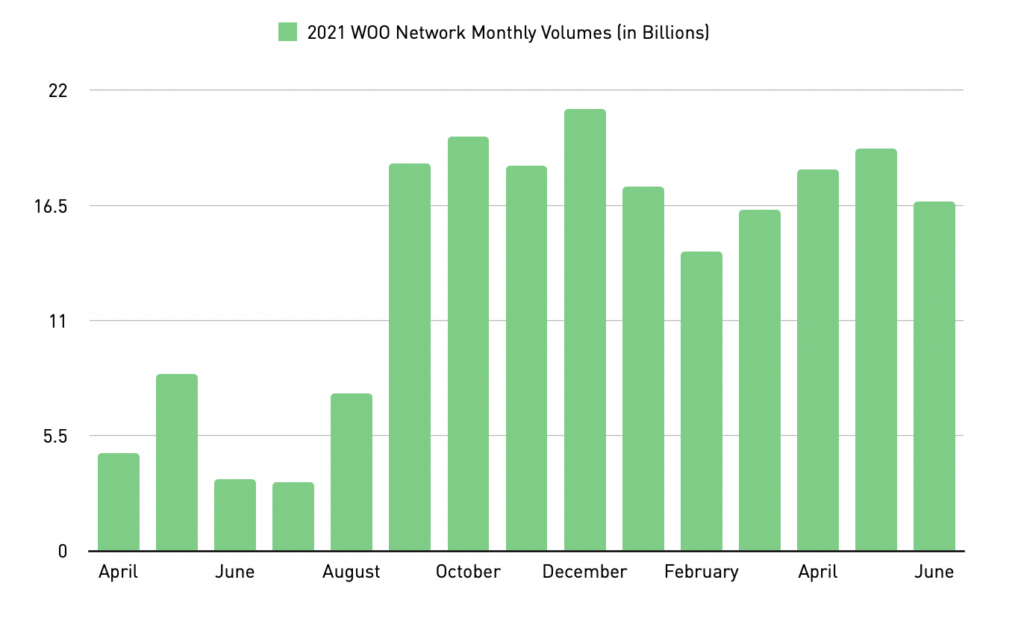 Working Towards Mass Adoption
In the Q1 2022 report, we outlined the three stages of growth for WOO Network. Earlier this year, we completed the first stage of building more efficient market infrastructure with our zero-fee spot and futures trading platform, as well as WOO X mobile application. Currently, WOO Network is working on Stage 2, Optimizations and Mass Adoption, and towards Stage 3: Reaching Wootopia.
In order to work towards mass adoption, WOO X is focused on enhancing its product suite, improving the user experience through shorter onboarding times, more localized languages, adding fiat on and off-ramps, and marketing more aggressively to a global audience.
With these objectives in mind, some major WOO X updates from Q2 include:
6 new spot listings and 20 new perp listings, including WOO, SNX, AAVE, APE, CRV, GMT, FTT, and TRX
Ladder trading order entry enabling scalpers and other high-frequency manual traders to better observe liquidity and enter positions with ease
First fiat on-ramp with Mercuryo with more fiat solutions in the pipeline
Many new local languages are now supported on WOO X desktop and mobile, including Spanish, Vietnamese, Indonesian, Thai, Turkish, Russian, Portuguese, and Ukrainian
Increased chain support, with USDT on Avalanche C-Chain and USDC on Polygon, and expanded custodial support by connecting to Fireblocks
New PNL sharing cards featuring memes
Integration with Discord ID to register for voting in WOO DAO directly on WOO X
Additionally, the WOO Network saw broad ecosystem growth throughout Q2 with initiatives like:
WOO token being listed on major exchanges Crypto.com and Binance Futures, as well as global platforms like WazirX in India, Indodax in Indonesia, and Bitvavo in the Netherlands
Partnership with the HBAR foundation to improve HBAR's liquidity across the WOO Network
Further expansion in DeFi with the WOO token tracked on DeBank, more WOO/USD price feeds enabled by Chainlink, and WOO perps listed on ApolloX
Partnerships with Ref.Finance with WOO/NEAR liquidity, portfolio manager on TrueFi, and WOO FNFTs launched with Binance NFT and Solv Protocol, all of which were led by WOO DAO and its core contributors
Explosive Growth for WOOFi
WOOFi had a banner quarter in Q2, led by many product launches and partnerships formed. Despite declining volumes across DeFi, WOOFi has surpassed $1B in total volume with over two-thirds occurring in Q2. Other Q2 milestones for WOOFi include:
Swap, Earn and Stake applications launched on Fantom and Polygon
Integrations with many top DEX aggregators across all four networks, including ParaSwap, Firebird, and YieldYak
Launched the 

Broker program

, which further incentivizes aggregators to route volume to WOOFi

Multichain

 product launched in partnership with LayerZero's Stargate, which enables users to seamlessly swap native tokens from chain to chain in one click (i.e. selling AVAX on Avalanche for BNB on BNB Chain in a single transaction)
Earn vaults expanded, including WOO/BNB, BTC/BNB, and ETH/BNB on BNB Chain and JOE on Avalanche
A New Dimension of the WOO Network
Throughout Q2, WOOFi didn't take up the entire DEX spotlight for WOO Network, as we unveiled WOO DEX. Whereas WOOFi is a capital-efficient swap similar to Uniswap, WOO DEX is an order book-based DEX similar to WOO X or any other CeFi trading platform replicated on-chain. This novel product will enable more advanced trading features and broaden user access to the WOO Network. WOO DEX is powered by the Orderly Network, which was incubated by the NEAR Foundation and WOO Network. Currently, WOO DEX is live on testnet with NEAR/USDC, WOO/USDC, ETH/USDC, and AURORA/USDC pairs. Look out for more product updates for WOO DEX throughout Q3 and beyond!
Our Inclusive Community Continues to Expand
Beyond the global efforts at WOO Network and partnerships with organizations spread around the world, WOO DAO has grown significantly throughout Q2. Some major achievements include:
Establishing the Core Contributor compensation program to recognize the efforts of many active community members
WOO Ventures investing in Utopia Labs Series A with involvement from WOO DAO's treasury committee
Launching the Sticker Pack competition, which created many iconic memes loved by the community
Collaborating with InternDAO to obtain advisory support on treasury management
WOO DAO being nominated as one of the multisig members for BancorDAO
Forming partnerships with Ref.Finance, TrueFi, Solv Protocol
Creating the WOO Force bounty committee and launching the WOO Force blog
Empowering core contributors to build the woostats.io dashboard to track WOO Network activity and WOO DAO's treasury
The WOO Token
The WOO Token remains at the center of this whirlwind of growth for the WOO Network. Some key statistics and information are:
The circulating supply is 1.07b which accounts for 34% of the 2.97b total supply. The market capitalization ended Q2 at $193m
There are over 26.7k unique on-chain addresses spanning the Ethereum, BNB Chain, Avalanche, Polygon, Fantom, NEAR, Aurora, and HECO networks. This on-chain user base increased 7.7% from the previous quarter. Interestingly, BNB Chain addresses comprise 41% of total addresses, just 2% shy of the 43% held by Ethereum. This growth is likely driven by our ongoing partnerships with Binance and the success of WOOFi on BNB Chain
In CeFi, the largest markets by WOO holdings are WOO X (~300M WOO), Binance (~75M WOO), KuCoin(~28M WOO), Huobi (~27M WOO) OKEx (~14M WOO), and Gate (~6M WOO). WOO holdings on WOO X, Binance, and Huobi all increased this quarter, which demonstrates increasing adoption from CeFi traders
Over 432M WOO tokens are currently staked across retail and institutional staking on WOO X and WOOFi, which represents a 40% increase from Q4. There are 4,738 retail users with at least 1,800 WOO staked on WOO X
The circulating supply increased by 60.9m WOO this quarter, with nearly half claimed by seed investors. Currently, the seed wallet contains just 51.5M remaining WOO with the vesting set to complete this fall. The remaining increase was due to ecosystem and staking rewards, marketing initiatives, team, and equity investor vesting, and WOO Ventures investments
Regarding the WOO token burns, April was 3,057,636, May was 7,478,848, and 5,360,089 in June. These burns have culminated in 29.7m in total burned with 15.9m in Q2 2022 alone. The burns come from a number of sources, including WOO X revenue, matching trade-to-earn rebates for clients from ecosystem rewards, and instant unstaking fees on WOO X. Moreover, revenue from WOOFi swap fees has also been used to buy back over 750,000 WOO since its inception. These revenue sources have continued to grow despite poor market conditions, which exemplifies that WOO Network's core businesses have remained resilient.
Legal, Compliance, and People
WOO Network continues to prioritize regulatory compliance by getting VASP registration and licenses in Poland, Taiwan, some EU member states, and other jurisdictions with favorable regulatory regimes for cryptoassets. Furthermore, we're working with vendors to ensure compliance with the Travel Rule, which requires that the full set of originator information travel with the cryptoasset transfer under the Transfer of Funds Regulation.
WOO Network continues to experience strong organizational growth, with headcount growing over 30% from Q1 to Q2. WOO Network now has over 170 employees across 18 different countries. Currently, WOO Network has over 60 open positions and will continue to hire top talent despite other crypto companies reducing their headcount.
---
Stay tuned for all WOO Network's exciting developments!
The content above is neither a recommendation for investment and trading strategies nor does it constitute an offer, solicitation, or recommendation of any product or service. The content is for informational sharing purposes only. Anyone who makes or changes the investment decision based on the content shall undertake the result or loss by himself/herself.