A strong uptrend is evident in the crypto markets right now. How far will we go?
BTC continues to be very strong, benefiting from liquidity injected to the banking system and working as a safe haven for those diversifying out of banks and fiat money. On top of that, it finally broke out of the 9-month range.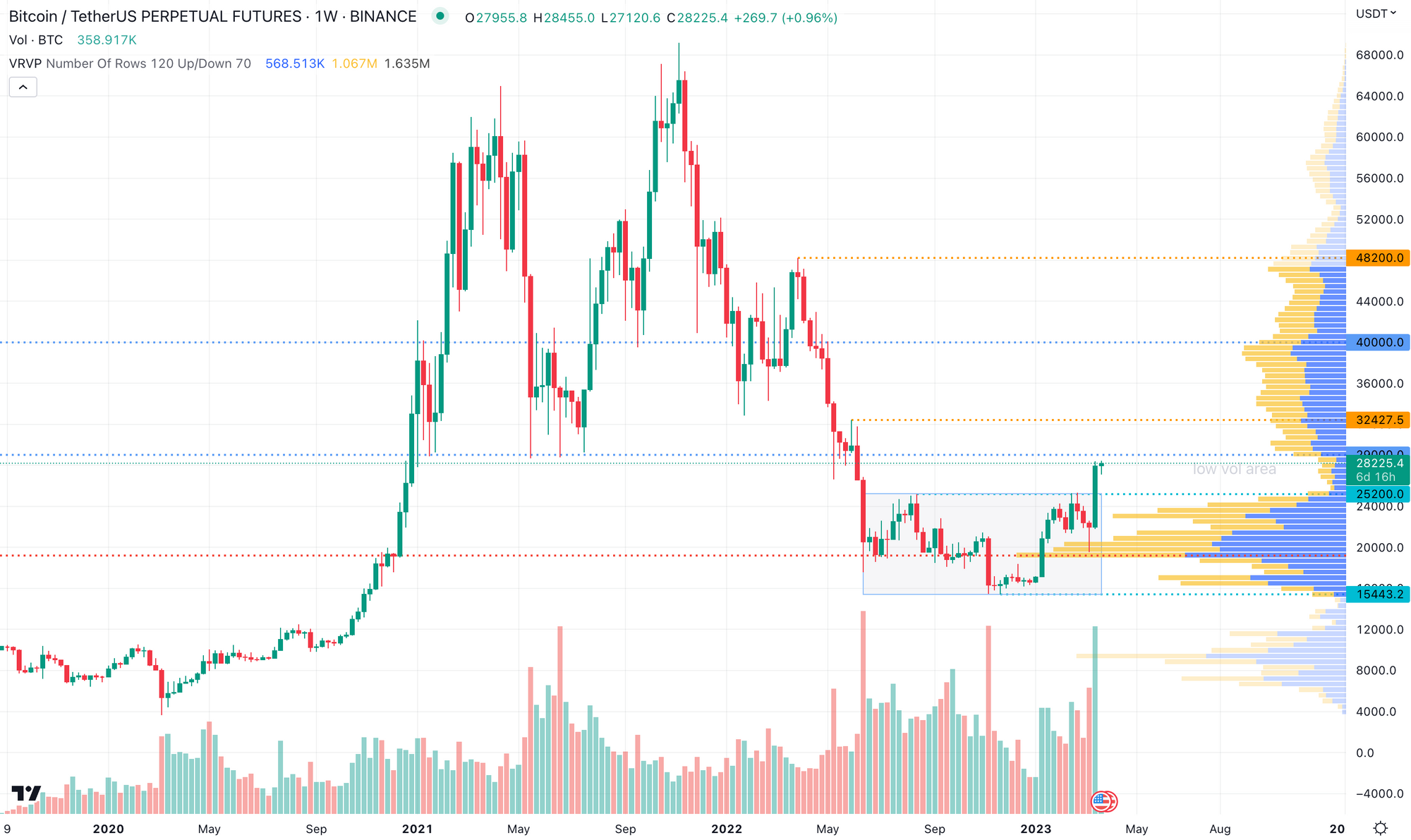 BTC entered last week strong, although a bit tired on Monday after a sharp up-move late on Sunday caused by the Fed, US Treasury and FDIC's intervention to save SVB and prevent spillover effects on other banks.
It attempted to retrace but early weakness was aggressively bought and the market was easily sent above the $22,700 resistance.
The initial spike down (on a higher core CPI) on Tuesday was bought again and BTC blasted through a key $25,300 resistance area.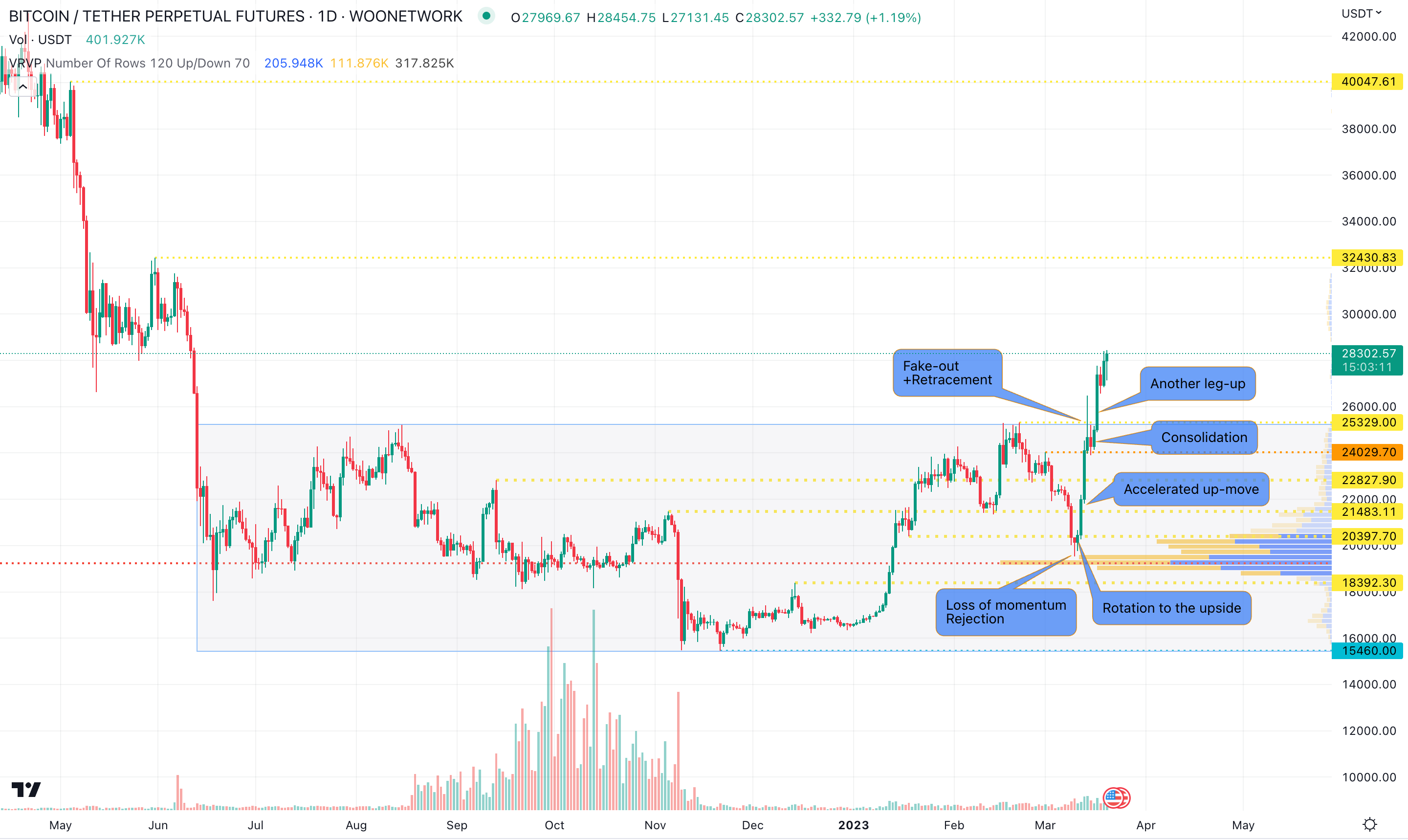 By the end of the day, weaker longs that entered got squeezed and BTC retraced to $23,800 - $24,000 support area.
After a breather mid-week, market pushed through again. This time BTC posted a very strong close on Friday and since then, it has steadily pressed up.
BTC is in uptrend and it's really strong - market has been moving aggressively to the upside with much weaker and shallower moves to the downside. No point to fight the trend in this environment but follow the strength.
So we prefer to trade from the long side especially in higher timeframe and use retracements as buying opportunities until the market dynamics change. $25,300 should work as key support in case of a deeper retracement.
On the upside, we have challenges at around $28,800 - $29,000, then ca $30,000 and ca $32,400. With increased intraday volatility, it's worth using smaller size than normal for day-trades and be more selective as there are many trading opportunities.
The key focus for this week will be on Fed rate decision on Wednesday and subsequently, Powell's presser. It will be especially important with interest rate expectations fluctuating drastically in the recent two weeks.
As of now, it's 38% for 'no change' vs. 62% for a 25bps hike, so whatever the Fed does should impact the market.
Bear in mind that in these days, the situation in the banking sector is at the forefront and Fed has to focus on the stability of the financial system more than anything else, so keep an eye on any developments there.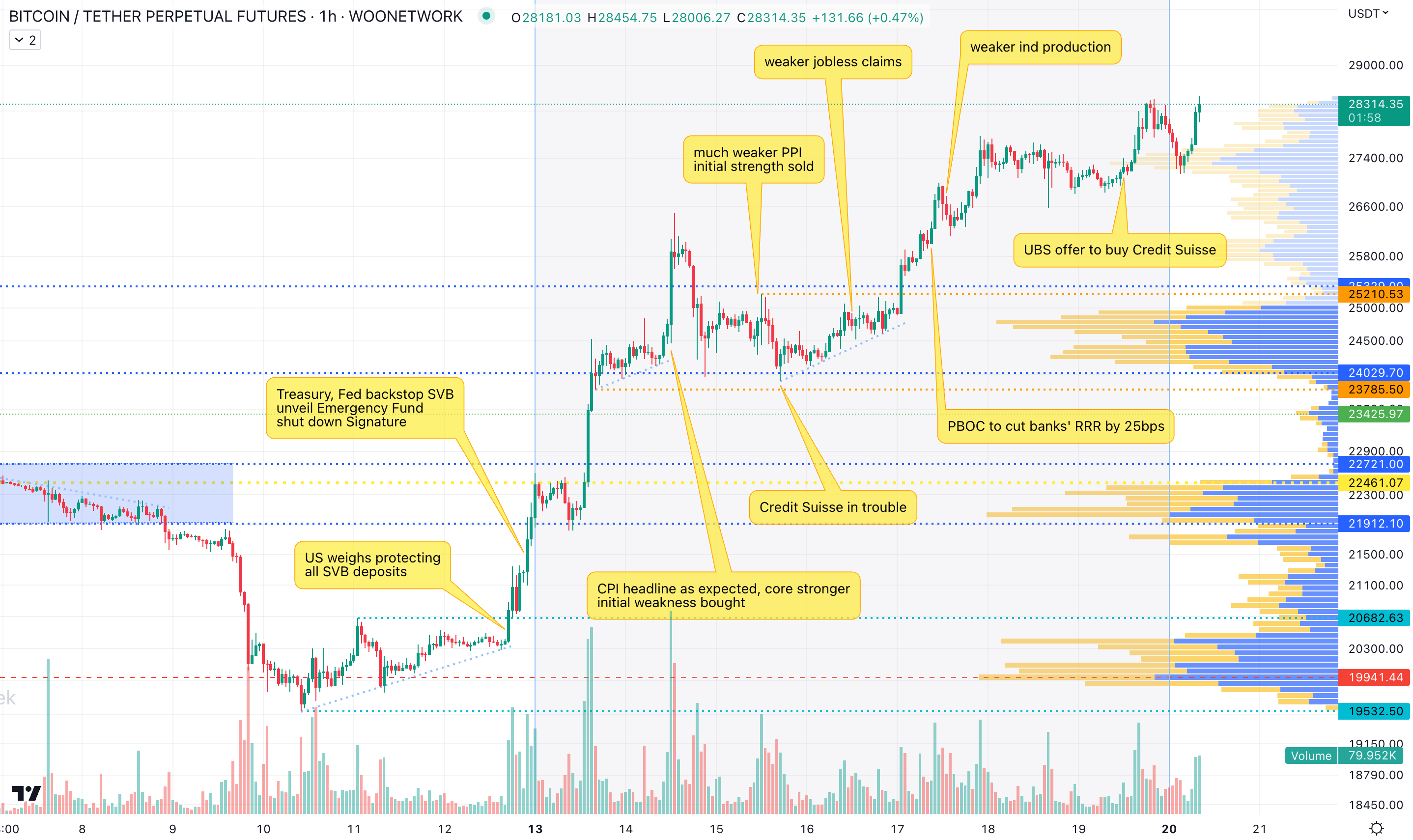 Good luck and have a wonderful trading week!
Trade now on https://x.woo.org/ and follow @KTGglobal for more trading insights.
The content above is neither a recommendation for investment and trading strategies nor does it constitute an investment offer, solicitation, or recommendation of any product or service. The content is for informational sharing purposes only. Anyone who makes or changes to their investment decision based on the content shall undertake the result or loss by himself/herself.
The content of this document has been translated into different languages and shared throughout different platforms. In case of any discrepancy or inconsistency between different posts caused by mistranslations, the English version on our official website shall prevail.