Is a crypto market retracement finally in sight, or are we poised for further upside?
BTC remains in consolidation. As expected, Fed raised rates by 25bps at the FOMC meeting on Wednesday. Though the statement was hawkish, the market didn't want to go down, displaying a sign of strength.
A softer tone during Powell's Q&A pushed the market higher. Early on Thursday, BTC posted a new high but that strength was immediately sold off. Poor earnings from AAPL, GOOGL and AMZN subsequently put downward pressure towards the end of that day.
On Friday, a shockingly strong NFP data was released – it's not what Fed wants to see for its 'pause'. The market reacted downwards, but again not dramatically. Over the weekend, BTC kept on drifting down but still within its range.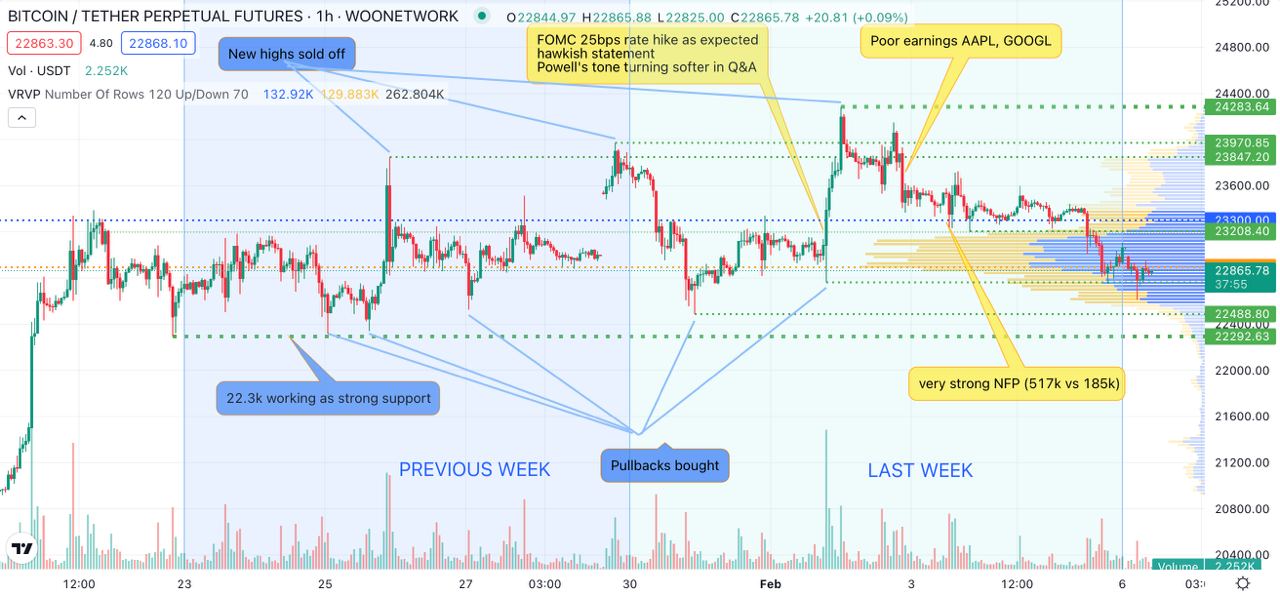 Cautiously long – that's still our bias. Up-trend, intraday pullbacks are being bought and with the market being resilient to bearish data – that makes us long.
BTC hasn't managed to break to the upside with new daily highs being sold off – that makes us increasingly cautious. A sustainable break of daily high ($24,300 for now) would make us more bullish with expectations of another leg up.
On the other hand, a sustainable break of $22,300 should give us a long-awaited retracement. For now, it is range-bound trading, and buying weakness towards the lower band has been working well.
Even though we are in consolidation, it is very wide – ca. $2k or so. For more active intraday traders, it is worth exploiting short-term directional patterns in the range.
This week, the focus will be on Fed speakers lined up through the week, with Powell's speech on Tuesday as the most important. Market participants will be curious to see how a very strong job report will change Powell's rhetoric, versus what we heard last Wednesday.
BTC is expected to be driven by market sentiment. Let's see if we finally get the breakout from the current 2-week-long consolidation ($22,300 - $24,300).
Happy trading to all WOO family members!
Trade now on https://x.woo.org/ and follow @KTGglobal for more trading insights.
Related article Bitcoin shoots up to the USD24,000 level, reacting to Fed hike
The content above is neither a recommendation for investment and trading strategies nor does it constitute an offer, solicitation, or recommendation of any product or service. The content is for informational sharing purposes only. Anyone who makes or changes the investment decision based on the content shall undertake the result or loss by himself/herself.
The content of this document has been translated into different languages and shared throughout different platforms. In case of any discrepancy or inconsistency between different posts caused by mistranslations, the English version on our official website shall prevail.