With BTC's price becoming more compressed, will we finally get a directional move?
BTC entered last week with signs of strength and hope for the bulls, on the back of rejection from the downside on Friday, a weekly close above lower band of $26,500 - $31,050 range and an early rotation to the upside on Monday.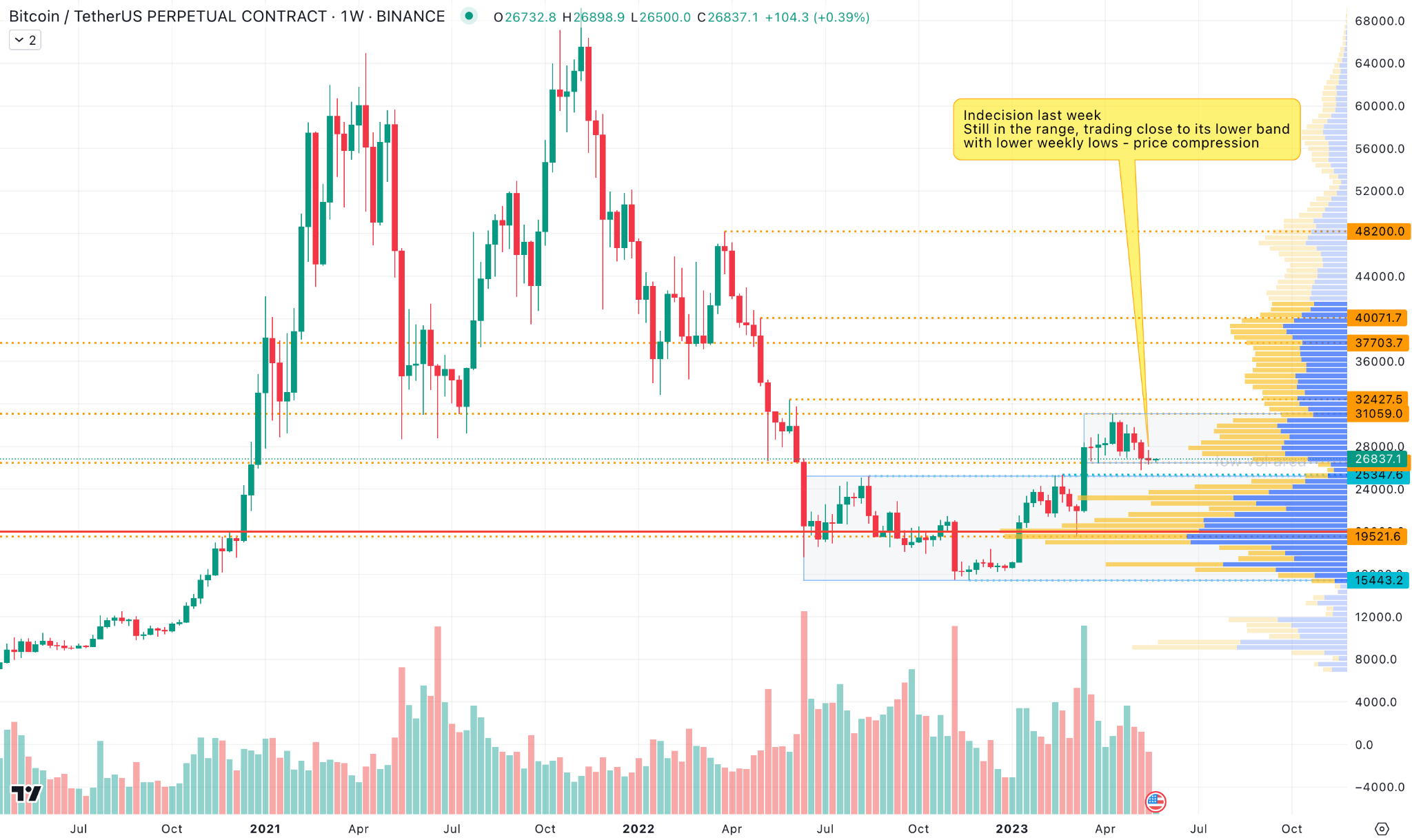 Later in the day, the momentum started to wane instead of building.
BTC got to its first challenge at $27,700 but was too weak on the approach and started backing off.
Tuesday was a rest day with sideways trading.
Early on Wednesday, BTC started drifting down and it got to $26,500 support, but in the US session it was bought quite aggressively together with USD and equities.
It happened after Biden surprisingly signaled a possibility of a deal on debt ceiling by Sunday and McCarthy confirmed it as doable.
That bounce however didn't manage to reach Monday's high and the market was consolidating.
On Thursday, BTC started to be pressed down quite strongly with some moves on miner's wallets.
It looked like quite a substantial long position unwinding/repositioning as we had limit sell orders being put lower and lower - preventing the market to post any bigger short-term retracement.
That led to an accelerated down-move but after swiping liquidity below $26,500, BTC was bought back up again.
On Friday, we had an increased volatility on Powell's speech as he initially sounded hawkish - indicating inflation was too high and work still needs to be done to bring it back to 2% but later hinted at a pause.
Nonetheless, after down and up moves on record weekly volume, BTC eventually settled.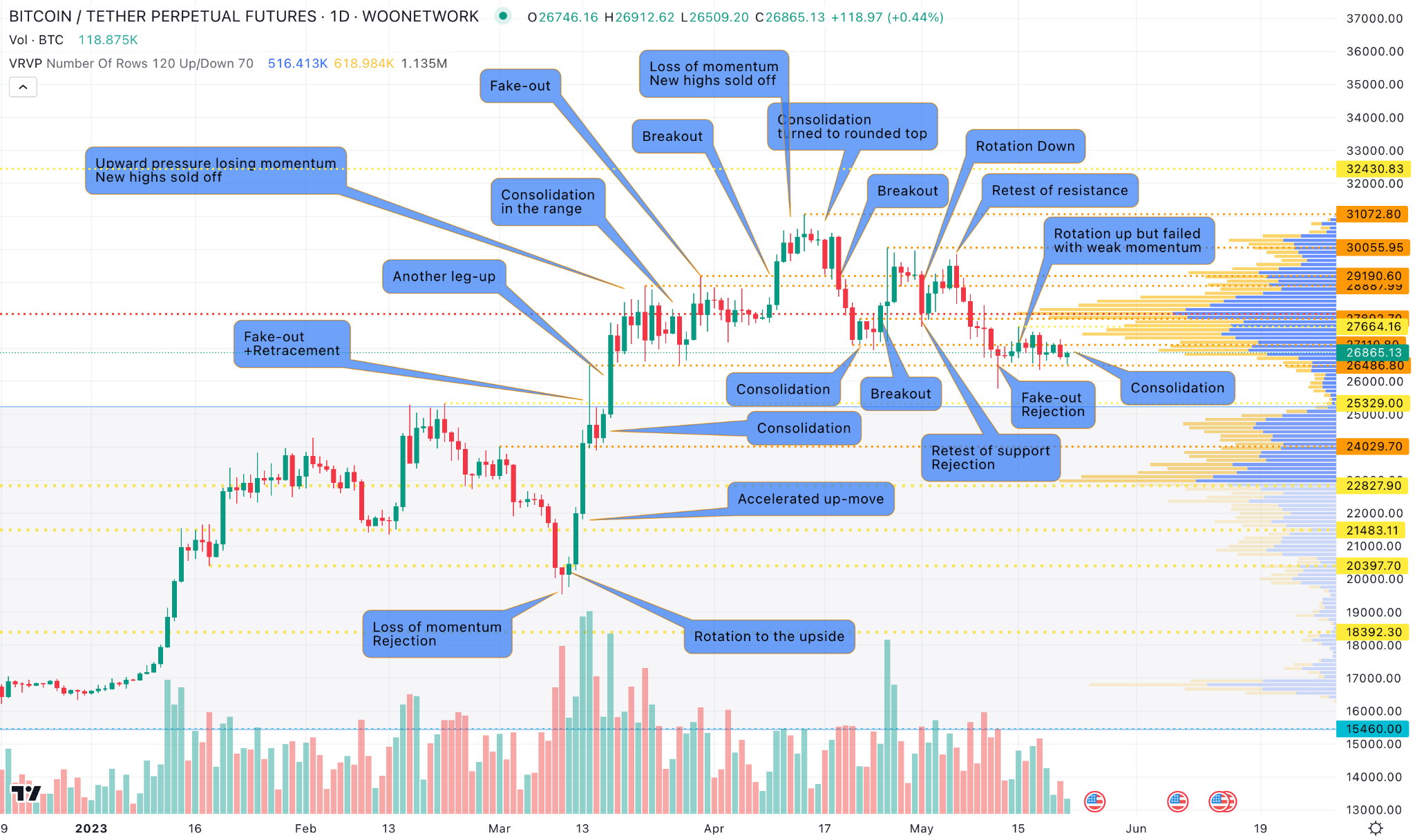 For the rest of the week, it stayed in a tight range even though talks over the debt ceiling went nowhere with Biden considering using the 14th amendment, causing some weakness on Sunday.
BTC finished the week practically unchanged.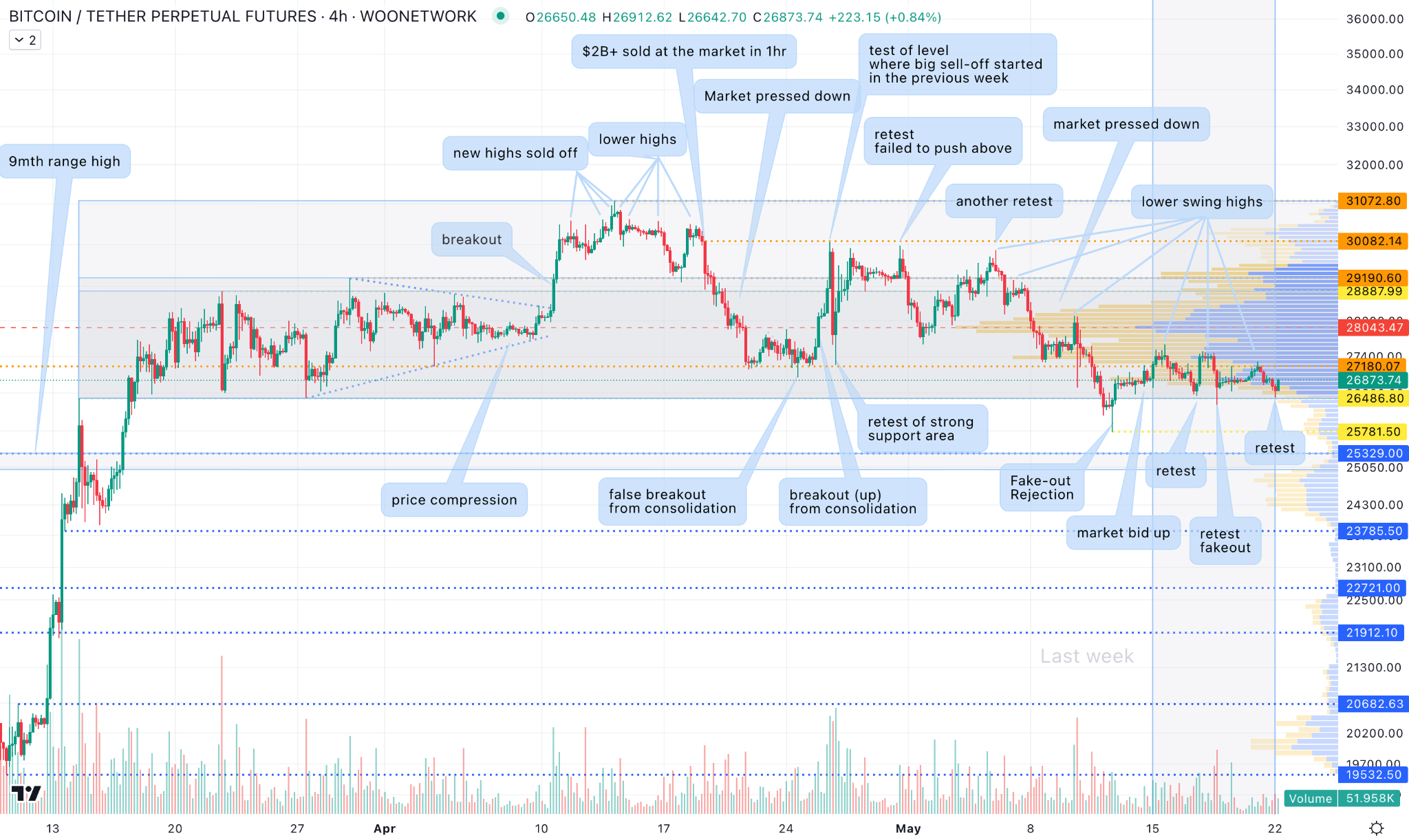 We've had indecision on BTC in recent days.
Since it printed 2023 highs more than a month ago, it's been posting lower and lower weekly highs – not a good sign for bulls.
On the other hand, $26,500 worked as a strong support with any occasional intraday weakness below aggressively bought - so that each day had finished above.
As a result, we have a price compression above the lower band of $26,500 - $31,050 range.
Eventually, it should give us a directional move, perhaps a strong one which is usually the case in this kind of structure.
We don't know when (but likely soon) and in which direction it will happen.
For now, it's important to watch $27,700 and $26,500, and the price behavior around those levels if BTC gets there.
Sustainable break of one of them should give the market direction.
Before it happens you can expect continued choppy trading on low liquidity, same as we've been experiencing lately.
On macro this week, key focus will be on the Fed's favored gauge of inflation – PCE on Friday.
As a Fed pause is most likely during its next meeting on June 14th (ca 83% as of now) it seems that only a substantial negative surprise (much higher PCE) can change it.
Other data points to watch:
Tue: Manufacturing, Services PMI, New Home Sales
Wed: FOMC Minutes
Thu: GDP, Jobless Claims, Pending Home Sales
Fri:  Durable Goods Orders, Michigan Consumer Sentiment & Inflation Expectations
We also have Fed speakers lined up every day from Monday till Thursday.
With the end of May approaching, you can expect any news on the progress of the debt ceiling situation to be at the forefront and be the primary driver of financial markets, including crypto.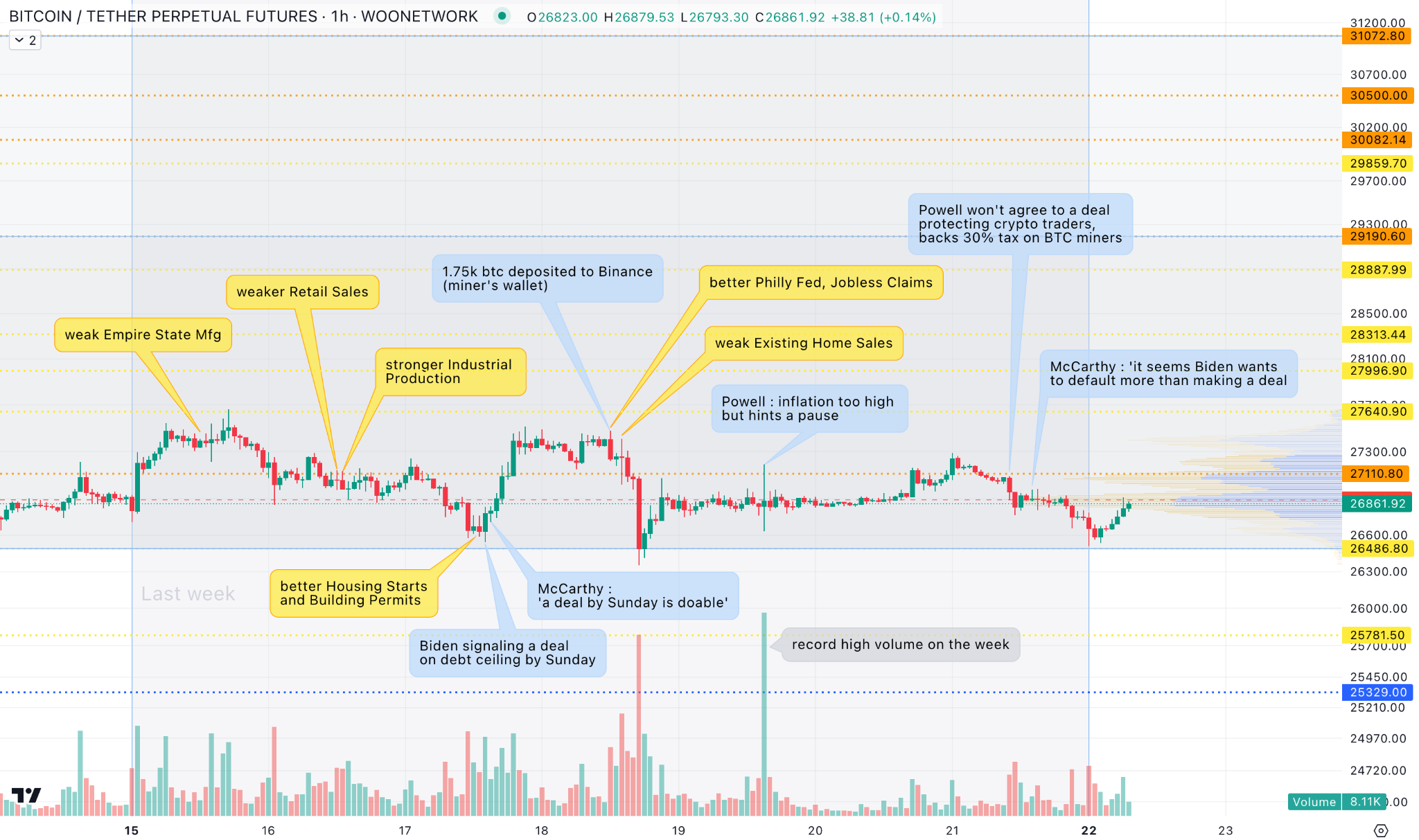 Have a wonderful trading week!

Trade now on https://x.woo.org/ and follow @KTGglobal for more trading insights.
The content above is neither a recommendation for investment and trading strategies nor does it constitute an investment offer, solicitation, or recommendation of any product or service. The content is for informational sharing purposes only. Anyone who makes or changes to their investment decision based on the content shall undertake the result or loss by himself/herself.
The content of this document has been translated into different languages and shared throughout different platforms. In case of any discrepancy or inconsistency between different posts caused by mistranslations, the English version on our official website shall prevail.