WOO Network is making a series of improvements to the WOO tokenomics to increase utility and transparency for the community
Summary:
Over the first half of 2023, WOO Network will roll out a series of improvements to WOO tokenomics. The first part will focus on addressing existing issues while making the token distribution more transparent
WOO Network will burn over 705 million WOO tokens, about 24% of the max supply, as WOO Ventures, WOO DAO, and the insurance fund are wound down.
All burning mechanisms will be stopped going forward, while a large portion of remaining ecosystem tokens will be placed into time-locked vesting contracts for more complete transparency and clarity around token supply.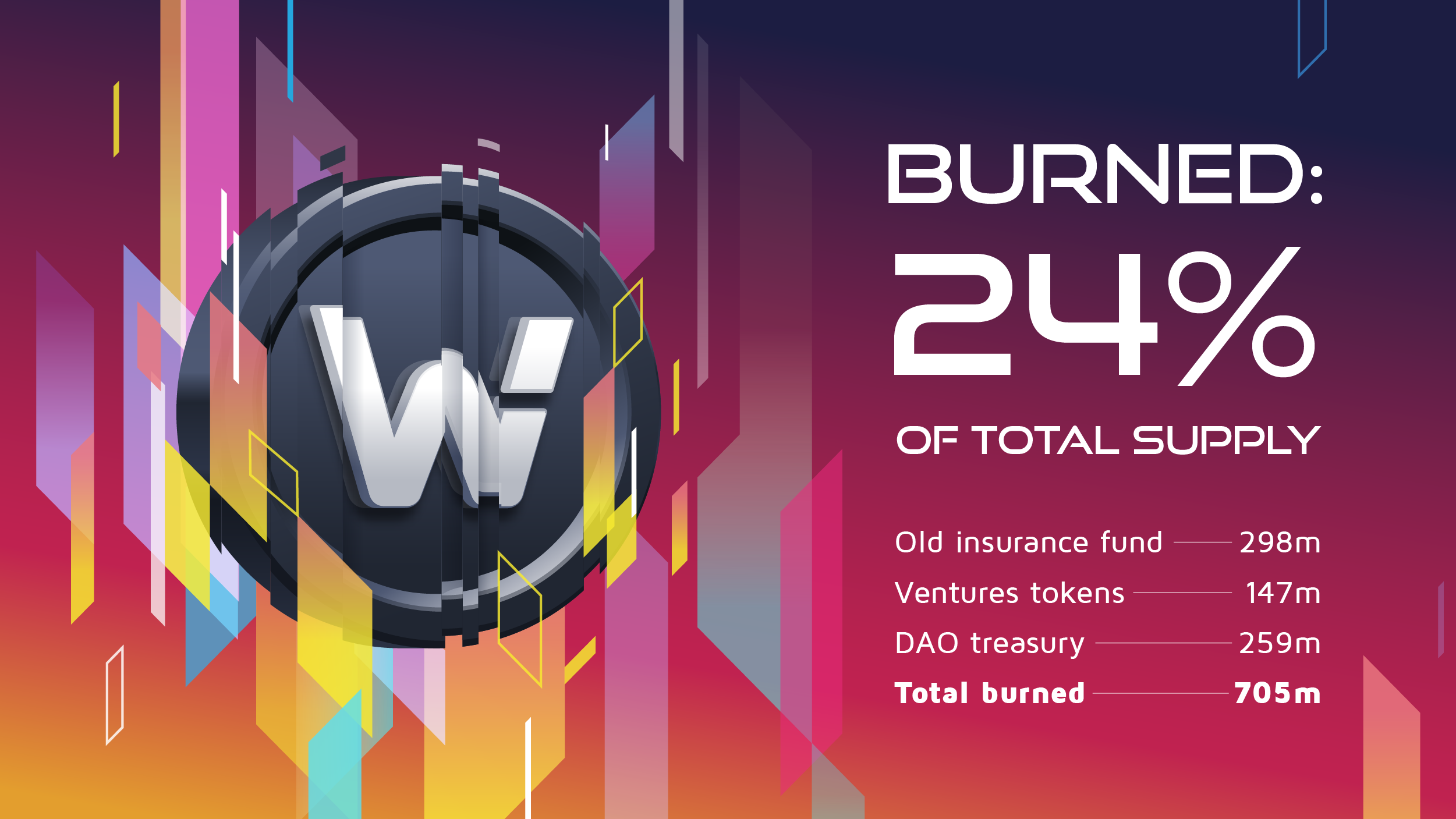 Continuous optimization and improvement
The collapse of token ecosystems such as LUNA and FTT has demonstrated the importance of having a resilient ecosystem, free from factors that would impact the token value, especially in adverse conditions. These events have provided opportunities to learn, adapt, and elevate the WOO ecosystem to blue-chip status with the WOO token at its core. Several other factors, such as recent actions from regulators and feedback from the community, further motivate adjusting how WOO will be utilized by current and potential future token holders.

Winding down WOO Ventures:
WOO Ventures was conceived to invest in projects that bring value to WOO Network's ecosystem. However, a number of challenges slowed down the success of WOO Ventures. First, investment allocation to top projects was highly competitive through the bull market and remains so to this day, as significant dollars from VCs and investors chased relatively few quality projects. Second, the early-stage projects require cash injections to scale, and holding WOO tokens added unnecessary volatility to an already highly risky endeavor. Third, the long vesting period of projects limited the ability of WOO Ventures to provide timely airdrops to WOO stakers. Lastly, with the growth of WOO Network over the years, the amount of WOO staked across WOO X and WOOFi far exceeded the value of tokens received from WOO Ventures investments, especially in the current depth of the bear market, which limited the rewards received per staker.
In light of these developments, WOO Network has burned 147,417,657 tokens, representing the remaining amount of tokens from the five percent of max supply initially allocated to WOO Ventures. As part of sunsetting WOO Ventures, WOO Network will conduct a series of airdrops throughout January to existing stakers on WOO X and WOOFi. More details around the final WOO Ventures airdrops will be released in the coming weeks.

Fostering community engagement with WOO Force:
WOO DAO was established to foster more active governance, community engagement and increase WOO Network's presence across DeFi. Within just one year of activity, WOO DAO cultivated significant community support, leading to the formation of WOO Force, which aims to bring awareness of WOO Network across regional markets and DeFi communities. The main drawback of WOO DAO was the blurred lines of responsibilities as WOO Network's operations remained centralized and beyond the scope of the DAO.
Our community engaging in shaping the future of WOO Network remains a top priority as we strive to build the best possible ecosystem and suite of products. Accordingly, WOO DAO will transition into WOO Force with the aim of shifting its focus from governance to community engagement. This transition will allow WOO Network to seek feedback, guidance and active participation from the community through channels across Discord, Telegram, and Twitter.
Accordingly, WOO Network has burned 259,136,204 tokens allocated to WOO DAO's treasury, as well as allocating 5,000,000 tokens from the treasury to WOO Force's operational budget. All non-WOO crypto assets (stablecoins and other tokens) from WOO DAO's treasury have been transferred to WOO Network's ecosystem team to support further initiatives aimed at growing the community.

Improving WOO X's security and robustness:
Previously, ten percent of the max supply was allocated to an insurance fund. With the benefit of observing events of the past year, it has become abundantly clear that having native tokens in an exchange's insurance fund is not prudent. Initial steps have already been taken in the release of the Transparency Dashboard, with the exclusion of WOO tokens from the calculation of the company's reserve assets and outlines our commitment to never borrow against WOO tokens in the future.

WOO Network has burned 298,697,900 tokens allocated to the insurance fund. To support the security and resilience of WOO X, WOO Network has allocated $10M of company-owned stablecoins to form a compensation fund which stands in a first-loss position in the event of WOO Network suffering a loss or a liquidity source defaulting. Further plans to grow this compensation fund will be announced in Q1 as platform security remains a primary objective for WOO Network.
Improving transparency with WOO tokenomics:
Many community members and private investors have voiced concerns around a large outstanding supply, which has translated to significant inflation. A significant gap has also been noted between the market capitalization and the fully diluted value of the WOO token.
Despite a large share of tokens allocated to the WOO Network ecosystem, we deem that these concerns are valid and warrant action. To address these concerns, around 545m WOO Ecosystem Rewards tokens are moving to a time-locked smart contract to be vested linearly over 5 years. Once tokens are vested, they will be stored in custody until used to incentivize more adoption across WOO Network's suite of products.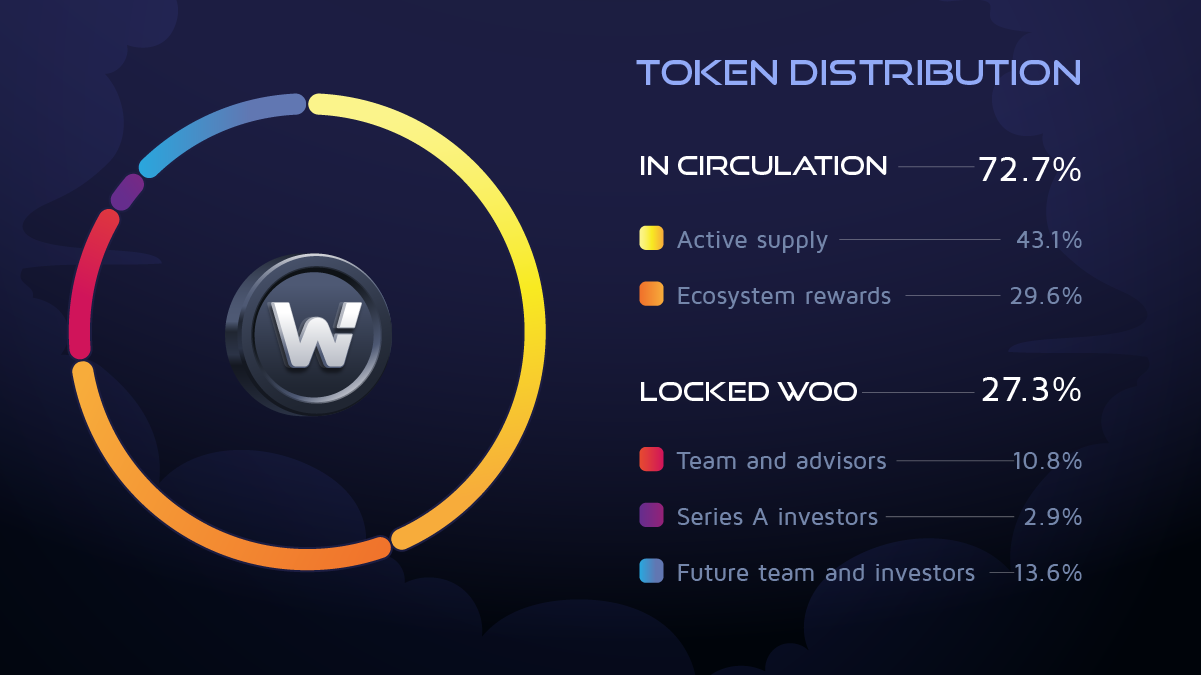 Expanding WOO's utility across the ecosystem:
As we recently outlined in our Q1 2023 Roadmap, WOO Network will launch a series of initiatives that drive further utility for WOO and bring stakers further benefits. On WOO X, the improved staking program will offer more customization for users to provide more tailored benefits to retail users, pro traders, longer-term investors, institutional clients, ambassadors and brokers. The launch of new products will be specifically designed to rely heavily upon the staking program, including earn vaults for obtaining yield, a launchpad offering access to early stage projects and social trading aimed at both strategists and followers. In DeFi, we aim to unify WOOFi staking on a single chain to streamline the user experience. WOOFi DEX will also have a series of announcements related to WOO staking as it emerges from beta to mainnet in the first half of 2023. Lastly, WOO Network aims to establish a series of partnerships with promising service providers, projects and ecosystems to provide further utility to WOO token holders.
---
The content above is neither a recommendation for investment and trading strategies nor does it constitute an offer, solicitation, or recommendation of any product or service. The content is for informational sharing purposes only. Anyone who makes or changes the investment decision based on the content shall undertake the result or loss by himself/herself.
The content of this document has been translated into different languages and shared throughout different platforms. In case of any discrepancy or inconsistency between different posts caused by mistranslations, the English version on our official website shall prevail.