As part of WOO Network's effort to further improve the trader's experience, the WOO X UI has been streamlined, making it even easier to navigate while maintaining the flexibility for customization that sets it apart from its competitors.
The revamped UI includes extensive tweaks across all components of the page besides ensuring a more consistent appearance for color, typography, corner radiuses, spacing, and layout.
Improvements have been made to widgets such as the orderbook, portfolio, orders, and order entry tool. All of these changes are intended to help improve the efficiency of navigation on the platform.
Meanwhile, below are some of the enhancements made to WOO X's UI on the desktop.
New template
To allow traders to quickly compare charts and place orders for two trading pairs, a new template 'Advanced 02' has been introduced. This new template is optimized for widescreen displays.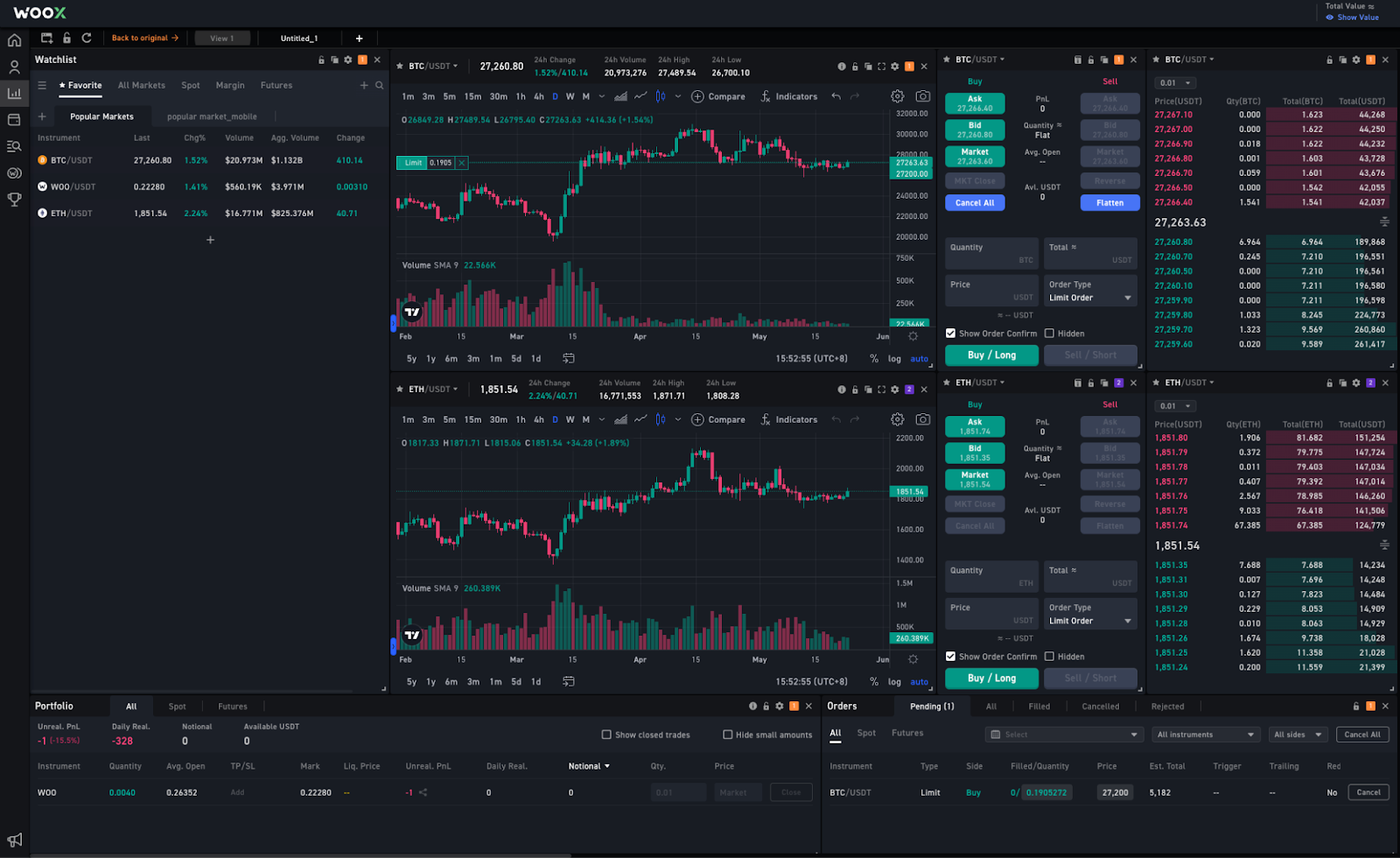 [WOO X Advanced 02 template neatly displays two charts]

Watchlist on steroids
The Watchlist widget also sees a revamp - adding coin logos for better visual distinction and removing high-contrast UI elements to make it easier on the eye.
Users can see a range of their markets including "Spot", "Margin" and "Futures" at the top of the widget.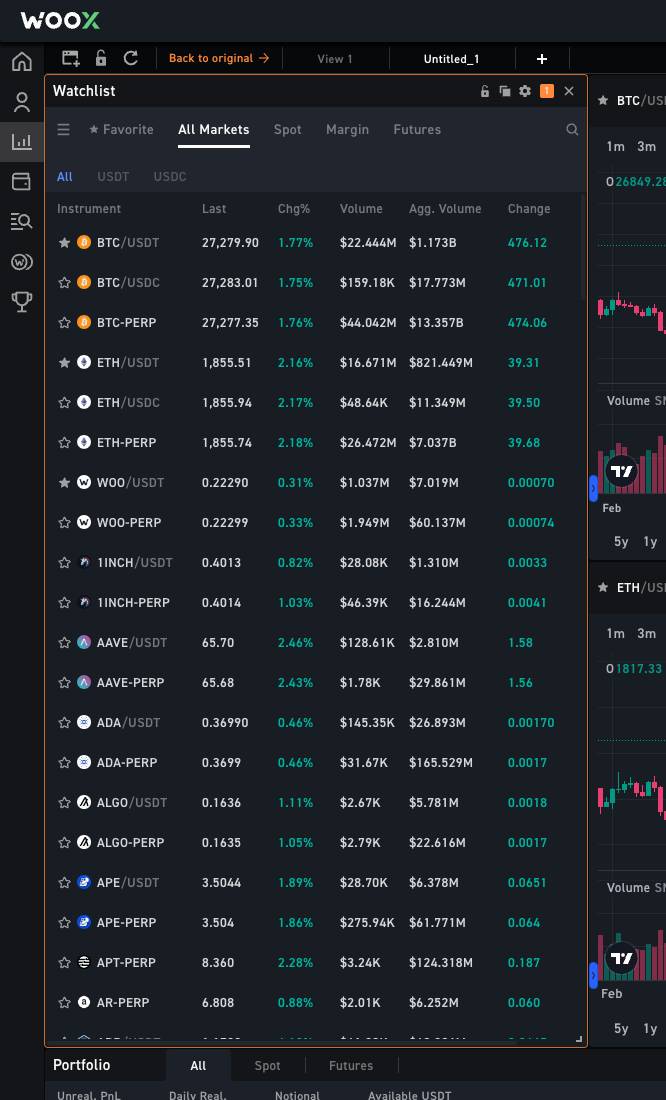 [Switch views of different markets by clicking on the tabs in Watchlist]

Share your new layout and win $WOO
To start using the new UI ahead of its official launch on June 12th,  all you have to do is click on the 'Upgrade your experience" button to enjoy the new interface.  
During this 4-week beta period, users are free to customize their new layouts or switch back to the original at any time. After that, we will migrate all your old workspaces to the new UI.
If you're loving the new WOO X trading UI, we want to know how you're customizing your trading workspace! Share your layout with us - by taking a screenshot of your new trading page + RT & reply to this tweet.
Five random winners will share 1,000 $WOO!
Here are some of the feedback that we've received from our users about the new UI:

Have some feedback to share with us? Feel free to drop us a message in our Telegram group.
Terms & conditions
All participants of the campaign accept that,
1. He/She abides by the WOO X Terms of Service (https://support.woo.org/hc/en-001/articles/4403851854233--Terms-of-Services)
2. WOO Network reserves the right to disqualify any participant if he/she engages in any inappropriate, dishonest, or abusive activities during the campaign.
3. WOO Network reserves the right to the final interpretation of the Terms & Conditions and the Campaign Rules of this campaign, including but not limited to the number of prizes, winners, and dates set above. Please contact our customer services for any additional inquiries.
4. WOO Network will not be responsible or liable for any losses (including, without limitation, any direct or indirect damages for loss of profits) resulting or arising directly or indirectly from your participation in this campaign.
—
The content above is neither a recommendation for investment and trading strategies nor does it constitute an investment offer, solicitation, or recommendation of any product or service. The content is for informational sharing purposes only. Anyone who makes or changes the investment decision based on the content shall undertake the result or loss by himself/herself.
The content of this document has been translated into different languages and shared throughout different platforms. In case of any discrepancy or inconsistency between different posts caused by mistranslations, the English version on our official website shall prevail.