Receive exclusive rewards for completing tasks or achieving milestones on the WOO Network ecosystem and show them off on the WOO X trading platform as special achievements!
WOO X achievement is our way of honoring and rewarding our crypto trader community. Each achievement, which comes with its own specific set of bonuses and perks, can be earned by trading on the WOO X platform, completing set actions, or helping the community.
Once collected, achievements will be pinned on users' profiles to be shown proudly to all other traders. USD11,000 of $WOO and VIP invites are also up for grabs.
As part of 'The Ascension' campaign, we're releasing the very first batch of three exclusive achievements on WOO X.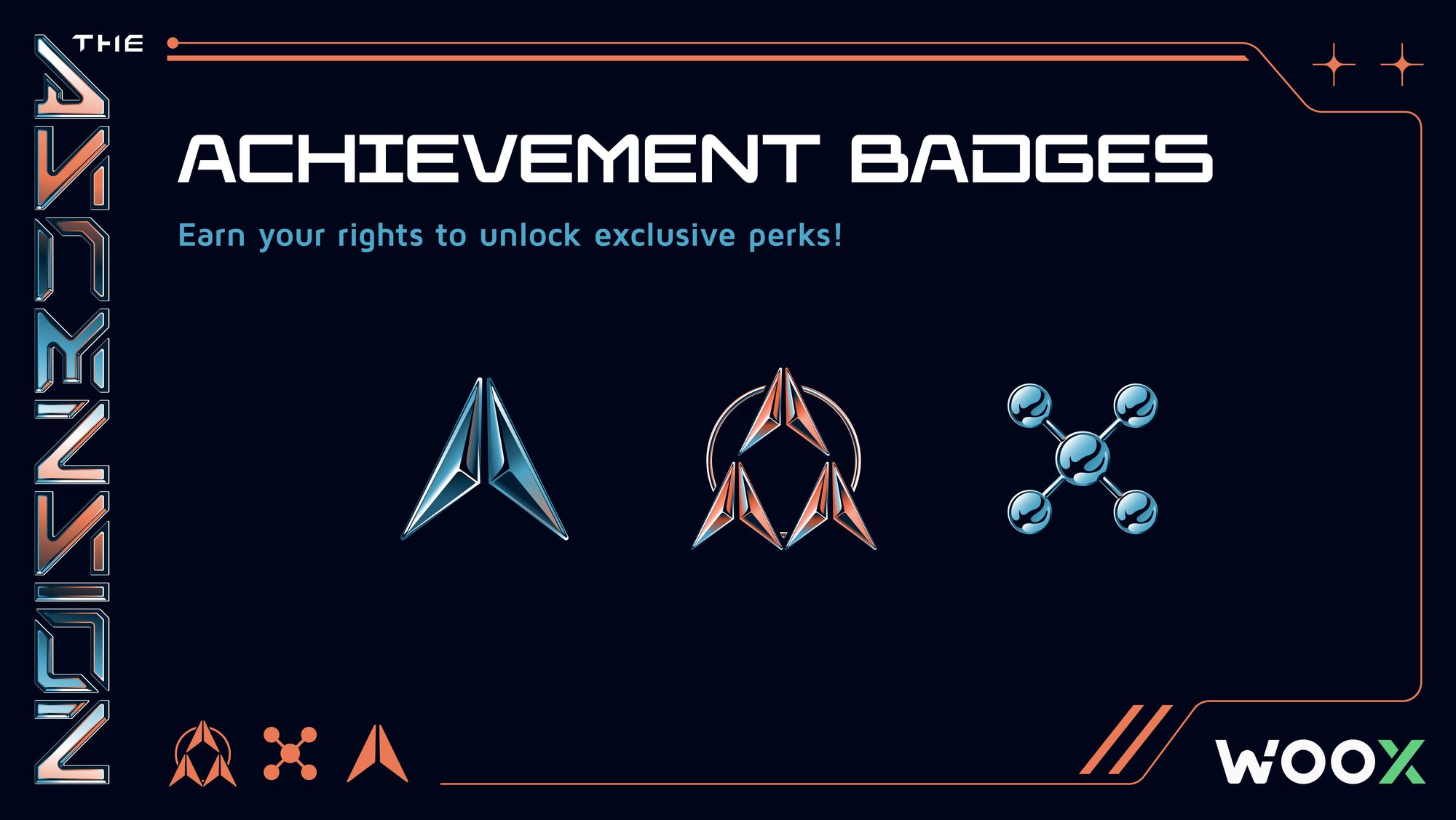 Earn $WOO tokens, receive exclusive invites to future trading competitions, or get invited into our VIP program by collecting The Arrival, The Worshipped, and The Messenger achievements from now until March 17, 2023, 23:59 UTC.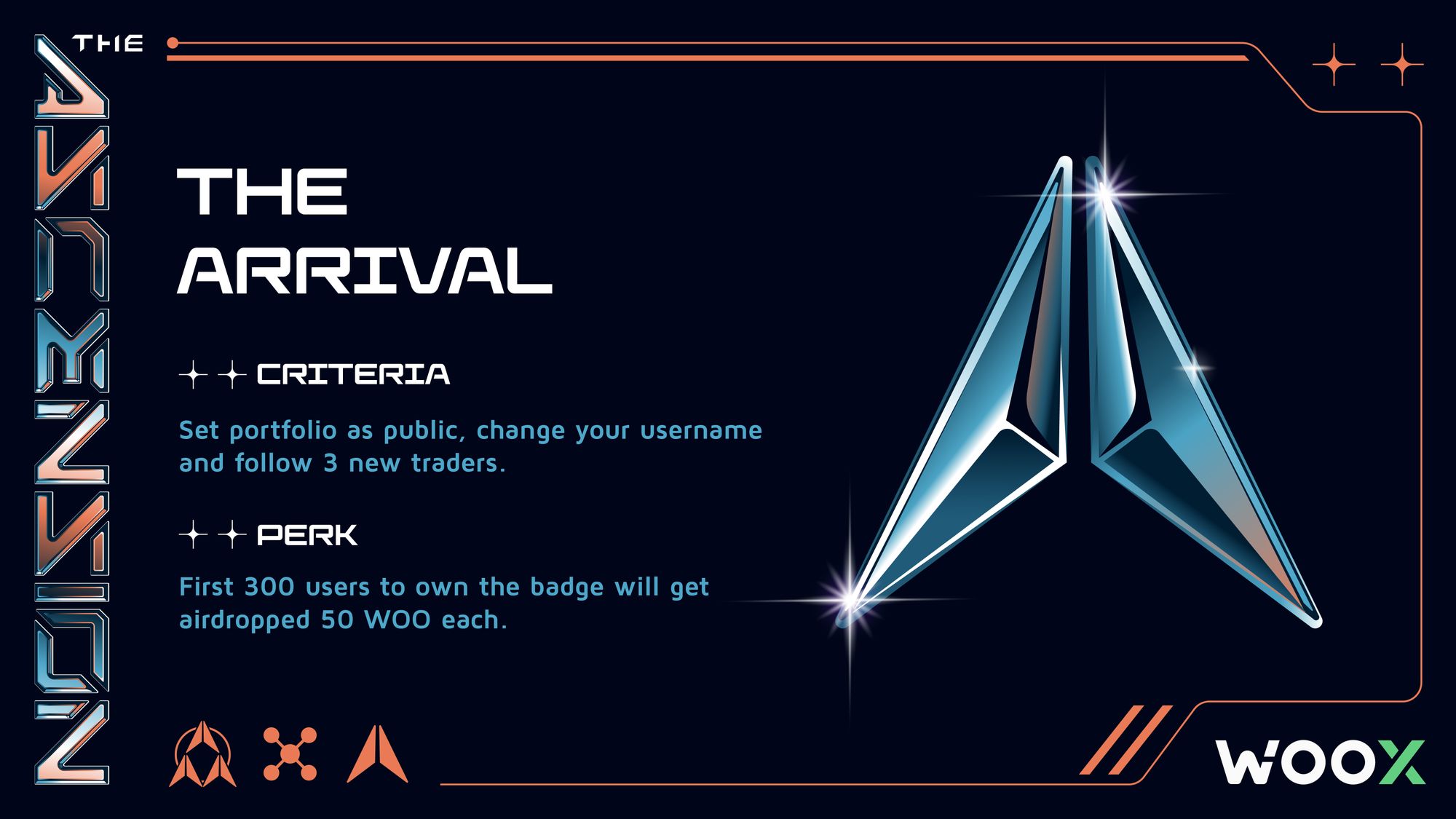 To earn The Arrival, simply: set your profile's portfolio section as 'Public', customize and change your profile's default username, and follow 3 new traders on the WOO X leaderboard.
Upon completion of all these tasks, users will instantly receive The Arrival achievement.
Only the first 300 users who earned this achievement will get airdropped 50 WOO each after the campaign ends.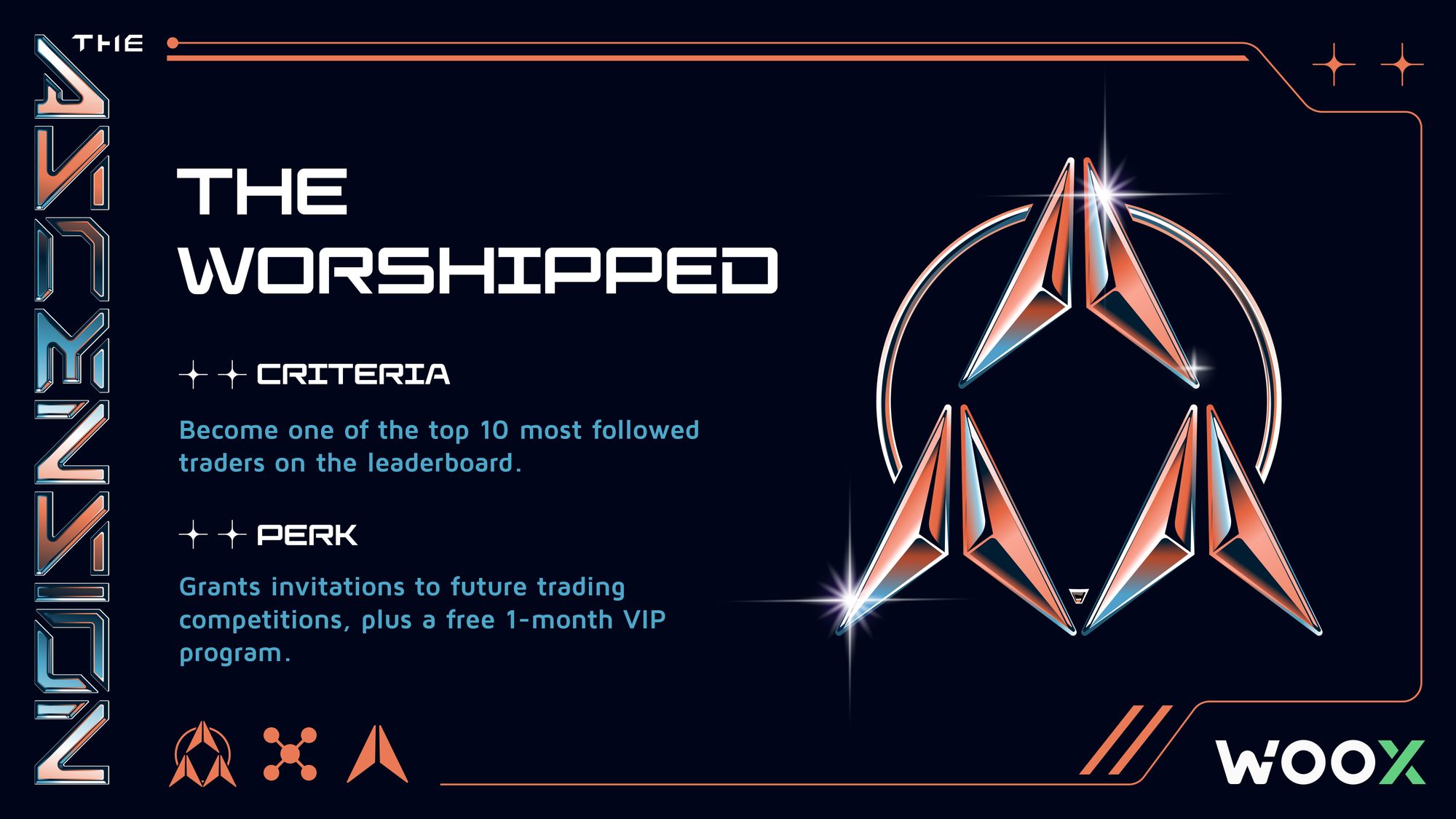 To earn The Worshipped, users must be included in the top 10 most followed traders on the WOO X Leaderboard by the snapshot date of March 18th, 00:00 UTC.
The Worshipped holders will win USD500 of $WOO each. We will also reward one of their followers each (one follower per winning trader) with USD100 of $WOO via raffle.
Owners of The Worshipped will enjoy exclusive invitations to future trading competitions and are also eligible for a free 1-month Whales of WOO VIP program.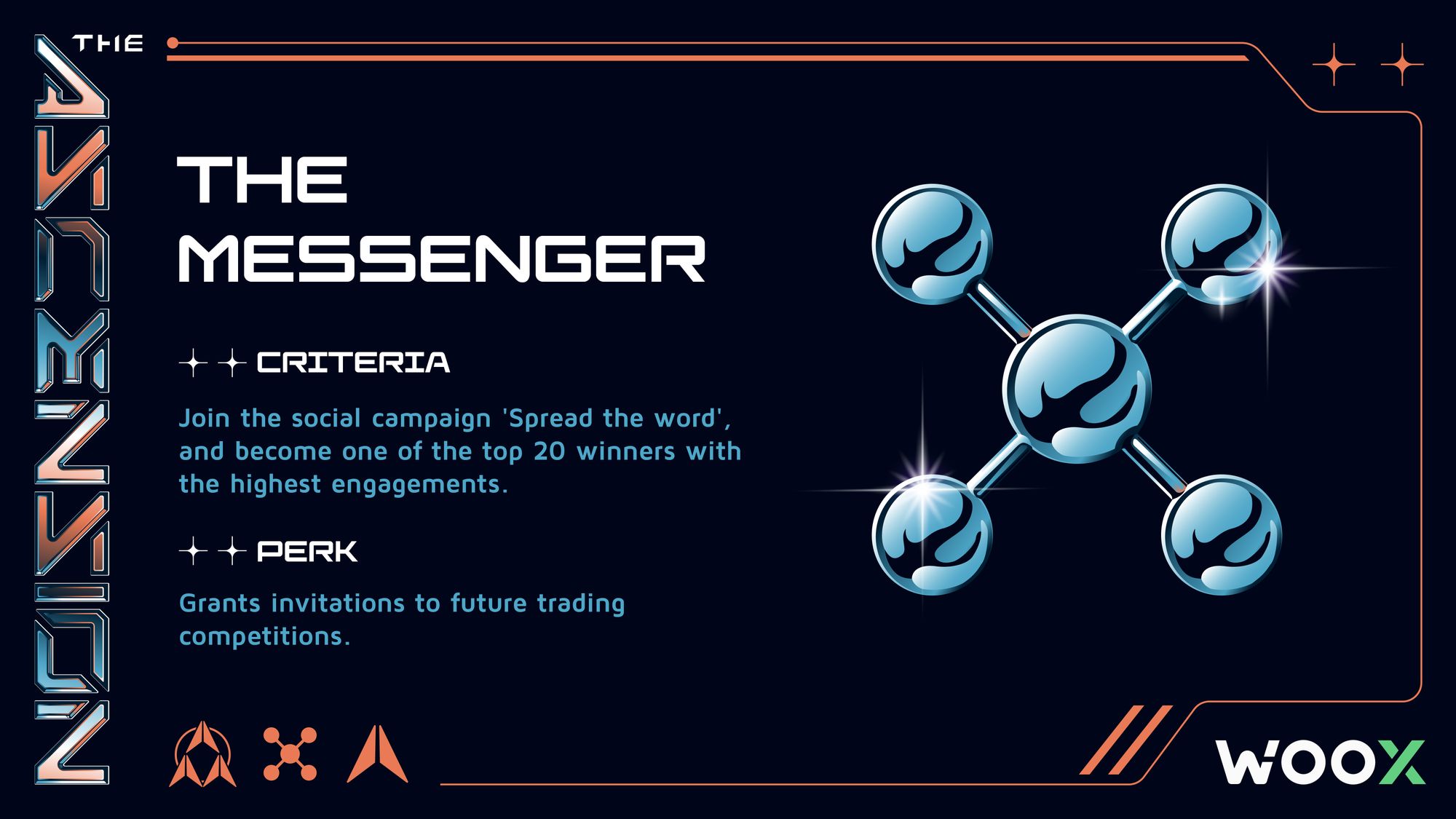 Lastly, to earn The Messenger, users must tweet publicly, attaching a screenshot of their newly-created leaderboard profile, along with 3 other leaderboard profiles that they've followed.
20 winners whose tweets have the highest engagements will win USD100 worth of $WOO each and receive exclusive invitations to future trading competitions, along with the achievement The Messenger.
Check this link for more information on the winning criteria.
More achievements, more perks
More WOO X achievements will be released in future campaigns, covering a diverse set of benefits and perks across the WOO Network ecosystem.
For the current list of WOO X achievements and its rewards/perks, please head on to 'The Ascension' campaign page.
---
The content above is neither a recommendation for investment and trading strategies nor does it constitute an offer, solicitation, or recommendation of any product or service.
The content is for informational sharing purposes only. Anyone who makes or changes the investment decision based on the content shall undertake the result or loss by himself/herself.
WOO Network reserves the right to the final interpretation of the Terms & Conditions and the Campaign Rules of this campaign, including but not limited to the number of prizes, winners and dates set above.
WOO Network will not be responsible or liable for any losses (including, without limitation, any direct or indirect damages for loss of profits) resulting or arising directly or indirectly from your participation in this campaign.
The content of this document has been translated into different languages and shared throughout different platforms.
In case of any discrepancy or inconsistency between different posts caused by mistranslations, the English version on our official website shall prevail.