Last week was very interesting with lots of action and BTC trending sharply up. 
BTC entered last week strong on growing market optimism and expectations for eventual spot BTC ETF approval as SEC hadn't appealed Grayscale court decision by the Friday deadline.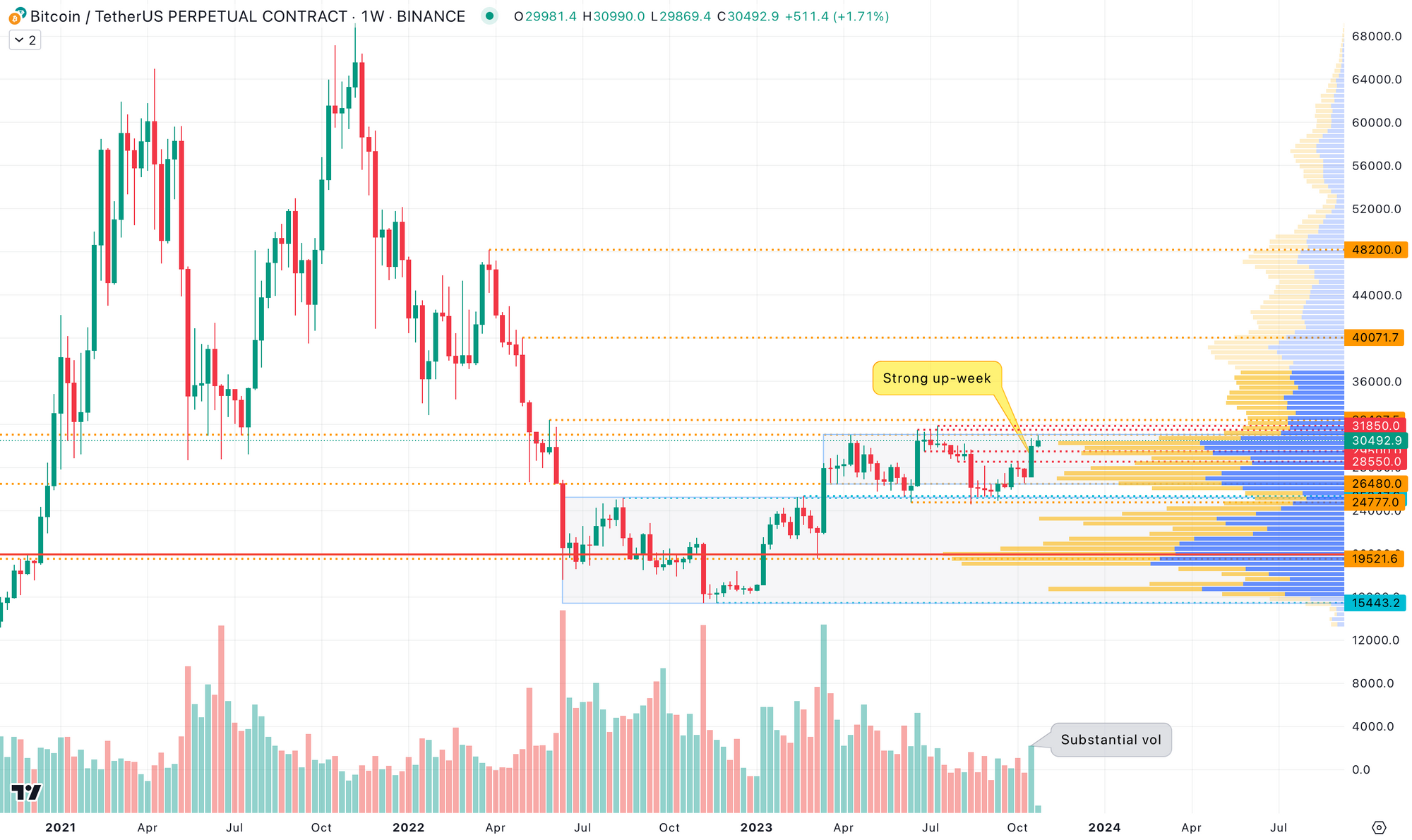 As Monday started, it slowly but steadily pushed up towards first resistance and weekend high at $27,300 and later in the Asian session on the break accelerated further to $28,000. 
As it was consolidating below that level, the big news from Cointelegraph hit the wires that SEC had approved BlackRock's spot BTC ETF.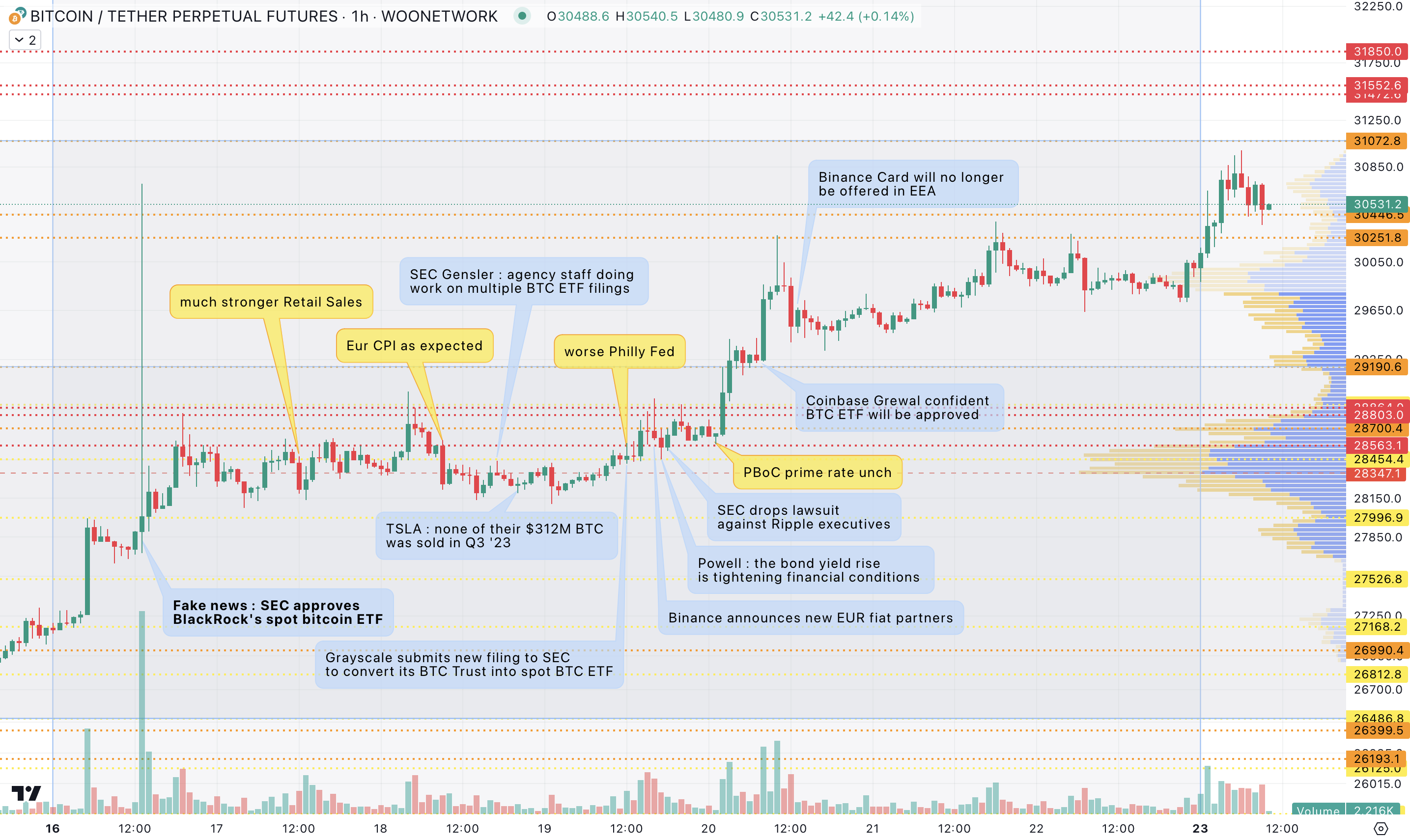 That surprised everyone and caused a huge move up to $30,700 (30k on spot) as liquidity was drying up from the offers, shorts were being forced to cover and many market participants were fomo-ing in long, causing a flood of buy market orders.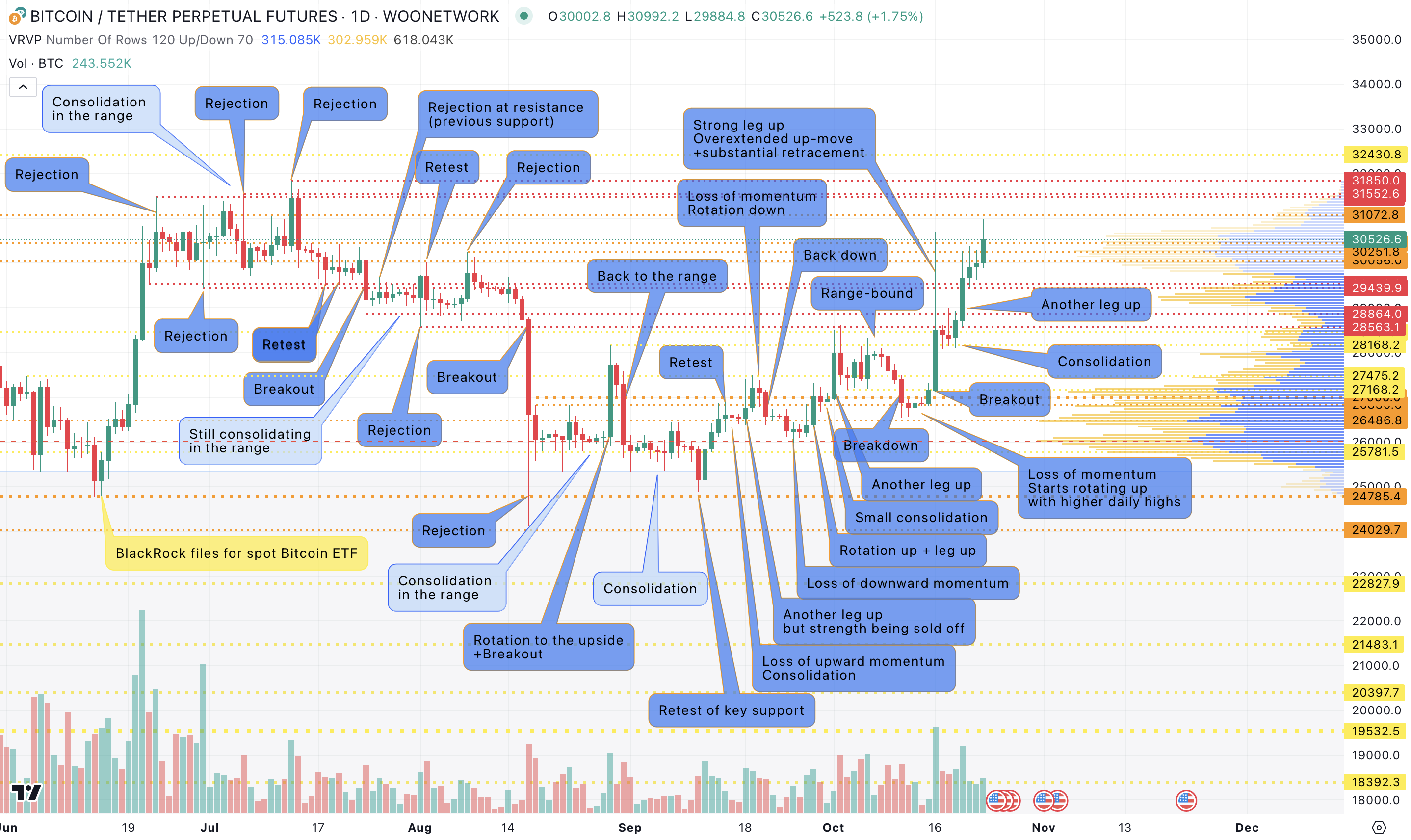 The move got however fully retraced a few minutes later as the news turned out to be fake.
Nonetheless, the damage was done to the market, which cleared itself out with both shorts and fomo-ing longs squeezed in the process. 
On Tuesday and Wednesday, BTC took a breather. 
It was strongly supported above $28,000 but unable to post daily close above $28,550 even though intraday it was trading higher with each short-term strength being sold off. 

From early Thursday, the market slowly pushed up with buyers coming in higher and higher.
Crypto-positive news helped: Grayscale submitted new filing to SEC, Powell's comments made chances of 25bps hike in Nov reach practically 0 and SEC dropped lawsuit against Ripple execs. 
That contributed significantly to improved market sentiment. 
On the back of it, BTC posted a strong close on Thursday and on Friday, went decisively up above $29,000 first and then after some consolidation, posted another leg up to clear liquidity above $30,000.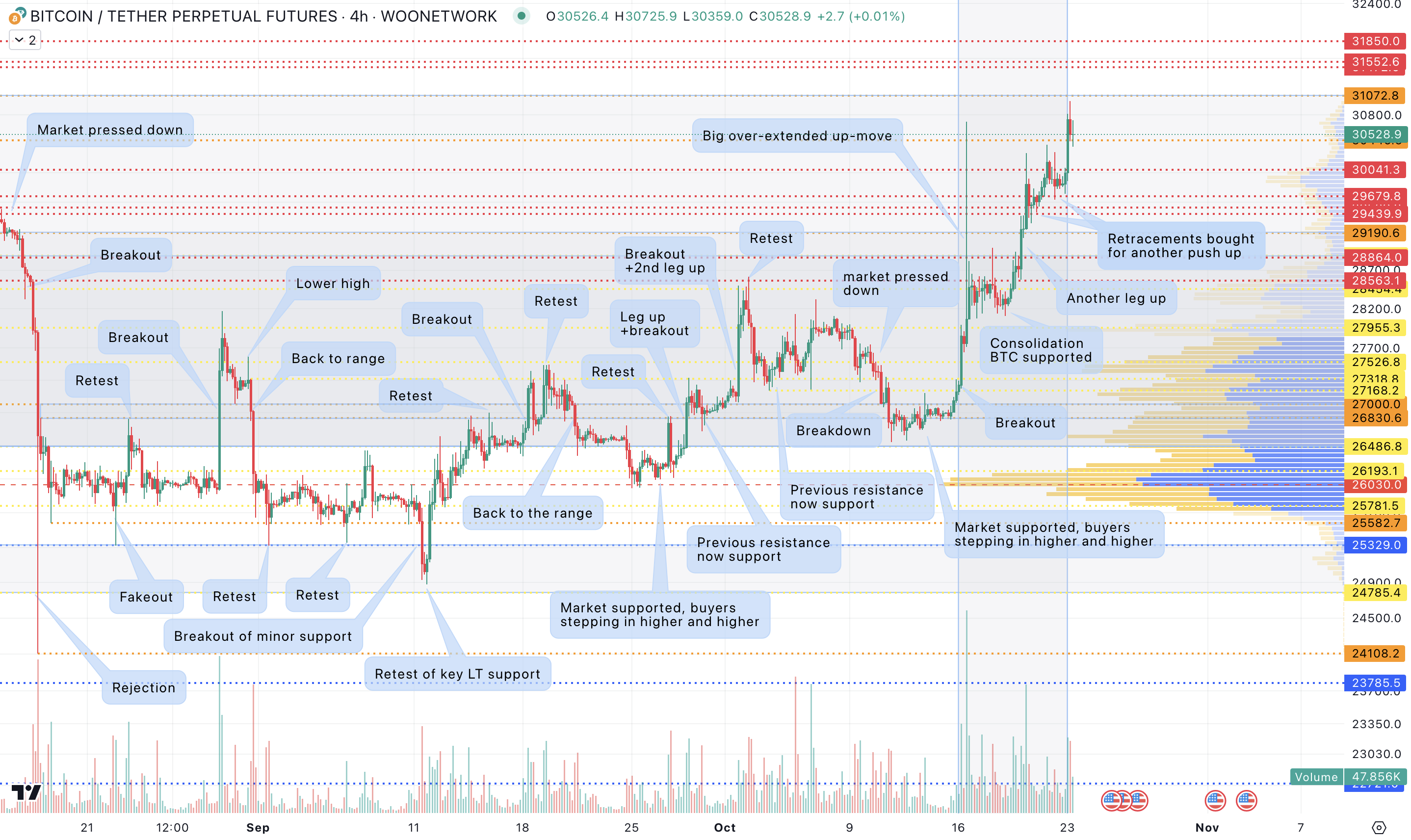 After some retracement, it was keeping strong over the weekend to finish the week at $30,000, not far from weekly high.
BTC is very strong. 
It's been trending up since Sep 11 (from around $24,800), initially slowly for a few weeks but we had a real substantial acceleration of the trend last week. 
It managed to deal successfully with important challenges at $28,000 and $28,550, which opened the way to target 2023 high. 
Since the beginning of last week, it's been a very good market for swing trading in daily and lower timeframes as we've had repetitive sequences of move up -> retracement -> consolidation -> another move up. 
BTC has moved quite a lot quite quickly and there are still no signs of weakness as we see buyers stepping in very aggressively on each retracement. As such, there are still no reasons to change the bias even in a lower timeframe.
With market being very active, however, the situation is quite dynamic so it's worth keeping an eye if the moves are unfolding as before or if there are any changes in the market structure in your traded timeframe.
First level to watch from the downside is $30,400, then $29,500, $29,000, $28,500 and $28,000 (last higher swing low in daily timeframe).
From the upside, we can start targeting $34,000 - $35,000 or even $40,000.
Trade now on https://x.woo.org/ and follow @KTGglobal for more trading insights.
The content above is neither a recommendation for investment and trading strategies nor does it constitute an investment offer, solicitation, or recommendation of any product or service. The content is for informational sharing purposes only. Anyone who makes or changes to their investment decision based on the content shall undertake the result or loss by himself/herself.
The content of this document has been translated into different languages and shared throughout different platforms. In case of any discrepancy or inconsistency between different posts caused by mistranslations, the English version on our official website shall prevail.