WOOFi spreads the joy of sPMM v2 by adding support for yet another Layer 2 Ethereum scaling solution - Optimism
Full steam ahead
It's all gas and no brakes for the WOOFi train this crypto winter! From the deployment of sPMM v2 to a spiffy new UI and now the addition of its second supported chain of Q4, WOOFi is leaving no stone unturned in its bid to deliver the very best one-stop-shop DeFi experience. Today marks yet another exciting milestone on this journey as WOOFi announces its support for Optimism, expanding access to better prices, yields, and tools for the 30,000 and growing daily active users of this optimistic rollup.
Why Optimism?
Data doesn't lie, and right now it speaks a simple truth: Optimism is exploding (in a good way). Not only has its TVL increased by 90% since July 1st such that it now accounts for ~1.5% of all the TVL in DeFi, but its daily active users have also surged by more than 500% since August. Boasting gas prices ~77 times cheaper than Ethereum and promising exciting rewards for those who complete "Optimism quests", it's no great mystery why Optimism is going from strength to strength.
An optimistic future
United by our shared vision to build a brighter future for DeFi in a manner that is simple and sustainable, we will work alongside Optimism to empower their ever-growing user base with a new standard of trading and investing. No inflated APRs, no sandwich-attacks, and no BS - just deep liquidity, real yield, and great prices available on Optimism's lightning speeds 24/7, 365 days a year.  
"What does this mean for me?"
I'm glad you asked! WOOFi is rolling out the red carpet for Optimism, starting with three new Supercharger vaults that allow anyone (yes, anyone) to earn single-sided OP, ETH, and USDC with zero impermanent loss. If you want to get a piece of the action and profit from our trifold strategy that includes some juicy WOO rewards, come on over to WOOFi Earn and connect to Optimism!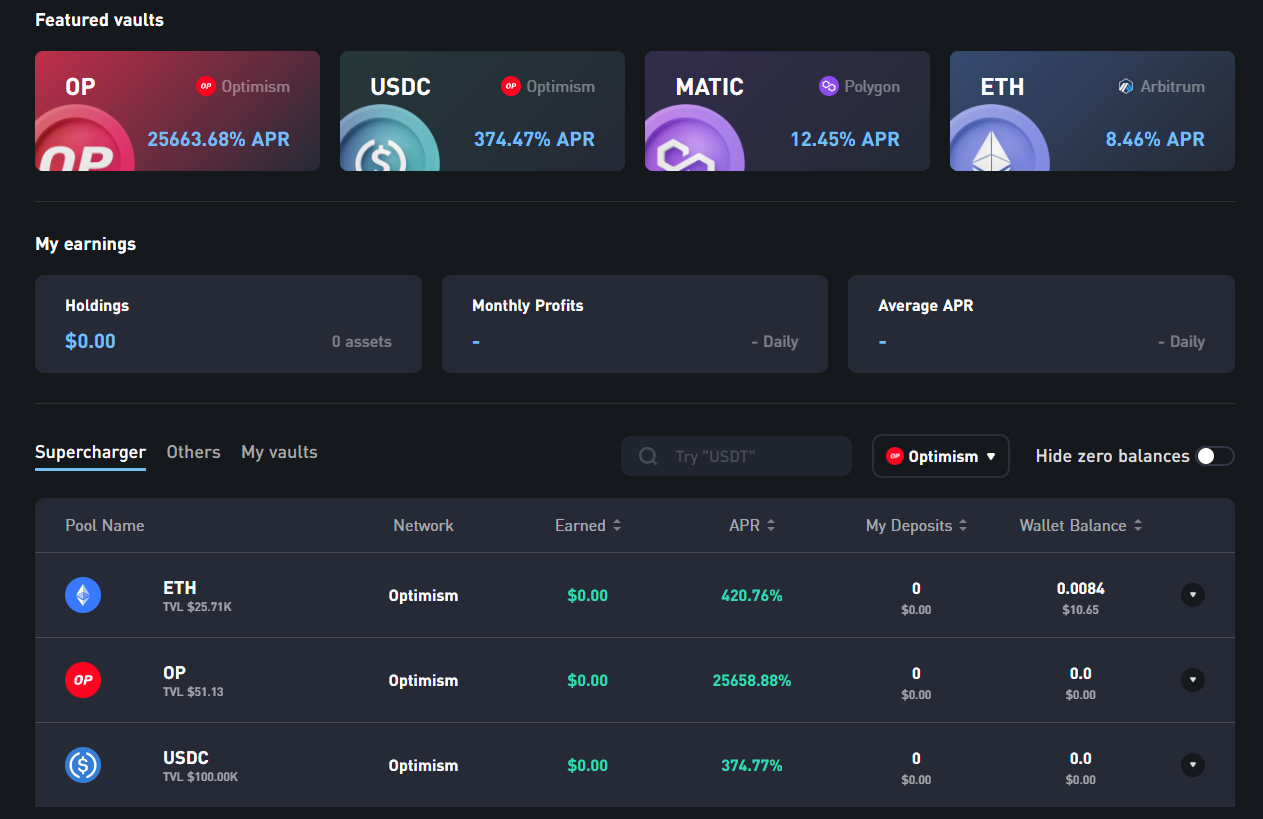 Yet to explore the Optimism ecosystem? WOOFi can get you over there in a jiffy with MEV protection and guaranteed finality through cross-chain swaps that leverage cutting-edge Stargate technology. It's as easy as choosing the assets you want to swap, setting Optimism as your destination chain, and signing the transaction! We weren't kidding when we said simplicity was one of WOOFi's core values 😉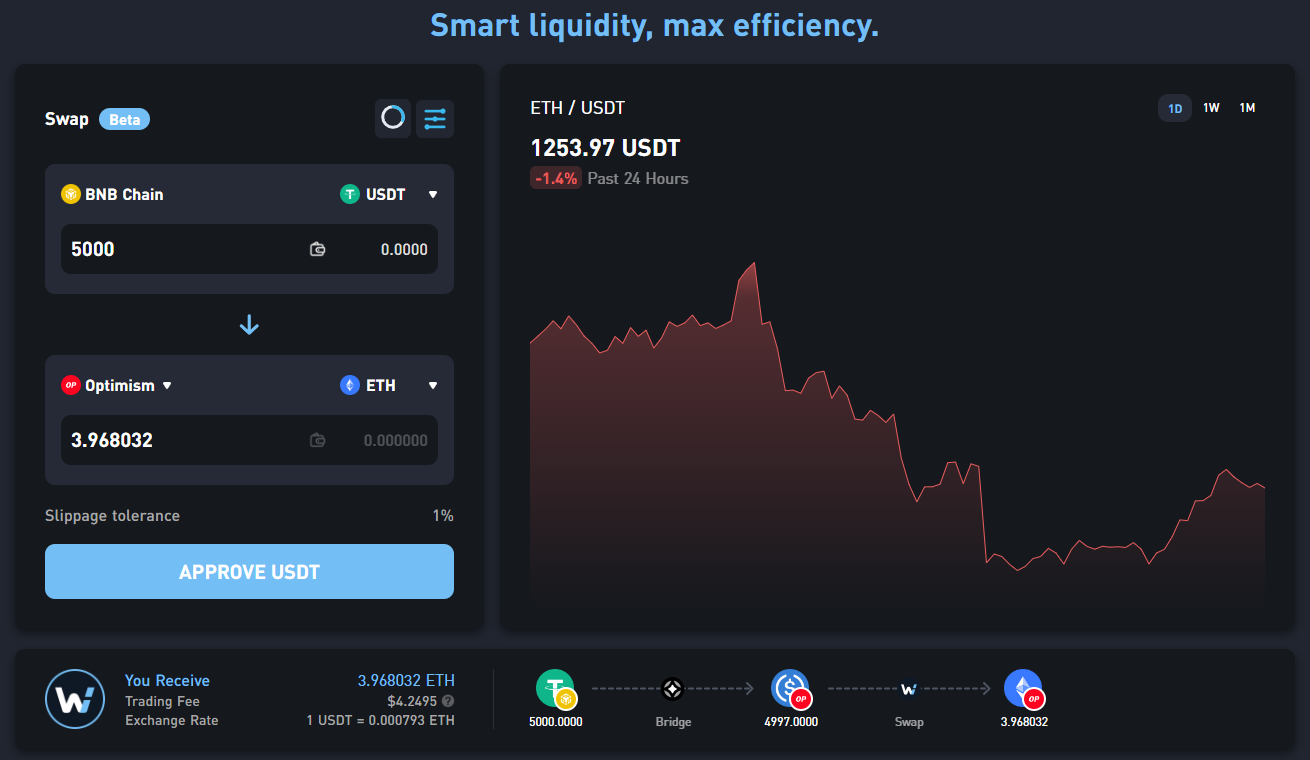 Or perhaps you just want a place to swap and get the best bang for your buck? WOOFi's sPMM v2 specializes in making your money go further by slashing gas fees in half and mimicking the pricing of our centralized exchange WOO X. Yep you did indeed read that correctly - the prices you see on WOOFi are the exact same prices you'll find on our CEX 🤯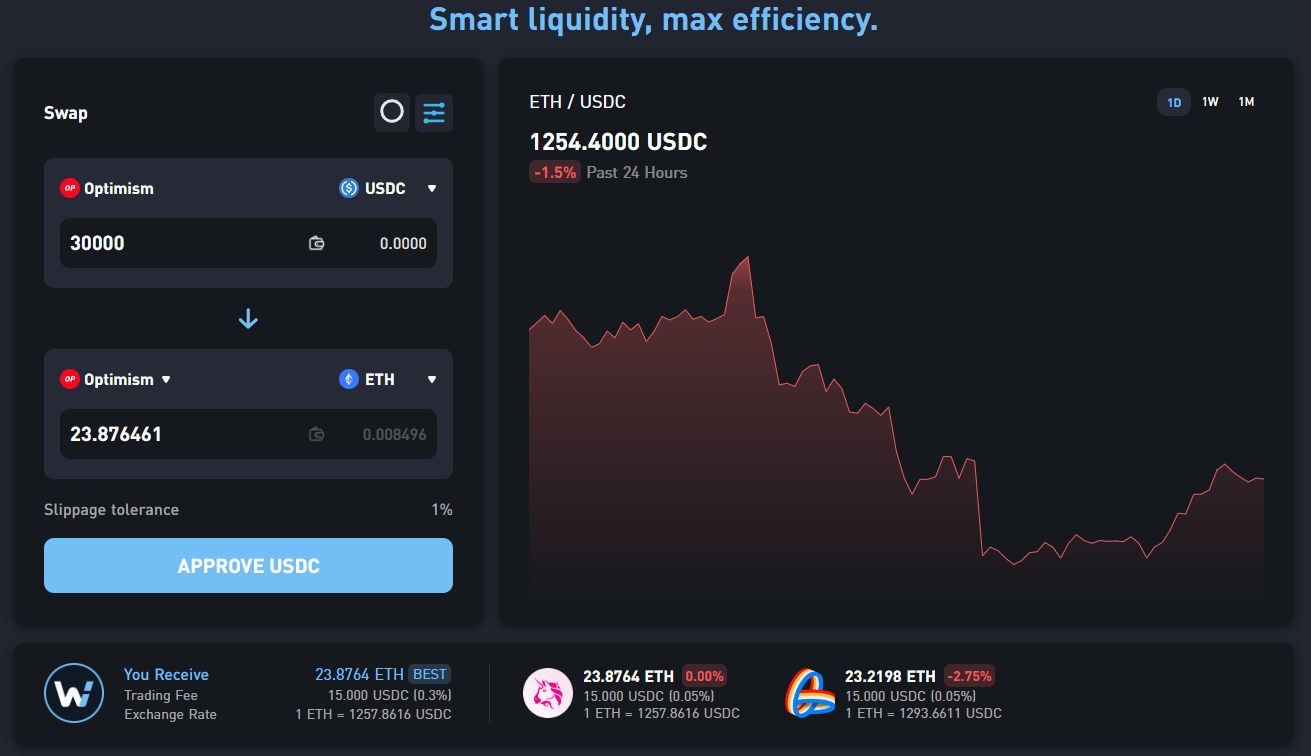 For those of you seeking to stake your WOO on Optimism - we're doing things differently! Having more chains to choose from is freeing but it can quickly become overwhelming - like staring at a menu that never ends. This is why the Optimism deployment will start with just Swap and Earn while we find more ways to make staking easier and more engaging. In the meantime 80% of the revenue generated from swap fees on Optimism will still be used to buy back WOO and reward WOO stakers (more details to follow).
---
The content above is neither a recommendation for investment and trading strategies nor does it constitute an offer, solicitation, or recommendation of any product or service. The content is for informational sharing purposes only. Anyone who makes or changes the investment decision based on the content shall undertake the result or loss by himself/herself.

The content of this document has been translated into different languages and shared throughout different platforms. In case of any discrepancy or inconsistency between different posts caused by mistranslations, the English version on our official website shall prevail.