Get Meteor Wallet and trade $100 or more on WOOFi DEX to be entered into a giveaway of $4,000!
Meteor has landed on WOOFi DEX
It's even easier to get started on WOOFi DEX now that Meteor Wallet has been integrated, and we're celebrating in style - with $4,000 of rewards! We'll take you by the hand and guide you every step of the way from downloading Meteor to connecting to WOOFi DEX, and even making your first trade. Here's a quick breakdown of all the prizes up for grabs:
- 20 lucky traders who use Meteor to trade ≥$100 on WOOFi DEX each get $150 of WOO
- 10 lucky people who retweet our announcement tweet and follow us and Meteor on Twitter each get $50 of NEAR
- 5 best pieces of feedback about WOOFi DEX left in the WOOFi product-feedback channel of the WOO Network Discord each get $100 of NEAR
The competition starts now and runs until the 15th of February at 15:00 UTC. The 35 total winners will be announced within 7 days of the competition's end and the rewards distributed in the following 14 days thereafter.
Ready to take on the WOOFi DEX trading challenge? Let's get started!
Step 1 - Get Meteor Wallet
Start by heading over to the Meteor website and choosing whether you would like the extension or web experience of the wallet  - we recommend the web version as you can get a free named wallet account (not available on the extension wallet yet).
Already have some funds in another NEAR wallet? No problem, just import your account to Meteor using your seed phrase or private key.
Step 2 - Accept the challenge
Now that your wallet is set up, click on the 'explore' section of Meteor Wallet marked by the compass icon, and then navigate to the 'challenges' tab at the top of the screen. Once there, you'll see the WOOFi DEX trading challenge - click the purple button that says 'accept challenge'.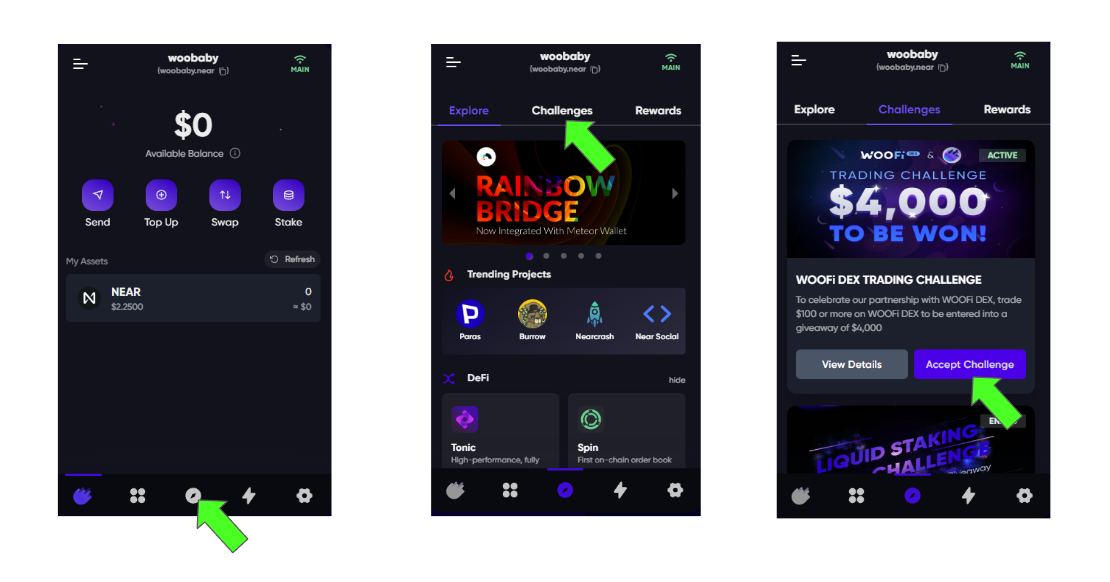 Step 3 - Top up your wallet
To trade on WOOFi DEX, you're going to need some NEAR in your wallet. There are 4 main ways to do this:
1. Withdraw some NEAR from a centralized exchange like WOO X
2. Use the Rainbow Bridge to transfer assets from Ethereum or Aurora
3. Use the 'top up' feature of the Meteor wallet and convert fiat to crypto with Onramper
4. Send funds from another NEAR wallet
Step 4 - Connect to WOOFi DEX and deposit
Now that your wallet is topped up, head over to the WOOFi DEX website. You'll need to first connect your wallet and then navigate to the 'wallet' tab where you'll be able to deposit the assets you want to trade.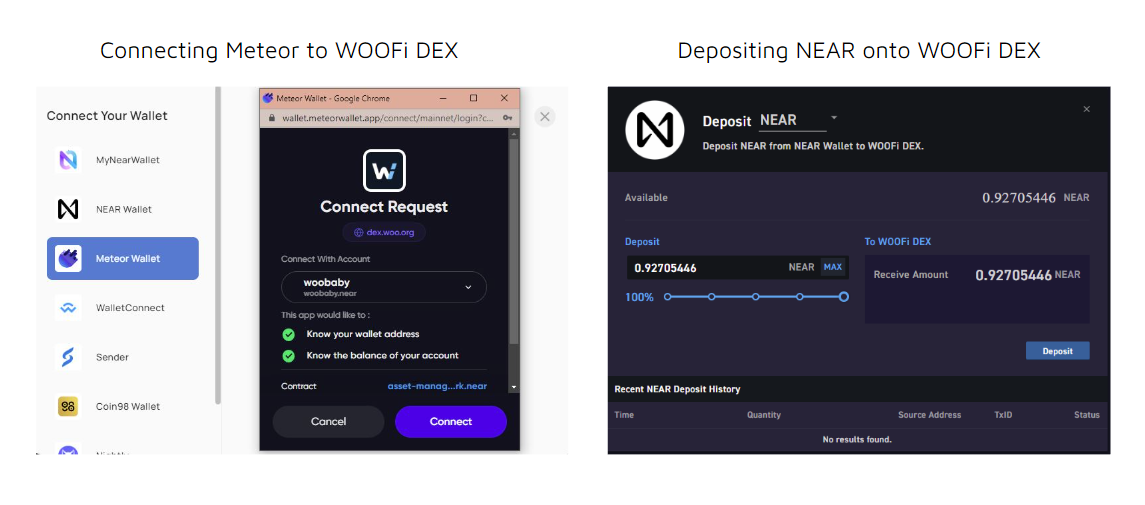 Step 5 - Start trading
Head to the 'trading' tab and set up your workspace with the same fully-customizable GUI that you'll find on our centralized exchange, WOO X. Once you're happy with your setup, all you need to do is trade $100 of volume with any assets and any order type.
Congrats - you've taken on the WOOFi DEX trading challenge!
---
WOO Network reserves the right to the final interpretation and changes of all aspects of this trading challenge, including but not limited to the amount of prizes, number of prize winners as well as the dates set above.
The content above is neither a recommendation for investment and trading strategies nor does it constitute an offer, solicitation, or recommendation of any product or service. The content is for informational sharing purposes only. Anyone who makes or changes the investment decision based on the content shall undertake the result or loss by himself/herself.
The content of this document has been translated into different languages and shared throughout different platforms. In case of any discrepancy or inconsistency between different posts caused by mistranslations, the English version on our official website shall prevail.