Bitcoin entered last week trading in the $21,400 - $22,100 range after a long-awaited retracement posted on the previous Thursday. The question was whether it would retrace further or go back up with the prevailing uptrend.
Monday and Tuesday gave us an early sign of the most probable move – that sign was market-resiliency to bearish news.
Paxos was ordered to stop minting $BUSD but sell pressure was absorbed consistently throughout the day and the attempt to break down from the range failed.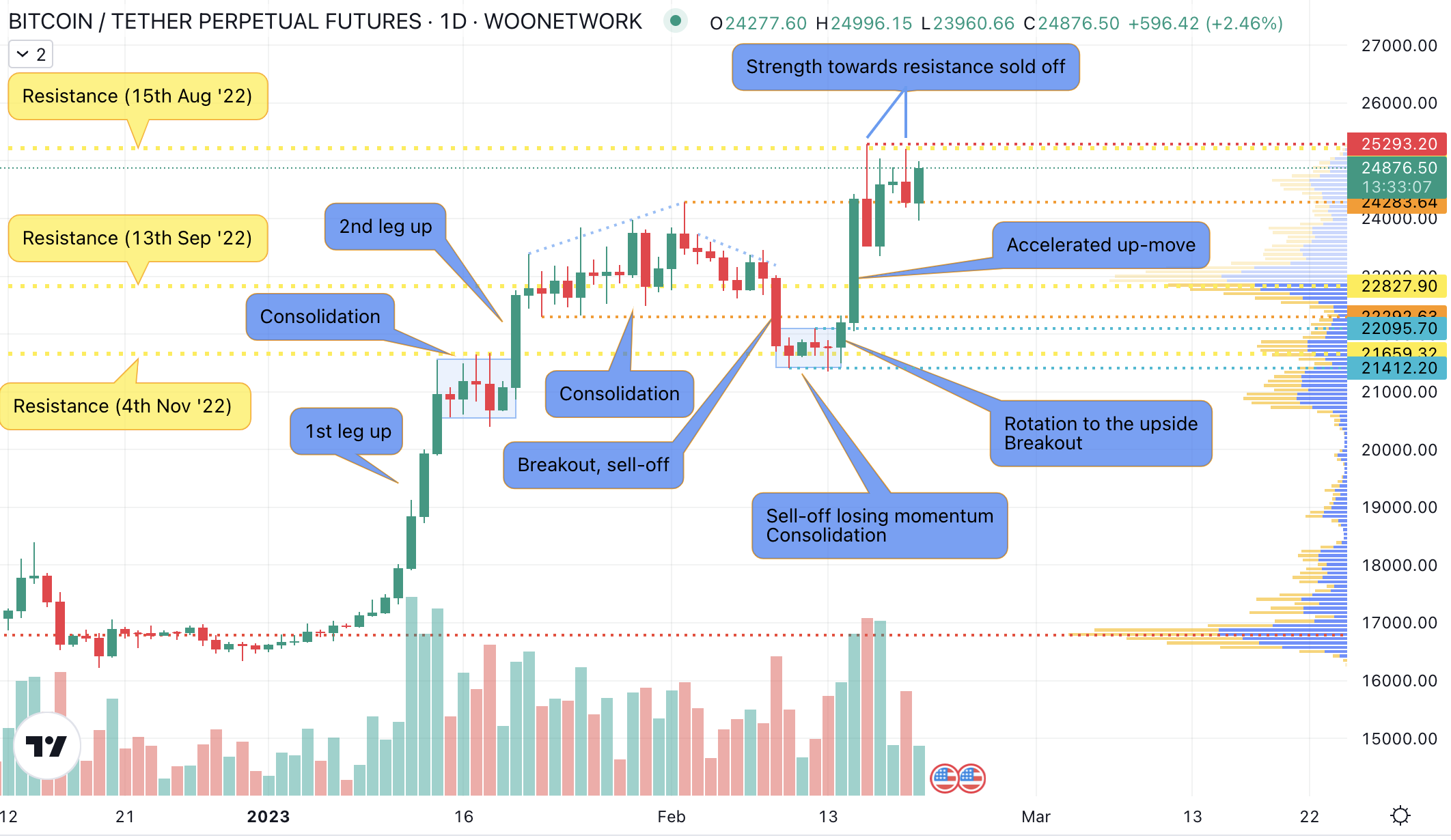 A similar occurrence took place on Tuesday when a strong CPI (with the market positioned for a weaker number) caused only a short-lived dip. The bulls stepped in promptly, buying the initial weakness which caused a breakout of the range to the upside.
On Wednesday the $22,300 level was broken, shorts got squeezed, and we had an accelerated move-up. On Thursday #BTC broke the previous '23 high and touched $25,300 before sellers stepped in. Since then we've seen a trend of resistance being sold off and weakness being bought.
We keep trading with a long bias but remain careful with exposure since #BTC has reached the most important resistance in the up-trend this year. Buyers are gaining strength and we anticipate a breakout, which, if happens, should be big and open the way up to the $30k area.
Make sure you are still prepared for continued sideways action or possible retracement. We'll keep looking for signs from the market to determine whether bulls or bears are in control and capitalize on short-term moves whilst also positioning ourselves better for longer ones.
The key focus for this week will be PCE on Friday. It's a FED-favoured gauge of inflation so it has the potential to affect the market. Other things to look out for:
Tuesday - Manufacturing and Services PMI
Wednesday - FOMC Meeting Minutes
Thursday - 4Q GDP
Best of luck out there in the markets!
Trade now on https://x.woo.org/ and follow @KTGglobal for more trading insights.
The content above is neither a recommendation for investment and trading strategies nor does it constitute an offer, solicitation, or recommendation of any product or service. The content is for informational sharing purposes only. Anyone who makes or changes the investment decision based on the content shall undertake the result or loss by himself/herself.
The content of this document has been translated into different languages and shared throughout different platforms. In case of any discrepancy or inconsistency between different posts caused by mistranslations, the English version on our official website shall prevail.