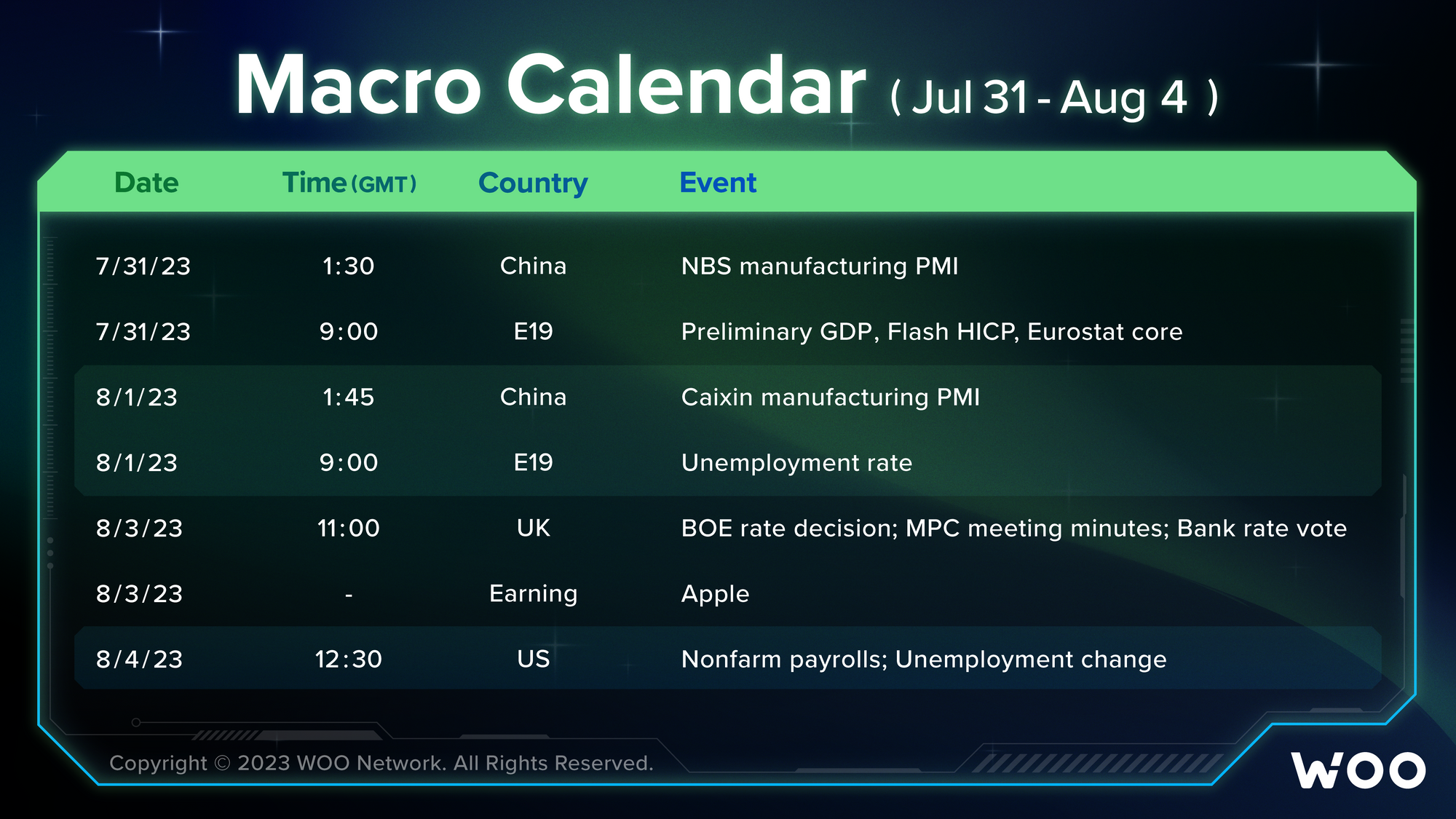 Future rate decisions would be data-dependent
By Tiffany Wang, WOO Network Analyst
Last week's central bank meetings displayed some dovishness. The Federal Reserve raised interest rates by 25 bps in its meeting. While the majority of its statement remained unchanged from the previous one, the only modification was made in the description of economic activity, which was upgraded from "continuing to expand at a modest pace" to "expanding at a moderate pace." This change led investors to interpret that the Fed has a more optimistic outlook on economic growth.
Looking ahead, the guidance for the September meeting remains uncertain, and it is inconclusive whether there will be any further rate hikes. During the press conference, Powell mentioned that there are no plans for rate cuts within a year. This statement was perceived as dovish by investors, as it indicated that the Federal Reserve is open to implementing rate cuts even before the inflation rate reaches its target of 2% within a year.
In the European Central Bank meeting, President Christine Lagarde also adopted a dovish stance, suggesting that they could be done with the hikes. Investors think future rate decisions would be data-dependent.
Looking forward to the upcoming events, the Bank of England meeting is scheduled for next week, along with the release of Europe CPI and the US Non-Farm Payrolls (NFP) data. These events are likely to be closely watched by investors and may impact market sentiments.
–
Crypto and blockchain events this week (July 30th~Aug 1st)
Here are the biggest crypto and blockchain events happening around the world this week so that you can stay informed.

—
The content above is neither a recommendation for investment and trading strategies nor does it constitute an investment offer, solicitation, or recommendation of any product or service. The content is for informational sharing purposes only. Anyone who makes or changes the investment decision based on the content shall undertake the result or loss by himself/herself.
The content of this document has been translated into different languages and shared throughout different platforms. In case of any discrepancy or inconsistency between different posts caused by mistranslations, the English version on our official website shall prevail.