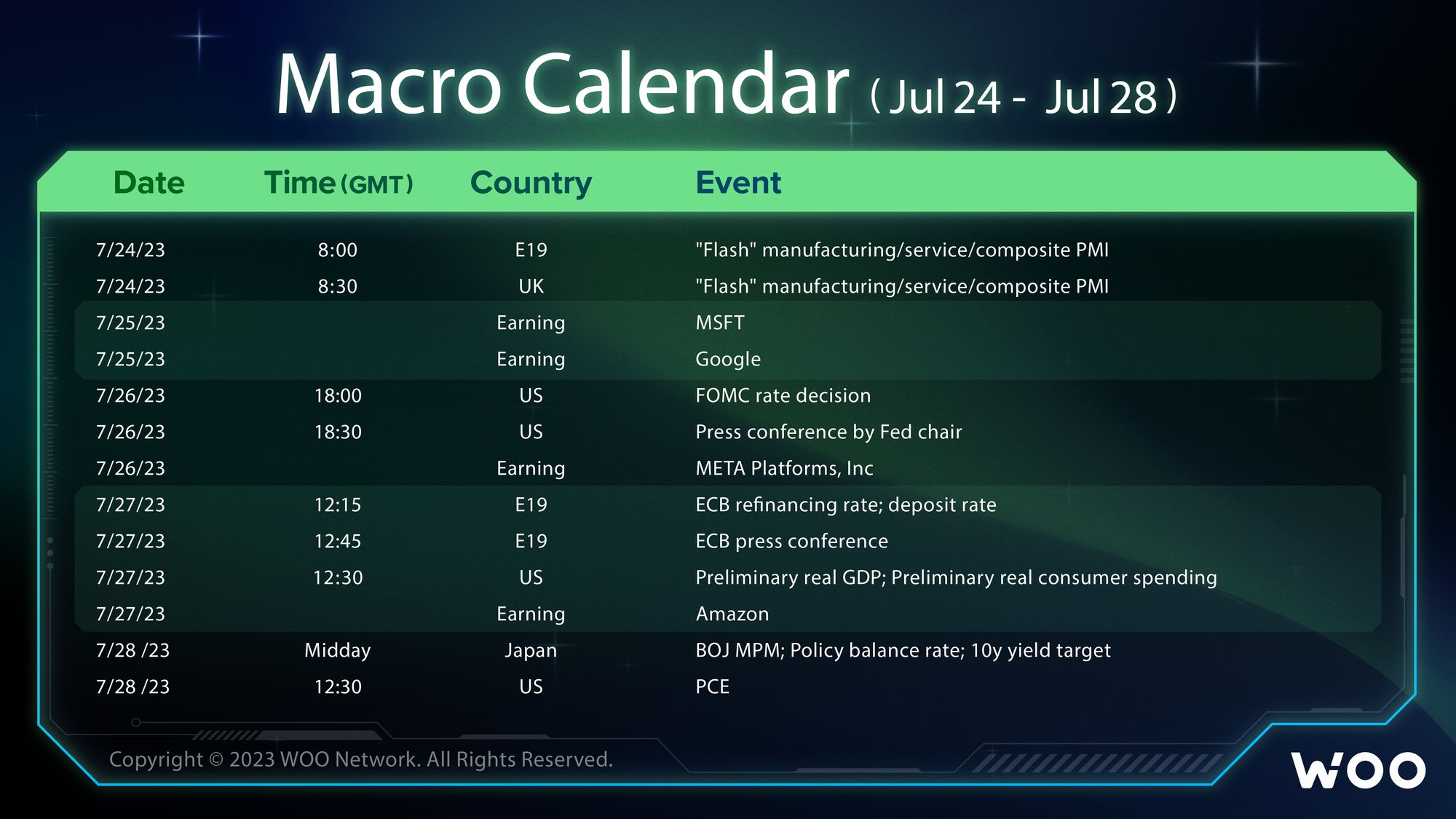 The US FOMC rate decision, the Fed chair's press conference on the 26th, and preliminary real GDP and consumer spending data on the 27th are key events on this week's macroeconomic calendar.
Macroeconomic insights from Tiffany Wang, Analyst at WOO Network
There is currently a global trend of disinflation. June US and UK CPI were both slightly below expectations. Additionally, ECB GC member Klass Knot, who has been known for his hawkish stance, adopted a more dovish tone in his July 18 speech.
As we approach the end of July, several crucial events are on the horizon. Central banks, including the FOMC, ECB, and BOJ, are set to hold meetings. Additionally, important data points such as the Personal Consumption Expenditures (PCE) index and earnings reports from Microsoft, Google, Meta, and Amazon are eagerly awaited.
The FOMC paused its rate hikes in the last meeting, but the market anticipates a 25-bps hike in the July meeting and seeks further guidance on future plans. The most asked question is "Then what?" ECB is expected to raise rates by 25 bps in the July meeting, and investors are particularly interested in any hints about the September meeting during the press conference.
Crypto and blockchain events this week (July 24th~28th)
Here are the biggest crypto and blockchain events happening around the world this week so that you can stay informed.

—
The content above is neither a recommendation for investment and trading strategies nor does it constitute an investment offer, solicitation, or recommendation of any product or service. The content is for informational sharing purposes only. Anyone who makes or changes to their investment decision based on the content shall undertake the result or loss by himself/herself.
The content of this document has been translated into different languages and shared throughout different platforms. In case of any discrepancy or inconsistency between different posts caused by mistranslations, the English version on our official website shall prevail.