Our 

previous partnership series

 article looked at how our exchange partners can dramatically improve their order book depth and tighten spreads, resulting in an improved trading experience for their users. This time, we put the spotlight on 

Hoo.com

, one of our longstanding partners that has been using WOO Network's liquidity solution for more than a year.
Origins of Hoo.com: Beginnings, obstacles, and challenges
Hoo began as a prominent commercial wallet management service in late 2017. In early 2019, Hoo ventured into the exchange business and began to position itself as a one-stop blockchain assets service platform covering trading, savings, lending, asset custody, and decentralized services.
From the get-go, even after acquiring users from two company acquisitions, Chaince and OAX, Hoo faced stiff competition in the exchange field given that top exchanges were all fiercely competing in service offerings, technology, and marketing. As Hoo's founder Ruixi Wang noted, it's hard for an exchange to ever slow down given the stiff competition.
To even stand a chance at user acquisition, conversion, and retention, providing the best-in-class liquidity and market depth for traders to trade on was the first-step priority.
For a fledgling exchange, every cent Hoo spent towards market-making and liquidity bootstrapping affected business overheads and sustainability given. Their limited budgets were already spread across marketing, engineering, legal, customer support, and R&D.
The Integration Process and Liquidity Difference
Around Q1 2020, WOO Network began client acquisition to onboard more institutional clients via liquidity as a service. Hoo was one of the earliest clients and was introduced to WOO Network's liquidity as a service to improve their platform's liquidity, market depth, and bid/ask spreads without the customary high costs of market-making.
The integration began in February 2020 and was completed in less than half a month after tying down technical API testing and integration. The full order book integration process can be broken down into the following:
Subscribing to WOO Network's order book events via API, in order to display WOO Network's order book as Hoo's order book.
Subscribing to WOO Network's API feed for WOO Network's trade events to be displayed as Hoo's recent trades list.
Ensuring that Hoo users' order submission and cancels are routed from Hoo to WOO Network.
Ensuring that when orders are created on Hoo, the same order is routed from Hoo to WOO Network for execution settlement.
Ensuring that when orders are settled on WOO Network, WOO Network responds back to Hoo via API with the order fills. Hoo then completes their users' order fills.
Upon successful testing in the staging environment for the following processes, integration will be complete and service can be brought live to the production environment.
Immediately upon successful integration in Q1 2020, the difference was dramatic. Till today, the liquidity difference that WOO Network provides to Hoo is apparent across 19 major pairs like BTC, ETH, LTC, XRP, DOGE, etc — allowing Hoo to increase its liquidity standard to a level comparable to top exchanges by offering hundreds of thousands USD worth of orders on tight bid/ask spread.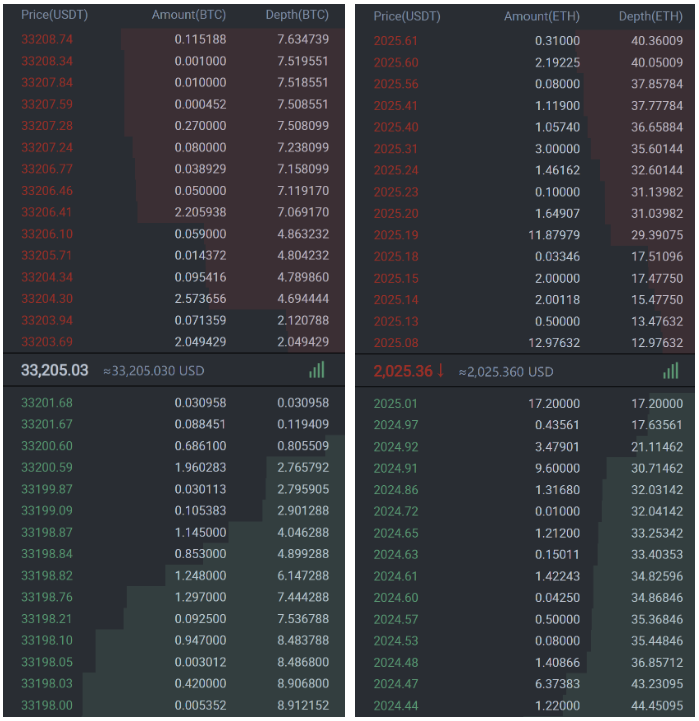 These liquidity enhancements across major trading pairs have also facilitated higher trading volumes on Hoo. The liquidity difference with WOO Network enabled Hoo to scale its trading volumes traded during pre-integration at 1M-2M USDT daily in early 2020 to an average of 10–20M daily in 2021, an average of 10x increase in trading volume. During the massive run-up in May 2021 with Elon Musk, Dogecoin, and Tesla hype, Hoo.com also saw high volumes peaking between 800m to 900m in daily volume, again facilitated by WOO Network's liquidity on their order books.
This rise in Hoo's volume growth was accompanied by increased order flows being routed to WOO Network for execution settlement, which resulted in a reciprocal increase in volumes traded on WOO Network.
WOO-HOO! A problem-solution match
The WOO and Hoo.com integration was an instant problem-solution match and product-market fit. Hoo.com has been in operation for 3 years, and since then the exchange has listed 409 coins with 513 trading markets. From cost savings redirected from costly external market-making, more budget was able to flow into marketing, customer support, and R&D allowing Hoo.com to expand its range of services into derivatives, lending, savings products, and its own DeFi swap platform HooSwap.
Commenting on the tremendous benefits WOO Network's liquidity has brought to Hoo, CEO Ruixi Wang remarked:
"WOO Network greatly improved Hoo.com's liquidity from day 1! I wish we had connected sooner so that we could pass on the cost-savings to other areas in our business. We are now able to compete on a much more level playing field with our market depth, and focus our efforts on user acquisition rather than the technicalities of liquidity and market making."
Today, Hoo is among the leading exchange platforms globally with a user base of about 2M and daily trading volumes of about $900m daily. WOO Network is proud to be an early partner of Hoo and a key enabler in its growth.
Users can visit Hoo.com at https://hoo.com/
---
Stay tuned to *Wootrade's social media throughout Q3 for many exciting developments!
*Wootrade has rebranded to WOO Network since the publication of this article. Wootrade is now the name of the gateway used by institutional clients such as exchanges to access WOO Network's liquidity to immediately upgrade their order books to a depth deeper than top exchanges and tighten their bid/ask spread.
The content above is neither a recommendation for investment and trading strategies, nor does it constitute an offer, solicitation or recommendation of any product or service. The content is for informational sharing purposes only. Anyone who makes or changes the investment decision based on the content shall undertake the result or loss by himself/herself.