With the continued indecision on the market and no risk on the horizon this week, will we have a substantial directional move on Bitcoin anyway?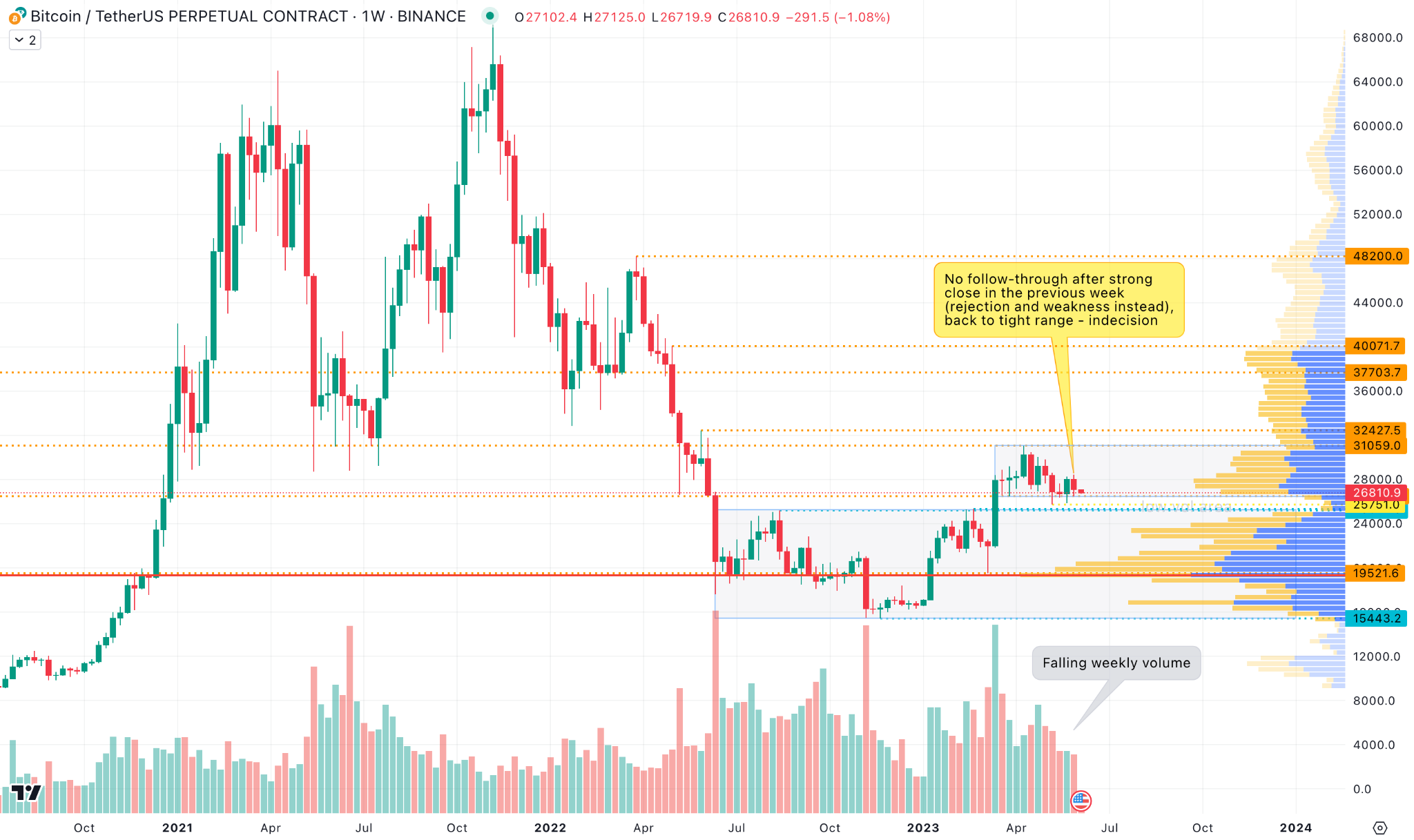 BTC was driven by technical picture and positioning last week.
The debt ceiling topic wasn't affecting the market much as a deal had already been reached, and the bill was passed by the House and Senate, then signed by Biden during the week.
Another swing in probability of June's rate hike (down this time) and fundamental data (jobs) didn't cause any substantial moves in BTC price.
BTC began last week with initial strength continuing from the weekend on the back of a debt ceiling deal reached between Biden and McCarthy.
We often have the first impulse of the new week act as the final blow of Sunday's direction,  and it was the same case this time – BTC swiped the liquidity above $28,300 resistance and started retracing.
As mentioned last week, the $27,500 - $27,700 area was key for the bulls to hold as a support and BTC was bouncy there with $27,500 holding for more than two days.
The bounces however got smaller and smaller with the US back on Tuesday after a long weekend - a sign of buyers becoming weaker.
On Wednesday, $27,500 was broken and support buyers threw in the towel, sending the market lower.
After an initial sharp drop, the market drifted down the rest of the day.
Dovish comments from Fed's Jefferson and Harker to skip raising rates in June caused a big drop in probability of a June hike, but only a small retracement in BTC price.
On Thursday, BTC dropped again.
As the market retraced that whole drop later during the day, it started to be pressed down again.
It got dumped to the important $26,500 support level, but this time it was aggressively bought.
However, Thursday's high was capping the upside for the rest of the week.
As Sunday was ending, we saw a quick swipe of liquidity above that level with an immediate counter-move.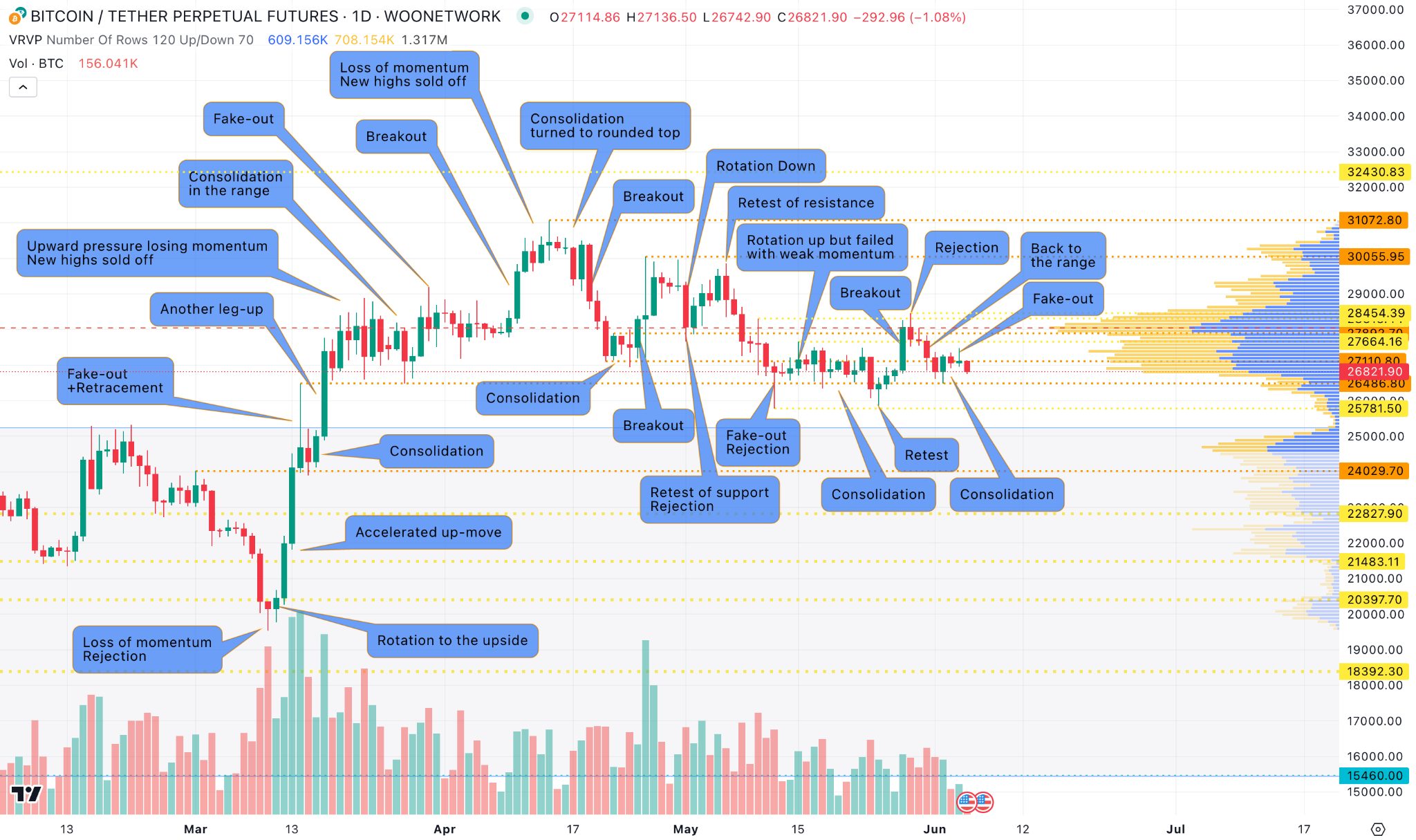 BTC finally finished down on the week consolidating in a tight range.
We see continued indecision from the market.
Both bulls and bears are not strong enough to push BTC decisively in either direction. With equities strong and gold rather weak, BTC doesn't know where to go next.
We have only occasional intraday sharp moves either up or down, but nothing sustainable as all overextensions are reversed.
It's a very choppy and illiquid market.
Weekly volumes have been going down for the last few weeks, signalling decreasing participation and more players staying on the sidelines.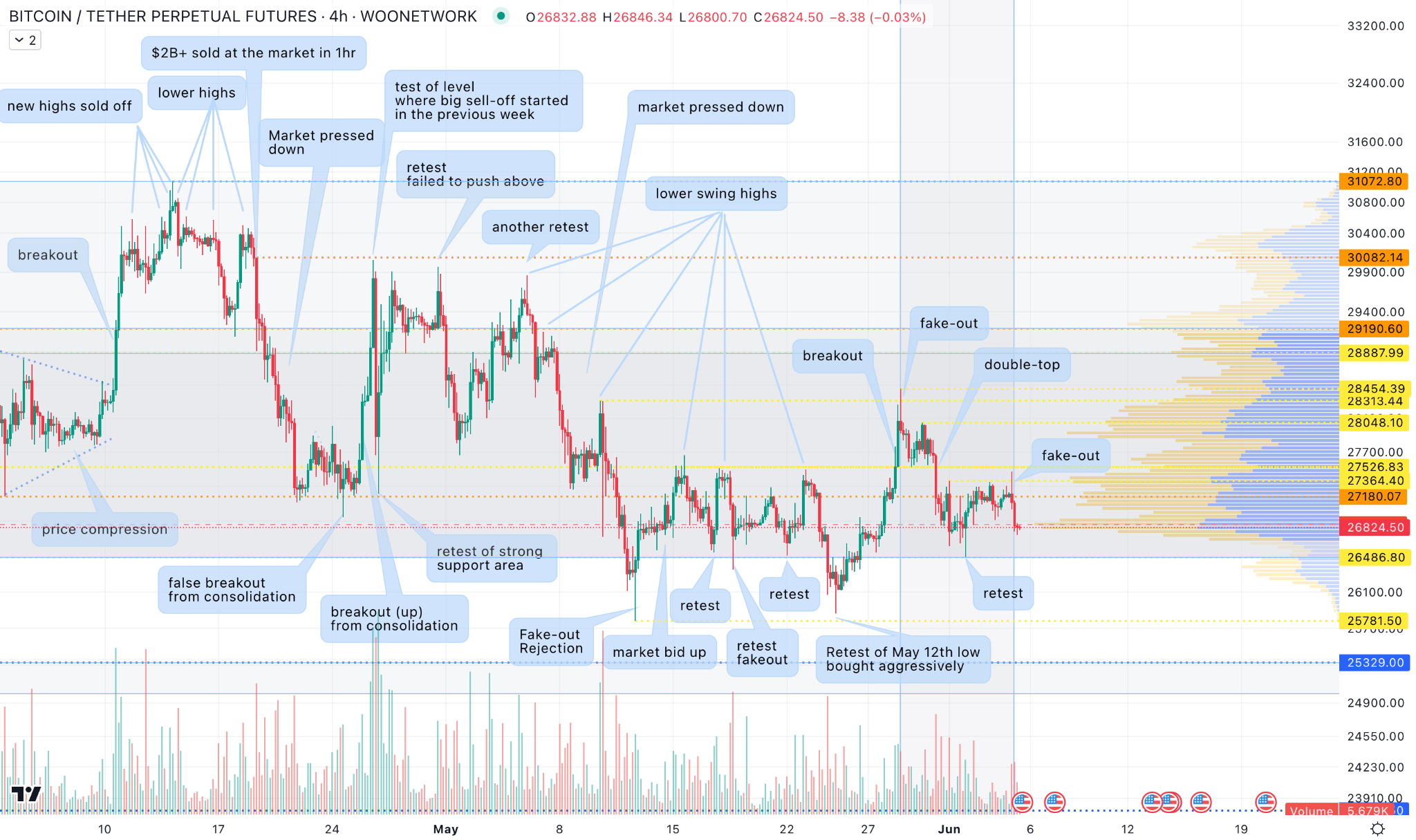 In this kind of environment, it may be wise to trade from level to level, not to be too biased or  have big expectations.
It's also important to be selective and not to overtrade.
There are many challenges condensed from the upside at $27,500, $28,000, $28,300, which if broken would open the way for bigger moves and potential retest of 2023's high.
From the downside, the immediate challenge is at $26,500, then $25,750 and $25,300 - $25,000 area.
Have a great trading week ahead!

Trade now on https://x.woo.org/ and follow @KTGglobal for more trading insights.
The content above is neither a recommendation for investment and trading strategies nor does it constitute an investment offer, solicitation, or recommendation of any product or service. The content is for informational sharing purposes only. Anyone who makes or changes to their investment decision based on the content shall undertake the result or loss by himself/herself.
The content of this document has been translated into different languages and shared throughout different platforms. In case of any discrepancy or inconsistency between different posts caused by mistranslations, the English version on our official website shall prevail.