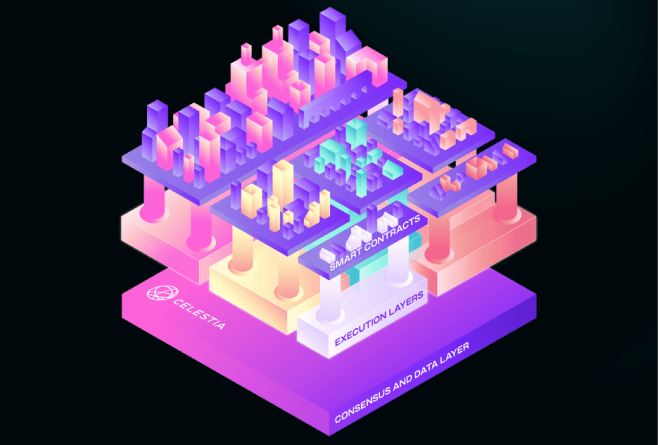 Celestia is a modular data availability network that securely scales with the number of users, making it easy for anyone to launch their own blockchain. They introduced modular blockchains, a new blockchain architecture, to solve the core scaling challenges of traditional monolithic blockchains.
Key USPs:
Fast Deployment: Deploy blockchain in minutes, as easily as a smart contract.
Scalability: Access the dynamic scaling unlocked by data availability sampling, where scale increases with the number of users.
Customizable: Create applications using different Virtual Machines (VM) or defined by the developer.
Sovereignty: Build sovereign rollups, a new type of self-governing blockchain with minimal platform risk.
History
Nov 6, 2019 - Celestia founded
Mar 3, 2021 - $1.5m seed fundraise
Jun 15, 2021 - MVP release
Dec 14, 2021 - Launches Devnet
Oct 19, 2022 - $55M raised
Aug 10, 2023 - Blockspace Odyssey
Sep 26, 2023 - Initiating Genesis Drop
Team
The executive team at Celestia has a long history of experience in the software engineering and computer science industries, with relevant educational backgrounds.
CEO Mustafa Al-Bassam
PhD in Blockchain Scaling at UCL, Co-founder of Chainspace (acquired by Facebook)
CTO Ismail Khoffi
Former Senior Engineer at Tendermint and Interchain Foundation
CRO John Adler
Creator of Optimistic Rollups, previously Scalability Researcher at ConsenSys
COO Nick White
Co-founder of Harmony, BS & MS from Stanford University
Funding Rounds
Seed round (Mar 2021)
$1.5M from Interchain Foundation, Binance Labs, Maven 11 Capital, KR1, and others.
Series A & B  (Sep 2023)
$55M led by venture capital firms Bain Capital Crypto and Polychain Capital; other participants in the round included Coinbase Ventures, Jump Crypto, OKX Ventures, FTX Ventures, Placeholder, Galaxy, Delphi Digital and several other venture capital and angel investors.
Tokenomics
Total supply: 1,000,000,000 TIA
Inflation: 8% first year, reducing 10% per year till 1.5% annually.
Token allocation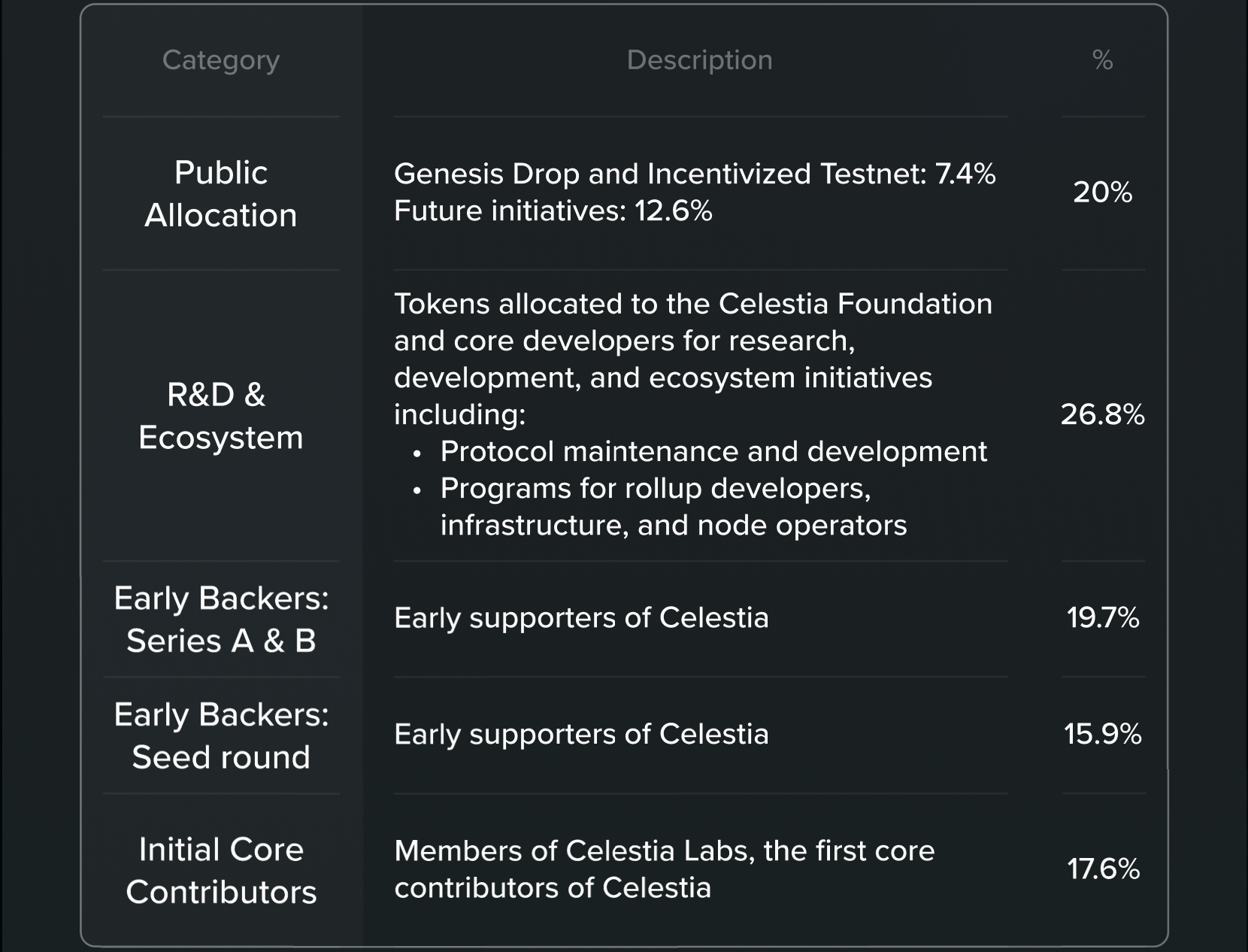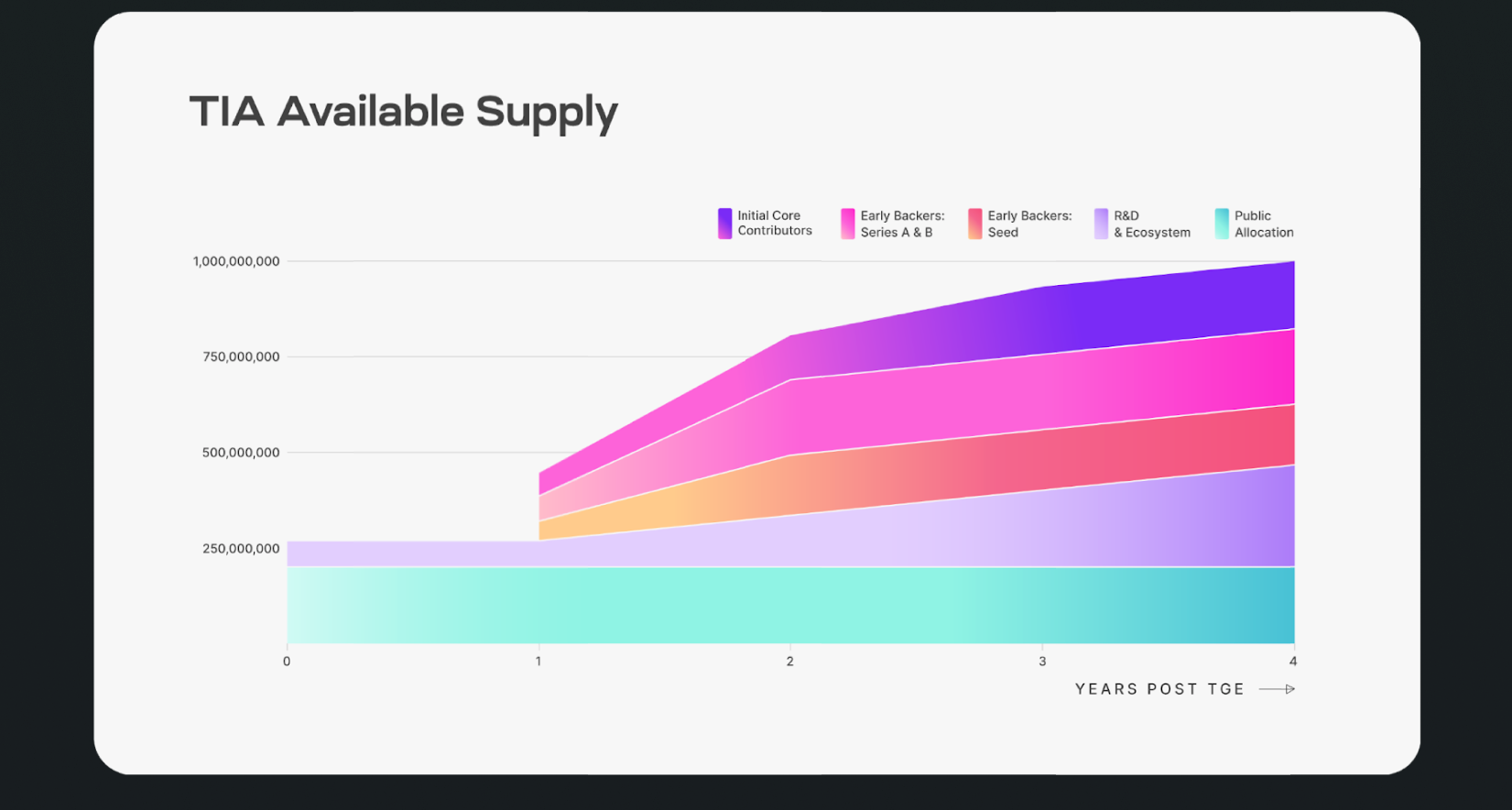 Token utility
Paying for Blobspace​
To use Celestia for Data Availability, rollup developers submit PayForBlobs transactions on the network for a fee, denominated in TIA tokens.
Bootstrapping new rollups​
Similarly to ETH on Ethereum-based rollups, developers may opt to bootstrap their chain quickly by using TIA as a gas token and currency, in addition to paying for Data Availability. In this mode, developers can focus on creating their Application or Execution layer, instead of issuing a token right away.
Proof-of-Stake​
Like in other Cosmos networks, any user can help secure the network by delegating their TIA tokens to a Celestia validator for a portion of their validator's staking rewards.
Decentralized governance​
TIA staking also allows the community to play a critical role in decentralized governance over key parts of Celestia, such as voting on network parameters through governance proposals, and governing the community pool, which receives 2% of block rewards.
Official links
Twitter: https://twitter.com/CelestiaOrg 
Telegram: https://t.me/CelestiaCommunity 
Reference: 
All images, graphs, and tables are derived from Celestia's official websites as of October 18, 2023
2.https://blog.celestia.org/celestia-raises-55m-to-launch-modular-blockchain-network/
3.https://docs.celestia.org/learn/staking-governance-supply/
4.https://docs.celestia.org/learn/how-celestia-works/monolithic-vs-modular/
5.https://blog.celestia.org/celestia-closes-1-5m-seed-fundraise-from-interchain-foundation-binance-labs-maven-11-capital-kr1-and-others/
6.https://theorg.com/org/celestia/teams/ceo-and-executive-team
--
The content above is neither a recommendation for investment and trading strategies nor does it constitute an investment offer, solicitation, or recommendation of any product or service. The content is for informational sharing purposes only. Anyone who makes or changes to their investment decision based on the content shall undertake the result or loss by himself/herself.
The content of this document has been translated into different languages and shared throughout different platforms. In case of any discrepancy or inconsistency between different posts caused by mistranslations, the English version on our official website shall prevail.