As the spooky season approaches, we have a thrilling treat for everyone! 
Embark on a special Halloween quest with WOO X on Layer3, stake your WOO tokens, and follow our partner projects that are set to be listed soon on WOO X. 
Complete the steps to win an exclusive Halloween-themed NFT and grab your share of $3,000 worth of C98, TOMO and KUB tokens!
💰 Prize pool: 
$3,000 worth of C98, TOMO and KUB tokens
Exclusive WOO X Halloween NFT
📅 Activity period:
Oct 30, 3PM (UTC) - Nov 13, 10AM (UTC)
---
✅ How to join - 7 steps to win
Simply head over to the quest page on Layer3 and then complete the following steps:
---
How to connect your wallet address on WOO X
Connecting your wallet address to your WOO X account is a simple, 3-step process. 
Head over to your account page, look for the DeFi Wallet section, and click on 'Connect' to connect to your DeFi wallet either via MetaMask or WalletConnect.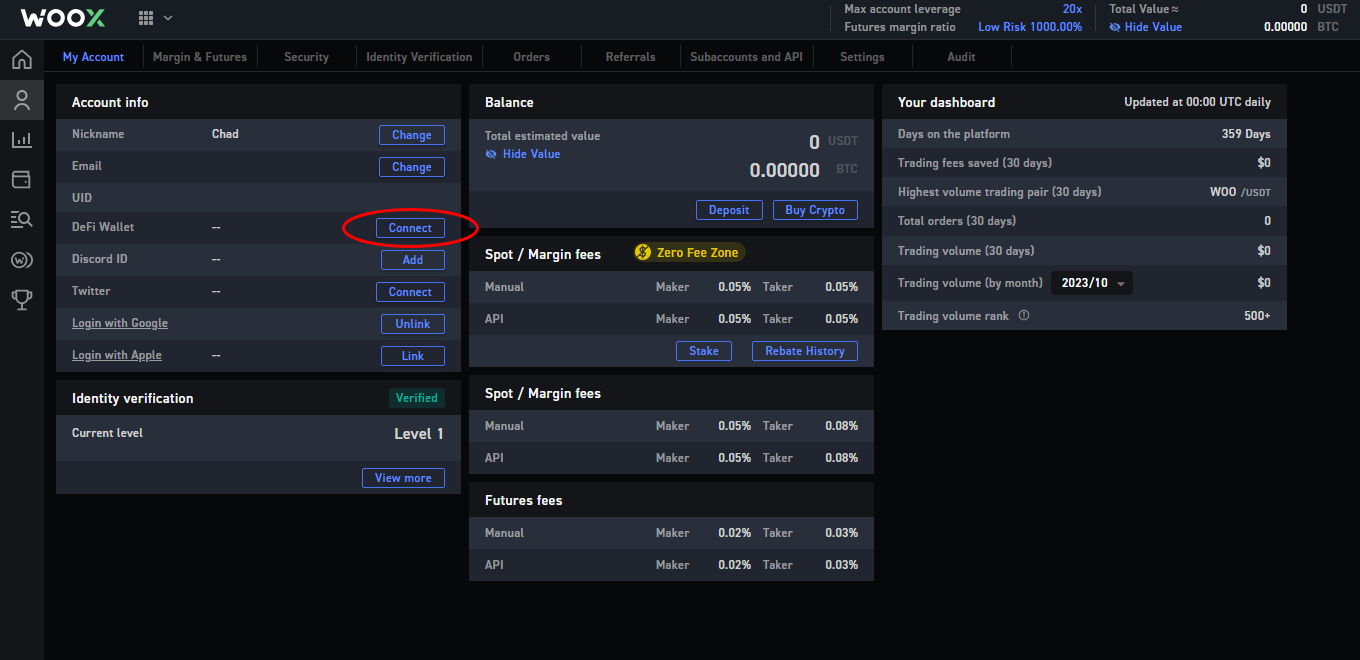 How to stake WOO token on WOO X
Ready to experience the benefits of staking WOO? Head over to the staking page, and hit the 'Stake' button.
To be qualified for the NFT and token rewards, you must stake at least 250 WOO and successfully complete KYC before Nov 13.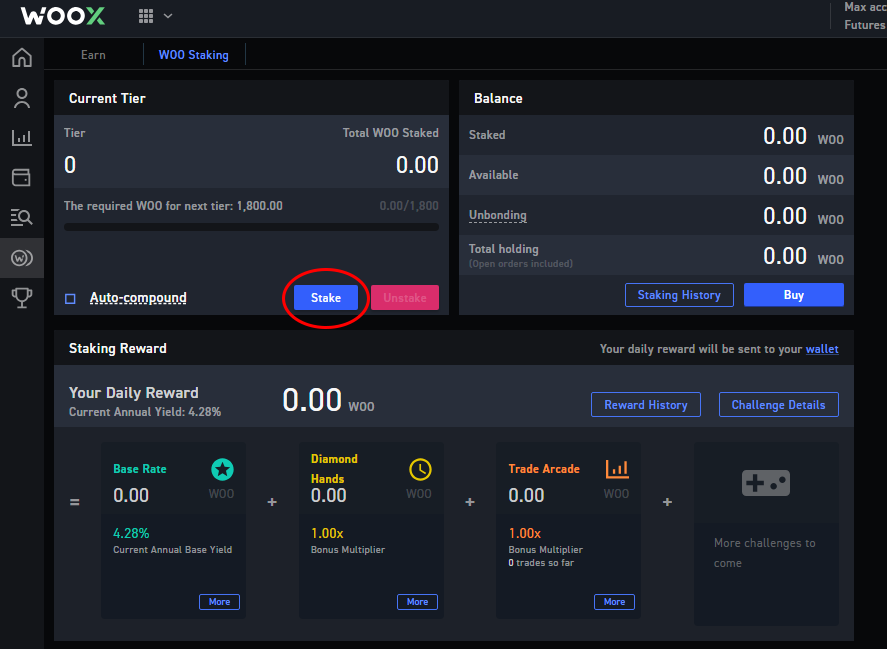 What's next?
That's it! 
Once you've completed all 7 steps and finished the quest on Layer3, you're automatically enrolled to receive your exclusive WOO X Halloween NFT, plus a guaranteed share of the $3,000 prize pool of C98, TOMO and KUB tokens!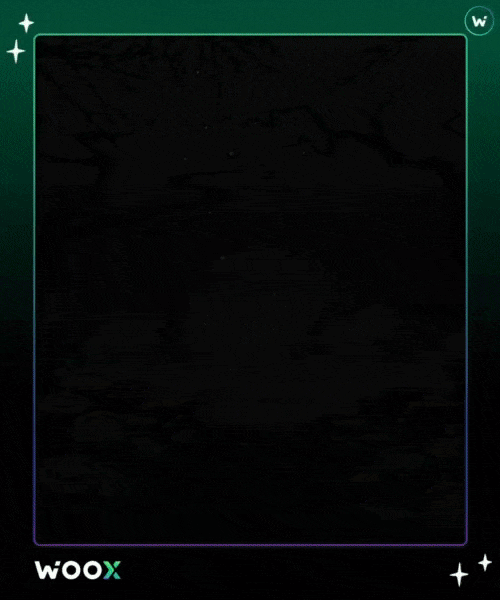 Activity Rules
The total prize pool (USD 3,000) of C98, TOMO, KUB tokens will be shared equally (as an airdrop on WOO X) only amongst all participating users who fulfill all 7 requirements.
The final amount of tokens given out will be based on the 7-day TWAP of each token from Nov 7 - Nov 13.
Both the NFT and token rewards will be airdropped only after the campaign ends, by Nov 27.
Users must remain staked and maintain the active wallet connection on WOO X throughout the duration of the campaign.
All users must be successfully KYC-ed on WOO X in order to stake WOO tokens on WOO X, or to withdraw any rewards given out on the platform.
User's Twitter account must be set as public throughout the duration of the campaign.
Users must connect the same wallet address that was used on Layer3, to their WOO X account on their main WOO X account settings page (not subaccounts).
Any of the user's pre-existing stake amount on WOO X (that was staked before the campaign start time on Oct 30, 10AM UTC) will not be counted towards the staking requirement of 250 WOO.
The 250 WOO token stake requirement must be a newly-staked amount that was added only during the campaign period.
Terms and conditions
All participants of the campaign accept that:
He/She abides by the WOO X Terms of Service
He/she acknowledges and agrees to these Terms & Conditions, Activity Rules, and any subsequent amendments, once he/she joins the campaign. Additionally, his/her relevant information including but not limited to nickname and UID on WOO X, the connected wallet addresses, the amount of WOO tokens staked on WOO X, and any information as required by the campaign will be calculated and stored for the duration of the entire campaign, as well as may also be made publicly available. The aforementioned information cannot be removed or revoked during the campaign. Furthermore, he/she acknowledges and agrees that WOO has the right to access, read, and disclose his/her relevant aforementioned information.
WOO reserves the right to disqualify any participant if he/she engages in any inappropriate, dishonest, or abusive activities during the campaign. The participant of the competition acknowledges and agrees that the decision regarding disqualification is at the sole discretion of the WOO X and WOO is not obliged to provide any explicit reason(s) for doing so.
WOO reserves the right to modify and the final interpretation of the Terms & Conditions of this event without notifying users in advance. If you have any questions, please contact our customer service.
WOO will not be responsible or liable for any losses (including, without limitation, any direct or indirect damages for loss of profits) resulting or arising directly or indirectly from your participation in this campaign.
WOO reserves the right to disqualify any users who engage in illegal bulk account registrations, self-dealing, or display signs of market manipulation or suspicious behavior, etc. The participant of the campaign acknowledges and agrees that the decision regarding disqualification is at the sole discretion of the WOO X and WOO is not obliged to provide any explicit reason(s) for doing so.
WOO reserves the right to change the Activity period at its discretion, in particular to end the campaign earlier or later.
Your personal data are processed by WOOTECH Limited, on the grounds of article 6(1)f of the GDPR - legitimate interest of WOO, for the following purposes:

Conducting the campaign,
Selecting winners of the campaign, and
Analytics assessment of data collected during the campaign.
You can object to that processing at any time. You may contact us via this form. Your data are being transferred outside of the European Economic Area to the United States, Japan, and Taiwan. For more details and your rights, please visit WOO X Privacy Note.
---
The content above is neither a recommendation for investment and trading strategies nor does it constitute an offer, solicitation, or recommendation of any product or service. The content is for informational sharing purposes only. Anyone who makes or changes the investment decision based on the content shall undertake the result or loss by himself/herself.
The content of this document has been translated into different languages and shared throughout different platforms. In case of any discrepancy or inconsistency between different posts caused by mistranslations, the English version on our official website shall prevail.