After 3 weeks of consolidation on BTC, we finally had a breakout last Monday with a subsequent up-move.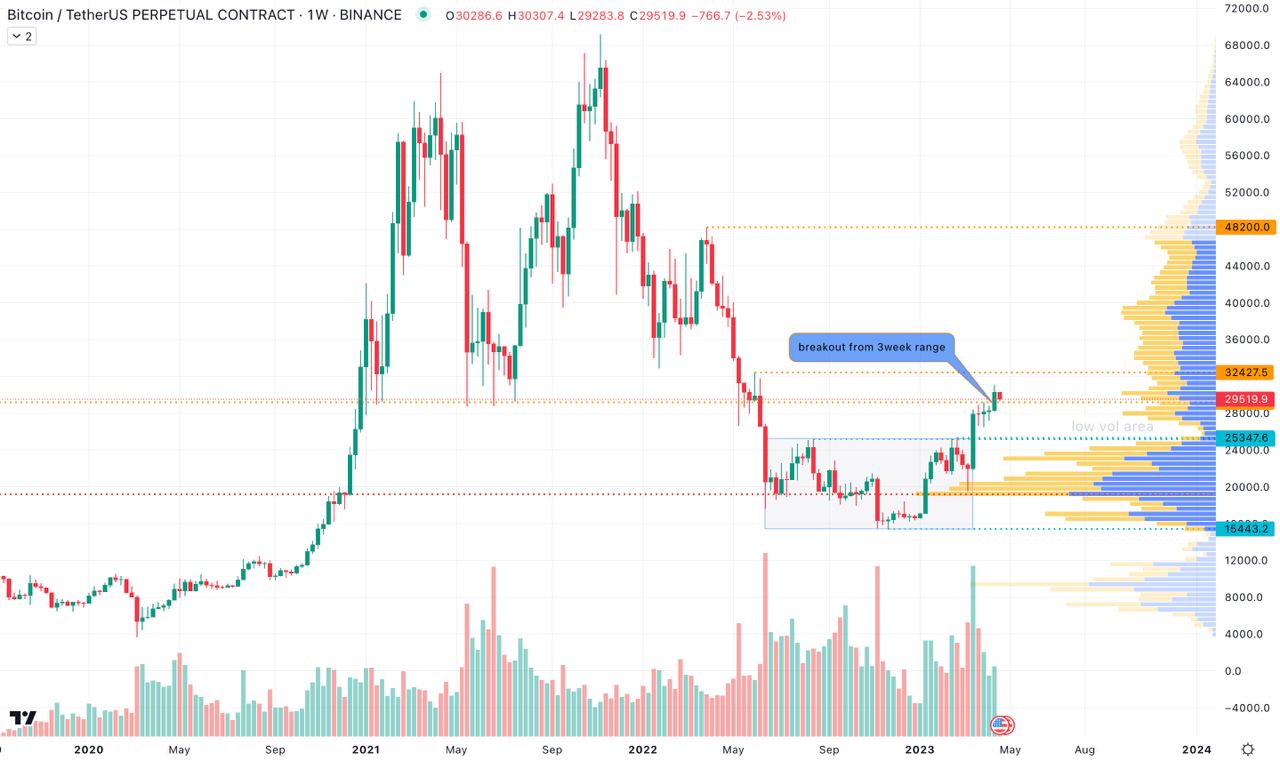 It was the most directional day last week with many traders getting caught off-guard after a slow trading period, which led to a short squeeze.
This happened without any major data or news, but rather due to the positioning before CPI on Wednesday.
The move continued on Tuesday but instead of further acceleration, the market started losing momentum.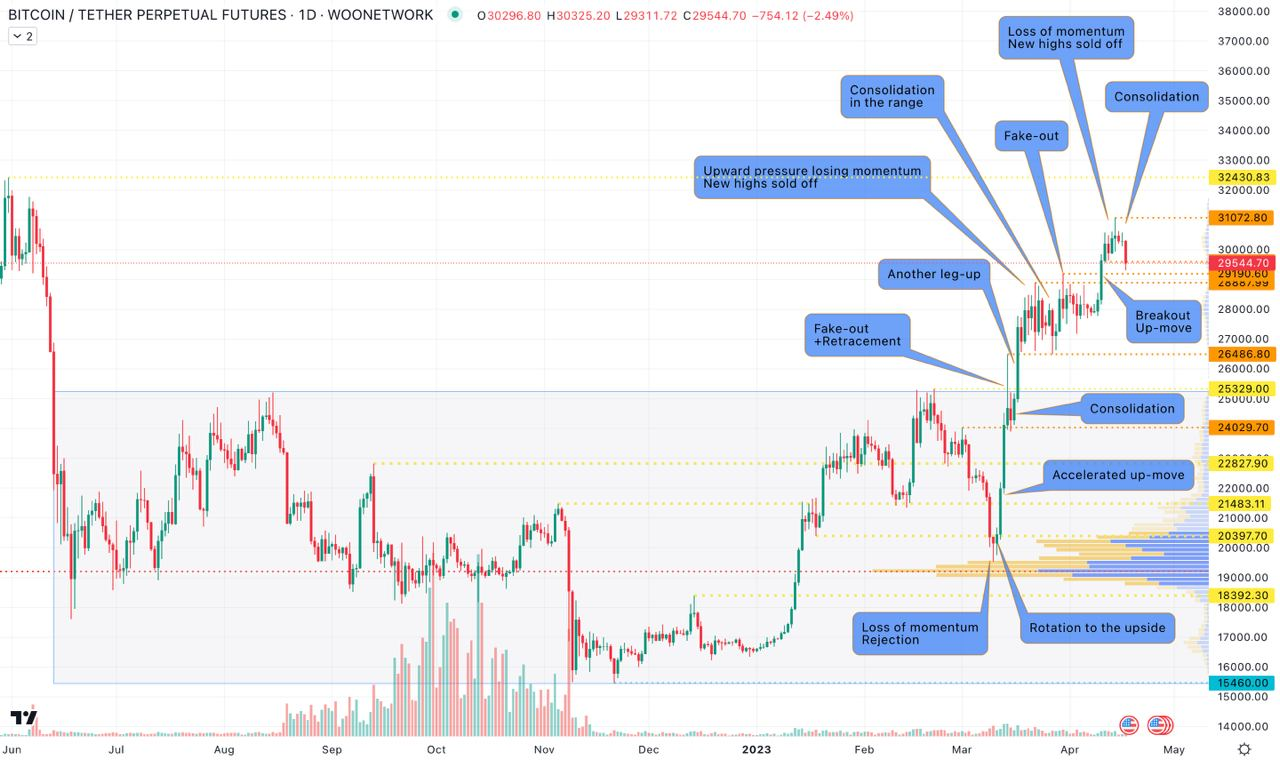 Weaker CPI on Wednesday caused only a short intraday up-move, which wasn't even enough to break Tuesday's high - what was expected to be a big day in terms of the move turned out to be smaller than Monday and Tuesday.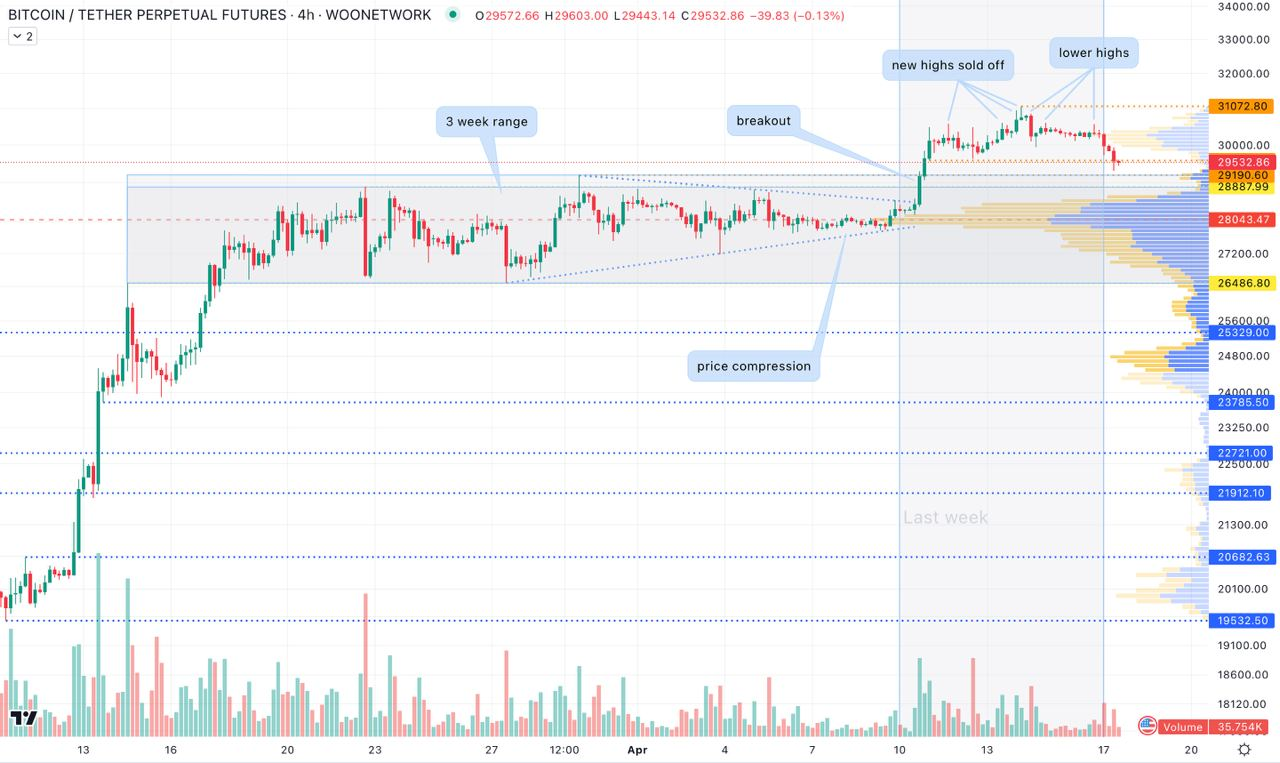 That was an example of the market moving on expectations (for the data) than the reality (actual data).
For the next few days, $BTC benefitted from the strength of $ETH after a successful Shanghai upgrade.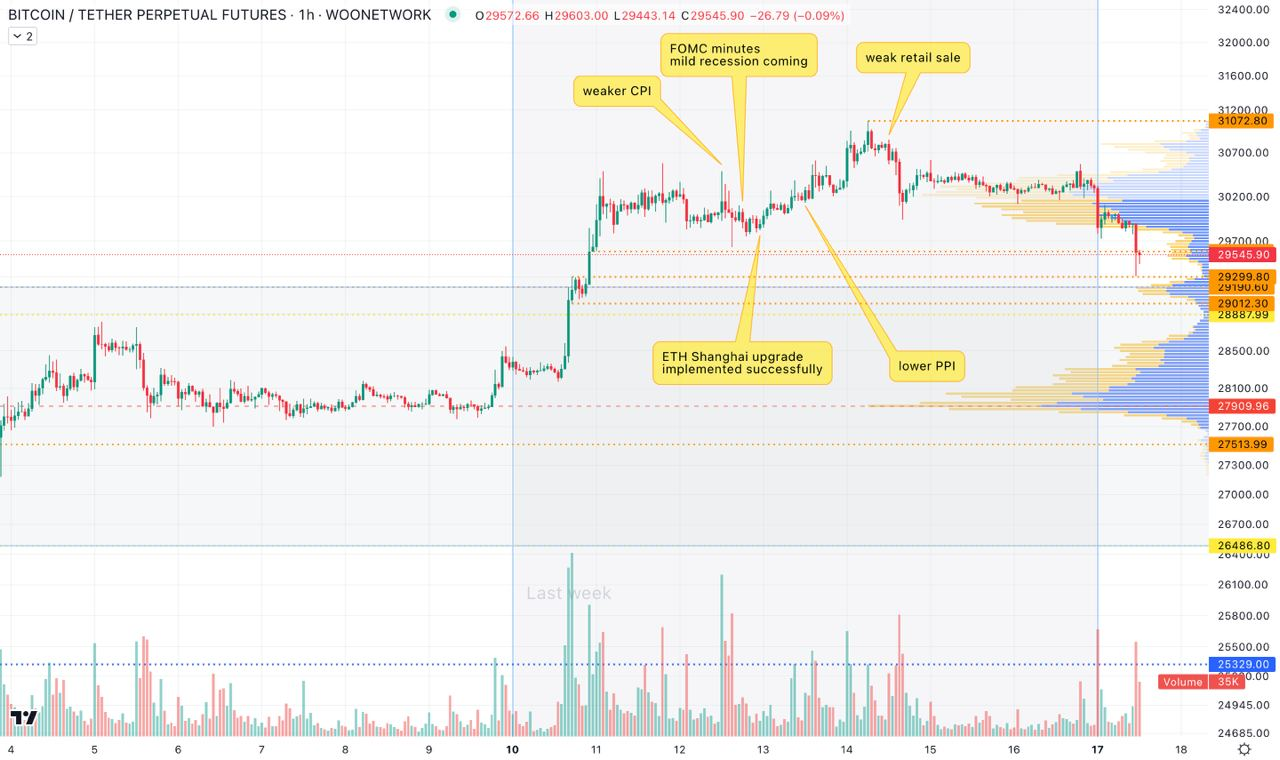 It was however struggling to move up much with new highs being sold off – a sign of absorption.
Eventually BTC set a weekly high of $31,072 on Fri and started to get pressed down. However, it still finished the week positive above $29,190.
BTC has started to rotate down for a potential retrace of the up-move from last week.
$29,190 is important for bulls to hold as support. Any early signs of strength in lower time frames should be considered as buying opportunities for another push to the upside and retest of $31,072 high for further continuation.
The next key resistance area would be around $32,400.
However, if we manage to close below on the day, we are likely to see continued weakness in the coming days with $28,600 and $28,000 as next nearby levels to look for.
Then BTC would eye $26,500, though not likely.
As BTC keeps trending up this year, some traders may prefer to trade from the long side in higher time frames, with pullbacks working as buying opportunities.
Still, it's worth being flexible and ready for different scenarios including those seemingly less likely.
It's going to be relatively quiet on the macro front this week, as there is no major data coming out.
Nonetheless it's worth keeping an eye on:
Tue: Housing Starts, Building Permits
Wed: Eur CPI
Thu: Jobless Claims, Philly Fed Manufacturing, Existing Home Sales
Fri: Manufacturing PMI, Services PMI
We also have Fed speakers and earning reports across the week.
Bear in mind that markets can move (sometimes a lot) even without major macro news, driven by sentiment and positioning, so this week will still be very interesting.
As always, have a great trading week!

Trade now on https://x.woo.org/ and follow @KTGglobal for more trading insights.
The content above is neither a recommendation for investment and trading strategies nor does it constitute an investment offer, solicitation, or recommendation of any product or service. The content is for informational sharing purposes only. Anyone who makes or changes to their investment decision based on the content shall undertake the result or loss by himself/herself.
The content of this document has been translated into different languages and shared throughout different platforms. In case of any discrepancy or inconsistency between different posts caused by mistranslations, the English version on our official website shall prevail.