Bitcoin prices spiked up to USD24,000 levels even as traders shorted on meme tokens as crypto investors positively reacted to the results of The Federal Open Market Committee (FOMC) meeting that raised the Fed funds target rate by 25 basis points (bps).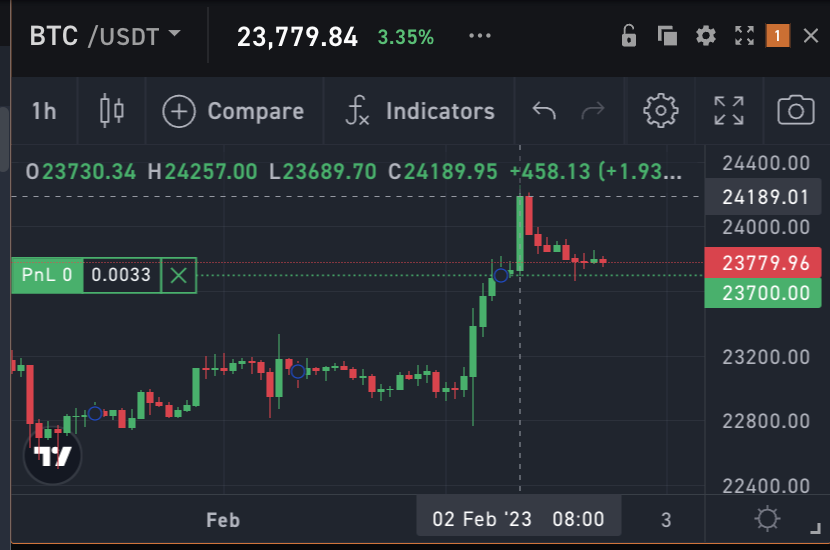 Above: On WOO X, BTC edged closer to USD 24,000 levels during the FOMC meeting [Taipei time] and finally traded up to $24,257 hours after the meeting. As of this article, BTC traded below the USD 24,000 mark.
Market analysts polled by WOO Network concur that the market reacted positively to the news but differ on Fed Chairman Jerome Powell's approach to easing inflation rates.
"I think investors will have become desensitized to the Fed after this [recent FOMC meeting]. With the back-and-forth swing between hawkish and dovish tones since last year, apathy among investors will start to set in," Jack Tan, co-founder of WOO Network said.
"Powell seems to be losing his credibility. I think this FOMC meeting was his last chance to push back against loosening financial conditions and rising prices across all risk assets. Instead, I perceived his commentary as relatively dovish [supportive of economic growth and financial markets, rather than trying to tame inflation] compared to my expectations, which pushed all markets higher.  Now he's between a rock and a hard place, as markets seem to be increasing their doubt in his credibility," Mitchell Williams from WOO Network Ecosystem pointed out.
"Powell was as hawkish as he could be in his statement today, and I don't think it could be more hawkish than that. Reacting to this, the market didn't want to go down and it was picking up the pace during the Q&A. To me, it looks like the market was strong and was only looking for any excuse to go up," Marek Chajecki, founder of KTG Global on the other hand said.
The next FOMC meeting is scheduled for March 21-22. Before that, the market is expected to react to CPI data on Feb 10th.

Above: Another analyst described how the Fed chair handled the Feb 1st FOMC meeting with a meme comparing Powell to a previous Fed chair who was known for combating inflation rates to the lowest levels in US history.

Related story: Will the central bank finally ease on rate hikes?
—

The content above is neither a recommendation for investment and trading strategies nor does it constitute an offer, solicitation, or recommendation of any product or service. The content is for informational sharing purposes only. Anyone who makes or changes the investment decision based on the content shall undertake the result or loss by himself/herself.

The content of this document has been translated into different languages and shared throughout different platforms. In case of any discrepancy or inconsistency between different posts caused by mistranslations, the English version on our official website shall prevail.