WOO Network is cloning WOO X on chain, forever changing the DeFi trading experience, powered by Orderly Network

A game-changing DeFi trading experience

WOO Network is committed to solving the fragmented and expensive liquidity crisis in the crypto space, democratizing access to affordable and deep liquidity with both its centralized and decentralized products. WOO Network is now very excited to announce the testnet launch of WOO DEX — a game-changing DEX built on NEAR that looks and feels like a centralized exchange, but operates on chain, forever changing the decentralized trading experience in crypto.

Simply put, WOO DEX sees WOO Network taking its flagship CEX, WOO X, which offers best-in-class liquidity, advanced trading tools, and a customizable interface, and bringing it on-chain. This is all made possible by building on Orderly Network, an exciting new infrastructure layer incubated by WOO Network and NEAR Protocol. WOO DEX will complement WOO Network's expansive product offerings, existing alongside its zero or even negative fee CeFi platform (WOO X), WOO X Mobile, as well as alongside WOOFi, the most capital efficient and lowest fee swap in DeFi.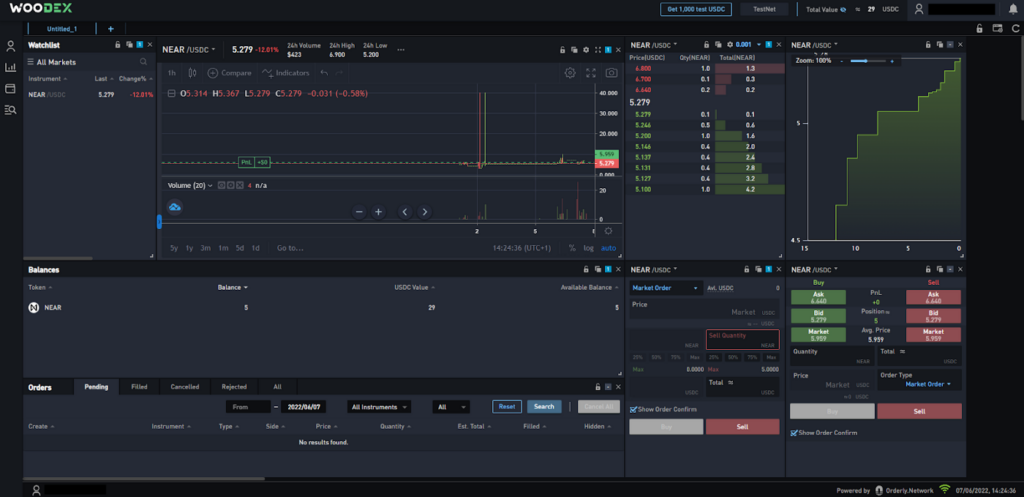 Orderly is both a decentralized exchange protocol as well as a modular ecosystem built on top of NEAR. It uses an on-chain order book to provide a platform complete with a risk engine, matching engine, and shared asset pools for dApps to build on top of. This will allow for features such as:
Spot Trading
Margin Trading
Perpetual Swaps
Lending and Borrowing
What makes WOO DEX unique?
Speed and throughput are not traits users expect from a decentralized exchange, but WOO DEX is about to change that by merging the CeFi trading experience with the convenience of DeFi. By moving order book calculations off-chain, WOO DEX can maintain a fast transaction execution time and high rate limits, for both manual and API trading.
Utilizing central limit order books in DeFi is something that is still rather nascent. Protocols like Project Serum on Solana tackled this initiative making great strides both architecturally and from a fundamental perspective. Orderly Network is looking to recreate that model and extend on it, via NEAR. This means new decentralized applications can be built to utilize the traditional, centralized order book model.
WOO DEX will be the first of these dApps deployed via Orderly's toolkit. Using WOO DEX will be like using WOO X, a centralized exchange, however it will be on-chain.This means ultimately the user will have self custody, as well as faster user onboarding. Of course you'll have access to all of your favorite features that you have come to love on WOO X:
Professional-grade trading experience
Customizable UI
More types of order entries
Margin/Futures (Coming Q4)
In the first phase, WOO DEX will launch with support for spot markets. The trading pairs initially will include BTC, ETH, NEAR, and ecosystem coins like AURORA. During this phase, Kronos Research will be the sole market maker on the platform.
Building on NEAR
So, why NEAR? There are a number of thought processes one has to consider when deploying on a particular blockchain. In this instance, NEAR is a desirable chain for a typical order book based model because of its low latency, fast settlement, and low fees. This sort of product can only be built out because of Orderly, and all the characteristics mentioned above.
Orderly Network is also attractive to build on since it shares the platform fees with any dApp or trading platform built on top. These frontends act as brokers, bringing trading volume to Orderly, and in return they earn revenue on the flow they bring in. This means that WOO DEX will bring in more revenue for WOO Network, contributing to the monthly buybacks and burns.
In addition, NEAR is growing considerably in regards to recent developer adoption, a large part of this being the popularity of Rust among developers even outside of the Web3 landscape. NEAR has already established itself as being one of the most exciting Layer 1s emerging in the space, and WOO Network is keen to position itself at the forefront of innovation — making NEAR a perfect fit for our blooming ecosystem.
---
Stay tuned for all WOO Network's exciting developments!
The content above is neither a recommendation for investment and trading strategies nor does it constitute an offer, solicitation, or recommendation of any product or service. The content is for informational sharing purposes only. Anyone who makes or changes the investment decision based on the content shall undertake the result or loss by himself/herself.